MICHAEL BARI SHOW "DAILY"
May 8th, 2019
What's New:
On This Day In Sports:
1. NBA Results: Raptors Take 3-2 Lead In Series With 76ers, Nuggets Take 3-2 Lead over Trail Blazers
Photo by Vaughn Ridley/Getty Images
Philadelphia 76ers dropped Game 5 to the Toronto Raptors by a score of 125-89.
The Sixers had won six of eight, and held a two-games-to-one lead in the Eastern Conference semifinal against the Raptors. Now, on the cusp of accomplishment, two lifeless losses.
76ers down 3-2 in the series, which returns to Philadelphia on Thursday night.
In 31 minutes, Joel Embiid scored 13 points on 5-of-10 shooting, just six rebounds and committed eight turnovers. He left the game with 9 minutes, 5 seconds to play, his team trailing by 28.
Kawhi Leonard had 21, and he'd averaged 38 in the first four games, but the Raptors didn't need his volume.
Pascal Siakam scored 25 points and the Toronto Raptors used a huge second quarter.
Kyle Lowry scored 19 points, while Danny Green shot 5 for 7 from 3-point range and finished with 17 points. Marc Gasol scored 11 points and Serge Ibaka had 10.
"I was certainly not expecting that kind of game tonight," Toronto coach Nick Nurse said. "Obviously, we're certainly happy with the result."
Sixers guard Ben Simmons shot 3 for 5 and finished with seven points, seven rebounds, and five turnovers. Philadelphia's Simmons didn't score his first points until a three-point play with 5:34 left in the first and his team trailing 44-32.
2. NHL Results: St. Louis Blues win in 2OT Over The Dallas Stars in Game 7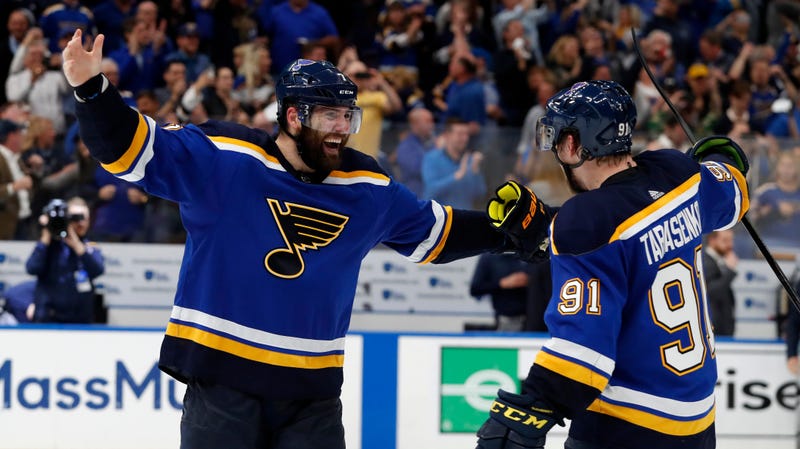 Photo: Jeff Roberson (AP)
Patrick Maroon's goal at 5:50 of the second overtime pushed the St. Louis Blues past the Dallas Stars, 2-1, and into the Western Conference Finals in a historic Game 7 Tuesday night in St. Louis.
Jordan Binnington made 29 saves for the St. Louis Blues in Game 7.
It was the third series this postseason to go to a Game 7 overtime, the first time that has happened in Stanley Cup playoff history.
Dallas Stars goalie Ben Bishop saw 54 shots in the game, making him just the fifth goalie in history to face 50 or more shots in a Game 7.
The Blues outshot the Stars 31-4 over the final two periods of regulation but neither team scored during that span.
The Blues, who have never won a Stanley Cup in their five-decade history, advance to the Western Conference Finals, where they'll play the winner of Sharks-Avs on Wednesday night.
3. U.S Soccer Federation has formally denied allegations of gender discrimination.
The U.S. Soccer Federation has formally denied allegations of gender discrimination made by players of the U.S. women's national team.
The USSF claims every decision made "with respect to the conduct alleged in the complaint was for legitimate business reasons and not for any discriminatory or other unlawful purpose."
Twenty-eight members of the current women's player pool filed the lawsuit March 8 in U.S. District Court in Los Angeles under the Equal Pay Act and Title VII of the Civil Rights Act, alleging "institutionalized gender discrimination" that includes unequal pay with their counterparts on the men's national team.
4. Shergar the wonder horse has never been found.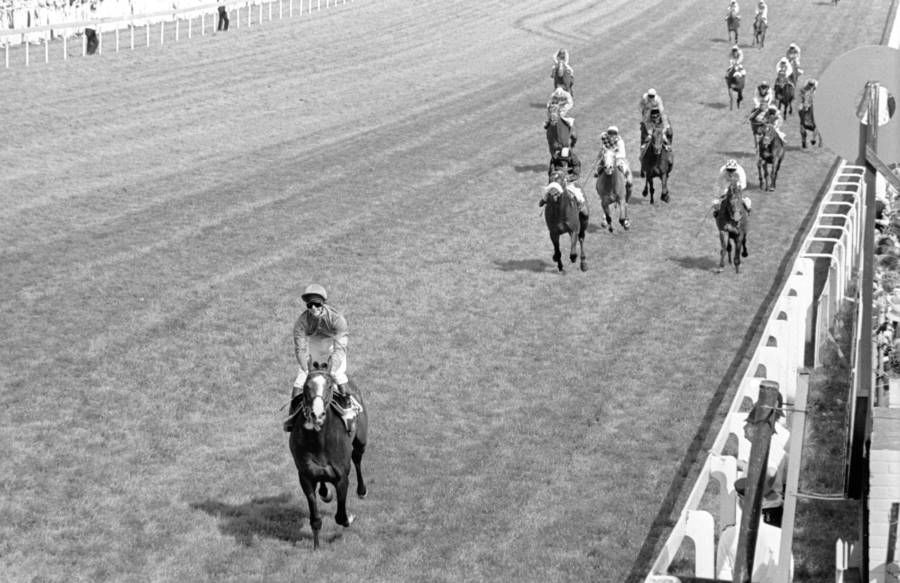 (Getty Images) Shergar winning the Derby by some 10 to 15 lengths
The 1980's version of American Pharoah, the dominating force in English horse racing, was the untouchable Shergar.
Shergar was one of the greatest racehorse ever, but the thoroughbred was kidnapped in 1983.
The case remains open still to today, Shergar was never found and his strange fate has puzzled fans for more than 30 years.
Shergar won England's number-one classic race, the Epsom Derby, in 1981. His margin of victory? 10 lengths — the greatest ever recorded in Derby history.
Shergar followed up that triumph with big wins in the Irish Derby and King George VI and Queen Elizabeth Stakes.
Assuming Shergar has met his fate years ago, finding the burial site if there is one is still on going. Many rumors over the years but nothing has satisfied the English horse racing world.
5. Manny Pacquiao built 1,000 homes for the poor in his hometown.