NCAA MARCH MADNESS SPECIAL
March 31st, 2019
Elite 8 of the NCAA Tournament, Auburn's 77-71 win over Kentucky
Watch the Final Five Minutes and Overtime From The Tigers' Win over Kentucky
Kentucky forward PJ Washington talks about UK's 77-71 loss to Auburn in the Midwest Region final of the NCAA Men's Basketball Tournament on Sunday, March 31, 2019. Washington scored a game-high 28 points in the loss.
Auburn – Kentucky Press Conference
Reid Travis, left, walks as Ashton Hagans puts an arm around Keldon Johnson as their loss to Auburn becomes clear. (Photo: Matt Stone/Courier Journal)
The moment they finally realized it was over, with about 9 seconds left, the five of them were still on the court.
They'd been there out a while – through an overtime without substitutions, most of the second half, all of crunch time. Much has been asked all along of these five Kentucky players, and they'd won 30 games.
But this time, they'd barely lost. That was apparent as they slowly walked to the other end of the court, awaiting Auburn foul shots, shoulders sagging, heads down, completely spent. (Read) By Gentry Estes, Louisville Courier Journal
Duke – Michigan State Elite 8 First Half Highlights
Michigan State's thrilling 68-67 win over Duke in the Elite 8
Clutch Three To Give Michigan State The Lead
Watch The Last Seven Minutes of Duke – Michigan State
Michigan State – Duke Press Conference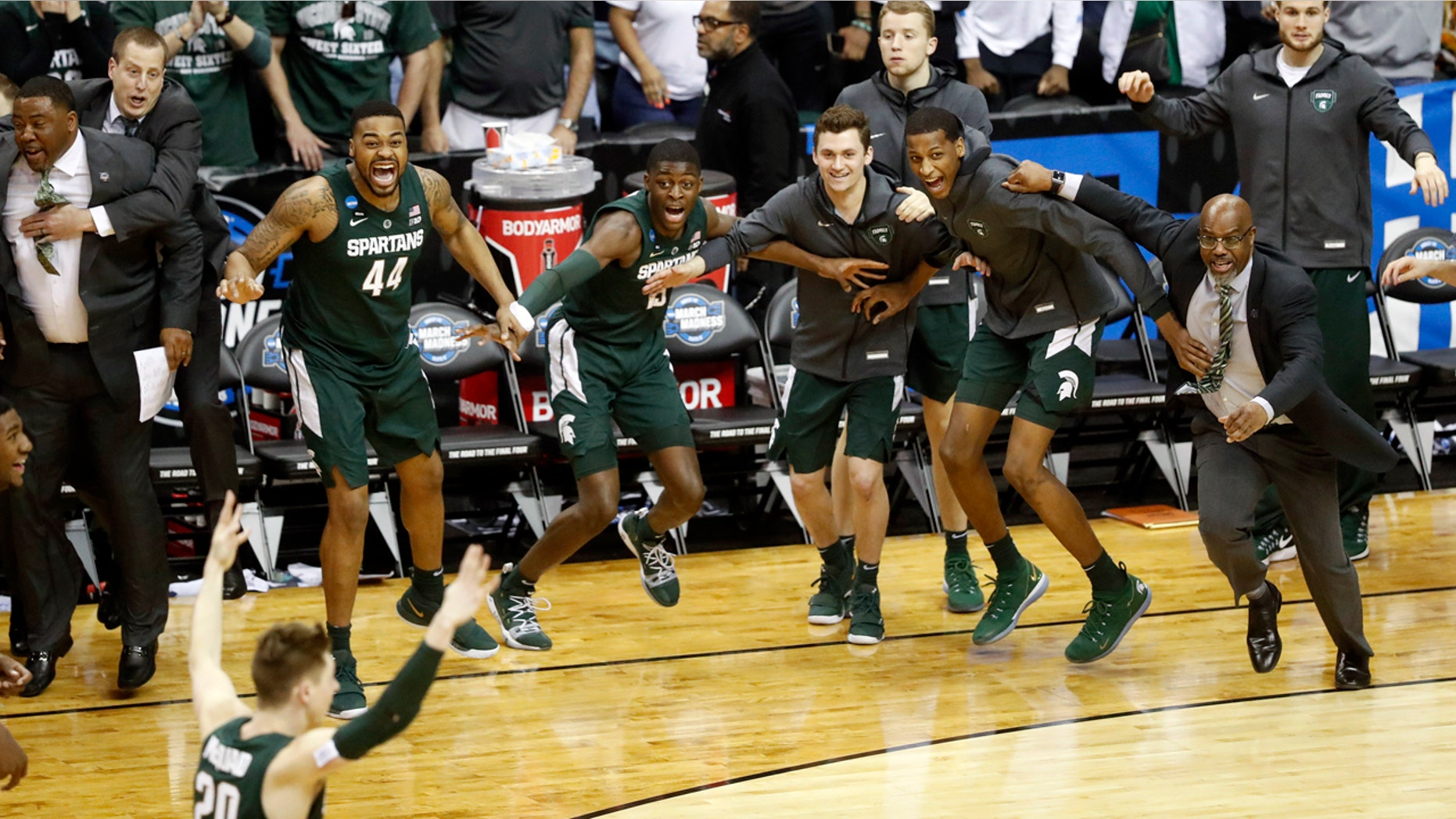 Michigan State players begin to celebrate their win over Duke at the end of the NCAA men's East Regional final college basketball game in Washington, Sunday, March 31, 2019. (AP Photo)
Kenny Goins hit a three-pointer with 34.3 seconds remaining as Michigan State overcame a 24-point, 14-rebound performance by Zion Williamson to defeat top overall seed Duke, 68-67, in the East Regional Final Sunday evening in Washington, D.C.
R.J. Barrett, one of Duke's three phenomenal freshmen, had a chance to tie the game with 5.2 seconds to go, but made only one of two free throws after Goins' clutch shot put MSU up 68-66. Cassius Winston, Michigan State's star man with 20 points and 10 assists, was able to dribble out the clock after receiving the ensuing inbounds pass and send the Spartans to Minneapolis. (Read) By  Samuel Chamberlain | Fox News