MB SHOW DAILY
March 25th, 2019
Welcome back, have a great Monday!
What's New:
It was the Instagram post that shook the NFL. New England Patriots tight end Rob Gronkowski took to the social-media platform Sunday night to announce what had been speculated for the better part of two years: He was retiring from football at age 29, leaving the Pats less than two months after New England won Super Bowl LIII.
To most viewers, the 2019 NCAA Tournament will appear to be business as usual on TV relative to the past eight editions. Behind the scenes, however, things have changed in a major way. Three weeks ago, David Levy, Turner President since 2013, announced he would be leaving the company after 

33 years

. When CBS Sports Chairman Sean McManus took his spot at March Madness Media Day last week, Levy was noticeably absent, replaced this year by WarnerMedia Chairman of News and Sports Jeff Zucker. From Jeff Eisenband | Front Office Sports
On This Day In Sports:
1896 Modern Olympics began in Athens, Greece [NS=Apr 6]
1898 60th Grand National: John Gourley wins aboard 25/1 shot Drogheda
1904 66th Grand National: Arthur Birch wins aboard 25/1 New Zealand bred Moifaa; horse survives shipwreck off Ireland a year earlier
Photo: Zion Williamson hugs RJ Barrett (Getty Images)
College Basketball
 Zion Williamson took on 7-foot-6 Tacko Fall at the end and won. So did top-seeded Duke — barely — when two last-ditch shots by UCF rolled off the rim. Aubrey Dawkins finished with 32 points, but his tip-in try just missed Sunday, and Duke advanced with a 77-76 victory to reach the Sweet 16. Williamson had 32 points, including a layup over Fall with 14.4 seconds left and his team trailing 76-73. Fall fouled out on the play and the 6-foot-7 Williamson missed the free throw, but RJ Barrett

 

scored on a putback to put the Blue Devils (31-5) ahead.
Ninth-seeded UCF (24-9) had a final chance. Two of them, actually, from in close. B.J. Taylor missed a short jumper and Dawkins failed on his tip attempt with less than 2 seconds left, the ball spinning off the rim. Duke got the rebound, ran out the clock and moved on to the Sweet 16 for 27th time and fourth time in the past five years. Dawkins cringed at the miss. His father, Johnny, is the UCF coach and was a former Duke star and longtime assistant under coach Mike Krzyzewski. The two coaches shared a long embrace at midcourt after it was over.
Barrett finished with 16 points. It looked as if Dawkins might take down his dad's alma mater in the NCAAs. His last basket broke a 70-all tie and when Fall dunked Taylor's miss — the play was reviewed for a possible shot-clock violation — the Knights were ahead 74-70. UCF missed a huge chance to go up six when it couldn't quite on an alley-oop dunk attempt with 1:49 left, and Cam Reddish came back with a 3-pointer for Duke. Taylor made 76-73 with two foul shots with 45 seconds to go.
Williamson then missed a 3, but Duke grabbed the rebound and got the ball back to their dominant freshman. Williams caught a pass left of the key and dribbled straight into Fall's 7-6, 310-pound frame. Fall had stuffed Williamson three previous times and Duke's young star was less effective underneath than he'd been his past four games. But Williamson got this shot to drop, shouting as he fell hard to the ground. When Duke dribbled away with the final rebound, Williamson and his teammates jumped in celebration and relief. They were moving on.
Duke will face fourth-seeded Virginia Tech or No. 12 seed Liberty in Washington, D.C., on Friday night for a spot in the Elite Eight. Williamson, the game's most explosive player, was clearly affected by Fall. Who wouldn't be as the Knights senior stood 11 inches taller than Williamson and has a wingspan of 8-foot-4? But with Fall inside, Williamson went outside hitting three 3-pointers after entering with just 18 on the season. And when Fall was hit with foul trouble, Williamson charged to the hoop. Fall finished with 15 points and six rebounds in his final college game.
Duke's four fantastic freshmen combined for 72 of its 77 points. Reddish had 13 points and Tre Jones11. It was the second straight sluggish start for Duke in the NCAA Tournament. But, boy, when the Blue Devils got going, it was a sight to behold as they closed the half with a 12-2 run to move in front. Trailing 34-32 in the final four minutes of the opening half, Williamson hit a short jumper, then collected Jordan Goldwire's miss for a three-point play. Barrett added a three-point play and Williamson threw a one-handed bounce pass to a streaking Jones for an easy layup as Duke led 44-36 at the break. Williamson had 15 points in the first half, but had not dunked on the tall Fall — mainly because UCF's center played just eight minutes due to foul trouble.
The two were the focus of this one and at the start mimicked the start of the classic Rocky III final fight scene where a stone-faced Rocky Balboa stared straight at talkative Clubber Lang. The expressionless Fall played the Rocky part this time while the energetic Williamson bounced around before the game's opening tip. Both players outjumped the referee's toss, but Fall easily tipped it toward his teammates before Williamson could bounce up again. From Associated Press | Duke Athletics
The game will be remembered for Tacko Fall's presence in the paint, for Williamson's 3-pointers, for UCF daring Tre Jones to shoot and Duke begging Aubrey Dawkins to miss. But what will live on, what could take up the entirety of this year's "One Shining Moment" montage, what Duke and UCF fans will be talking about decades from now, is the final two minutes of drama, from an official's review to a physics-defying roll around the rim on the final shot.
Duke coach Mike Krzyzewski said his team got "lucky" after the game. Of course, it's not that simple (after all, he has a talented group full of NBA prospects who made big plays down the stretch). The lasting image of that game, however, will be the Dawkins tip-in that somehow rolled out of the cylinder. What an unbelievable sequence.


---

Photo: USA today

On the other side of that wall in the depths of Nationwide Arena, you're wondering about Tennessee and what this team really is – the one that was destroying Iowa for a half Sunday or the one that nearly matched the largest collapse in NCAA Tournament history? Inside the locker room, they aren't asking that question. They're spraying coach Rick Barnes with so much water, making so much noise, that he comes out looking like a man who just went whitewater rafting. They're on to the Sweet 16. "They got me good," the fourth-year UT coach said after a dominating, then hapless, then tougher-than-leather performance against Iowa that resulted in an 83-77 overtime win. "They got me really good. But if it makes them happy, I can deal with it, you know?"

---

Photo: (Getty Images)

Roy Williams has guided Kansas to the Sweet 16 nine times. On Sunday, he guided North Carolina to its 10th with a routine 81-59 disposal of 9-seed Washington in the second round of the NCAA Tournament. You'd think a coach of Williams' longevity would have some words of wisdom when it comes to what he expects from his 19th such appearance. "I haven't really thought about that," Williams said. "I swear, guys. Nobody in the history of basketball has ever played one game and started to think about the next one as much as I do. I know who we play next, and I know … " (Read) By Bill Bender
 North Carolina sophomore forward Garrison Brooks lost a tooth and broke another when he was hit with an elbow from Washington's Noah Dickerson in the Tar Heels' NCAA tournament win Sunday.


---

In 1971, Liberty University (then called the Lynchburg Bible College) was founded by Jerry Falwell, a noted ghoul whose life was dedicated to using every bit of influence he had to promote an agenda that said that the antichrist would be a Jewish man, that 

created "all-white Southern schools, or so-called segregation academies

," and told gay people that they deserved the scourge of AIDS.
After he died in 2007, his son, Jerry Falwell, Jr., picked up right where he left off, and he has been the President of Liberty University since then. In that time, the school has shown a massive interest in improving its athletic brand and standing, something which is both intentional and consequential. After all, the school has not abandoned the mission of its founder, as it has cozied up to the vehemently anti-LGBTQ Liberty Counsel, going so far as to employ the group's co-founder as the Dean of Liberty University School of Law from 2006-2015.
On Friday, Liberty picked up its first NCAA Tournament win in program history, defeating No.5 seed Mississippi State in the first round.
In November, the Virginia Tech men's basketball team beat Liberty in a preseason exhibition game. No.4 seed Virginia Tech will meet 12th-seeded Liberty at 7:10 p.m. in the second round of the NCAA Tournament.


---

 No. 2 seed Michigan State (30-6, 16-4 Big Ten); No. 3 LSU (28-6, 16-2 Southeastern Conference.
The Spartans defeated 10-seed

Minnesota 70-50 on Saturday night in Des Moines, Iowa

, to advance to coach Tom Izzo's 14th Sweet 16 in the past 22 seasons.
Head coach Will Wade was suspended indefinitely after being linked to the FBI wiretaps into corruption in college basketball. Wade reportedly has refused to talk to school officials since the suspension was handed down March 8 after LSU won the SEC regular-season championship.
Tony Benford, then pulled off two close wins in the first two rounds in Jacksonville, Florida — 79-74 over 14-seeded Yale on Thursday and then eking out a 69-67 victory over 6-seed Maryland on a Waters driving layup with 1.6 seconds to play.


---
Photo: Elizabeth Conley/Staff Photographer
Third-seeded Houston advanced to the Sweet 16 for the first time since the Phi Slama Jama days with a 74-59 victory over No. 11 seed Ohio State on Sunday night at the BOK Center. A year after falling to Michigan in the second round on a 3-pointer at the buzzer, the Cougars put the game out of reach with a 12-3 run late in the second half to book the school's first trip to the Sweet 16 since 1984.
Corey Davis Jr. had 21 points and Galen Robinson Jr. added 13 for the Cougars, who continued a magical season that includes a school-record 33 victories.
UH (33-3) will play second-seeded Kentucky (29-6) in the Midwest Region semifinals on Friday in Kansas City, Mo.


---
Photo: Detroit Free Press
The Texas Tech Red Raiders knocked Buffalo out of the NCAA tournament ring with a bruising defensive effort in a 78–58 win, providing more proof that the nation's most efficient defense is impenetrable even against the best of offensive systems. (

Read

) By ROSS DELLENGER 

Michigan basketball advanced to the Sweet 16 with a win over No. 10 Florida on Saturday night. The Wolverines gave up some early 3s, but buckled down in the second half and held the Gators to well under a point per possession. For a team that has prided itself on defense all season, it was no surprise Michigan won the game the way it did. And now it'll face the only other team that can claim it has the nation's best defense.

---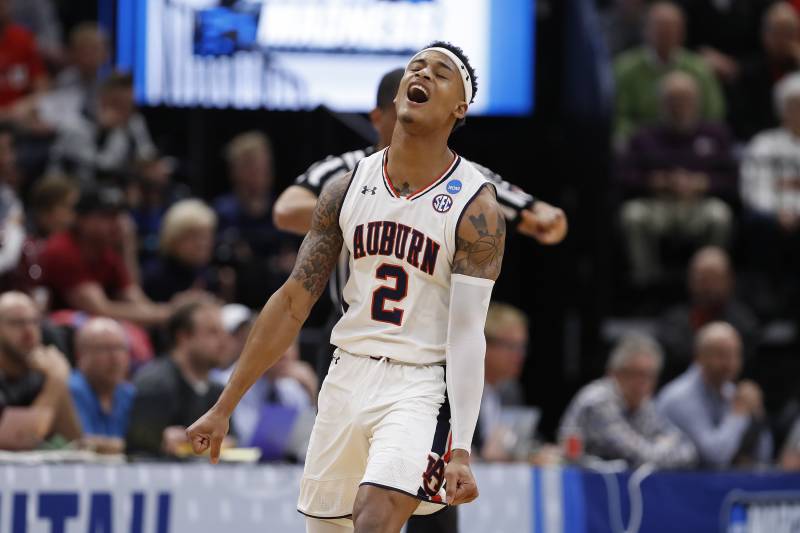 Photo: Auburn's Bryce Brown (Jeff Swinger/Associated Press)
One of the hottest teams in the tournament is the Auburn Tigers who beat down Kansas in Salt Lake City on Saturday night 89-75—a margin that doesn't do justice to the beating we witnessed. The Tigers extended their winning streak to 10 games, and they did it by canning the deep ball early and often and taking the turnover battle.
From KenPom.com, the Tigers lead the nation in steal percentage and rank eighth in three-point rate. (They're also fifth in block percentage, for good measure.)
After we watched Villanova win two of the past three national championships by jacking up a ton of threes and clamping down on defense to make up for an average rebounding presence, only a fool would say Auburn can't follow that same script. From

KERRY MILLER




---

Check Out: michaelbari.com

Follow The Show: 

Twitter: @MBSportsShow  |  @Michael_Bari_

Facebook: The Michael Bari Show

LinkedIn: Michael Bari Profile

Instagram: themichaelbari