MB SHOW DAILY
March 24th, 2019
Welcome back! 
What's New:
The Golden State Warriors fell to the Dallas Mavericks on Saturday night, 126-91, and after the game the team tried to explain what happened in the shocking blowout.
Georgia Tech defensive lineman Brandon Adams died in Atlanta on Saturday, the school announced. The school didn't disclose the cause of Adams' death. He was 21. Adams was a rising senior after playing in 33 games over three seasons from 2016 to '18. He had 41 career tackles, 6½ tackles for loss and two forced fumbles during his career. Last season, he set career-high season totals with 24 tackles, five tackles for loss and two forced fumbles in 13 games.
On This Day In Sports:
1913 Netherlands soccer team's 1st victory over England
1922 81st Grand National: Lewis Rees aboard 100/9 chance Music Hall wins; only 5 out of 32 starters finish
1927 Cuban chess champion Jose Capablanca wins 33-day Grand Chess Tournie
Major League Baseball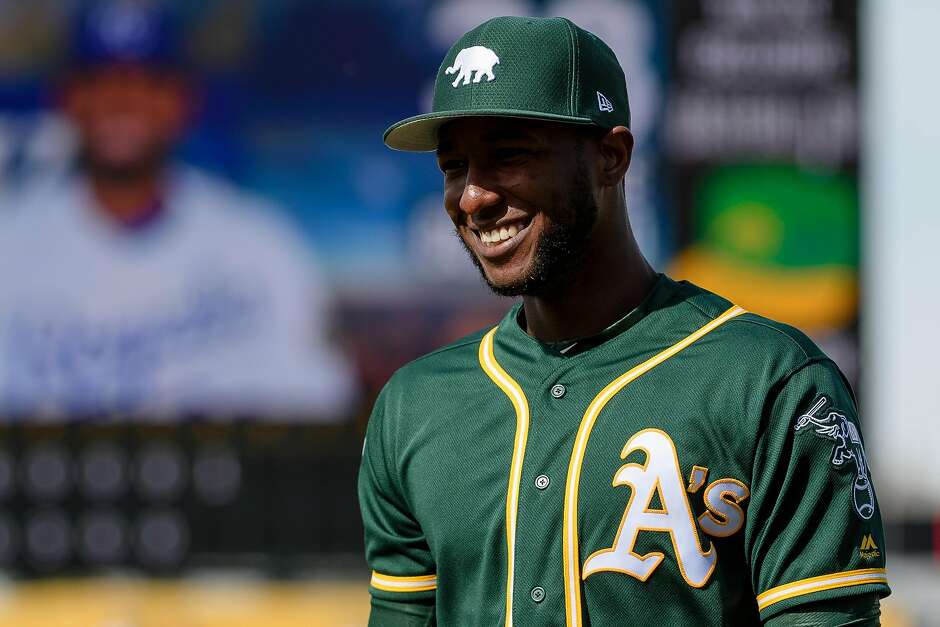 Photo: Jurickson Profar #23 of the Oakland Athletics smiles during the spring training game against the Kansas City Royals at HoHoKam Stadium on February 24, 2019 in Mesa, Arizona. (Photo by Jennifer Stewart/Getty Images)
After surprising their way to the the majors' fourth-best record in 2018, the low-budget Athletics made a series of short-term commitments this past offseason.
Major League Signings
Options Exercised
Trades And Claims
Notable Minor League Signings
Notable Losses
Jonathan Lucroy, Jed Lowrie, Matt Joyce, Trevor Cahill, Jeurys Familia, Shawn Kelley, Edwin Jackson (still unsigned), Richie Martin, Cory Gearrin, Danny Coulombe, Kendall Graveman, Chris Hatcher, Jake Smolinski From Connor Byrne
The San Francisco Giants acquired catcher Erik Kratz from the Milwaukee Brewers on Sunday in exchange for minor league infielder C.J. Hinojosa. Kratz, 39, was one of the key players in the Brewers' National League Division Series win over the Colorado Rockies, going 5-for-8 with two RBIs. But he was in a camp competition with Manny Pina for the backup catcher spot behind Yasmani Grandal and lost out.
Veteran right-hander Jason Hammel has informed the Texas Rangers he is retiring after earlier being told by the team he would make the Opening Day roster. The Rangers had told Hammel on Friday that he would make the club as a long reliever. He has been with the team this spring on a minor league contract. On Friday night, however, he told the team he planned to retire.
The Seattle Mariners have integrated most of the holistic concepts into the major league clubhouse as well, but with the franchise in a rebuilding phase—or, as one executive, using the Mariners' preferred language, put it, "pushing pause on the major league winning continuum"—the emphasis is on building a foundation with the younger players who will populate the big league roster when the team is ready to contend again.
The New York Yankees decision to add outfield depth cost Tyler Wade. The utility infielder/outfielder was optioned to Triple-A on Sunday morning. That brings the Yankees roster to 24 before the final Grapefruit League game of spring. The last spot will go to the bullpen. The Yankees on Saturday traded for minor league outfield journeyman Mike Tauchman, who now will likely be the major league backup outfielder.
Cincinnati Reds All-Star second baseman Scooter Gennett will miss 2 to 3 months after suffering a right groin strain, the team announced Saturday. The injury occurred during Friday's spring training game against the Milwaukee Brewers, and it happened under unusual circumstances. Gennett appeared to lose his footing after fielding a ground ball in short right field. Gennett completed the play by throwing the runner out at first base from his knees, but needed assistance leaving the field.
The gut-wrenching, last-second decision Justin Verlander made as midnight approached on Aug. 31, 2017, to approve a trade from the Detroit Tigers to the Houston Astros was validated months later when Verlander helped the Astros win their first World Series. The city and the team — a team that was built to contend for the foreseeable future — grew on Verlander quickly, and when the Astros approached him in January about a possible contract extension, he was completely on board. The Astros announced Sunday that they have signed Verlander to a two-year contract extension that a source told MLB.com will pay Verlander $66 million in 2020-21.
Even though the Giants' final offer of 12 years, $310 million was less than the 13-year, $330 million deal he accepted from the Phillies, Harper indicated it wouldn't have mattered what San Francisco offered. He and his wife, Kayla, had already made up their minds before the Giants' last-ditch effort. "We sat there and talked for a little bit," Harper told Rosenthal after receiving Philly's offer. "And I remember standing there, me hugging her and saying, 'Hey, we're going to Philly.' That was before we even heard from San Fran. San Fran called back, offered whatever it was. By that point, it was kind of like, 'I'm already a Philadelphia Phillie.' "In my heart, I was already a Philadelphia Phillies. It was nothing against San Francisco. They're a great organization. It's a great city. It just came down to what I felt. And by that point, it was Philly." From JON BECKER
Up on the roof. That's where you could find Chris Antonetti on the day the Cleveland Cavaliers had their 2016 NBA championship parade in downtown Cleveland. The Cleveland Indians president and other members of the Tribe front office went to the roof of Progressive Field to watch the streets packed with perhaps one million fans. Laughing. Sweating. Hugging. Crying. Celebrating. Everybody seemed to know everybody — even those who had never seen each other before. From Terry Pluto | The Plain Dealer
While teams enter each season with a plan and some expectations for how the year will go, not everything can be forecasted. At some point, every club has to lean into the unknown and hope for the best. Below, you'll find each team's Great Unknown for the 2019 season. Each player has a wide range of potential outcomes and could make a major difference in how the upcoming campaign plays out. (Read) By MLB.com
Free-agent reliever Craig Kimbrel is the all-time leader in saves through an age-30 season. Yet less than a week from Opening Day, Kimbrel remains on the market. Sooner than later it appears that will change. Kimbrel's "bidding" — and we use that term lightly — is reportedly down to the Atlanta Braves and Milwaukee Brewers
The Giants have released two outfielders this week which left many of us wondering … what's next? Well, a familiar name is being acquired by the Giants — Yastrzemski. The grandson of Hall of Famer Carl Yastrzemski, Michael, has been acquired by the team. (Read) By Jessica Kleinschmidt 
Photo:  Jennifer Stewart (Getty Images)
Imagine going to a small Division 2 college, chasing a dream, and then one day; making it all come true? Well, well, well, this isn't the script of the beginning of a movie… It's the real life of Seattle Mariners reliever, Dan Altavilla. (Read) By Luke Mounger
The Colorado Rockies have placed catcher Tom Murphy on waivers, according to Thomas Harding of MLB.com. The club is hoping to find a trade partner for the out-of-options Murphy, per Harding. Regardless, it'll enter the season with Chris Iannetta and Tony Wolters as its catchers.
Left-hander Chris Sale has signed a five-year contract extension with the Boston Red Sox, team president Dave Dombrowski announced Saturday. The five-year deal is worth $145 million, league sources told ESPN's Jeff Passan, and includes an opt-out after three years, a vesting sixth-year option based on stats worth at least $20 million and a no-trade clause beginning in the middle of the 2020 season.
Photo: Dave Reginek (Getty Images)
While having the No. 1 overall pick in last June's MLB draft was certainly better for the Tigersorganization, we here at Bless You Boys are currently enjoying the added chaos that comes with picking a few spots lower. In particular, mock drafts are much more unpredictable than before, making for more interesting discussion as the draft draws closer. In their latest mock, the experts at Baseball America project that the Tigers will select UNLV shortstop Bryson Stott, a junior that is quickly shooting up draft boards this spring. Through 23 games, Stott is batting an absurd .349/.513/.663 with five home runs and more walks (27) than strikeouts (18). (Read) By Rob Rogacki
We already knew that the Milwaukee Brewers were going with a youth movement in the starting rotation to begin the 2019 regular season. Manager Craig Counsell announced on Thursday that Brandon Woodruff, Corbin Burnes, Freddy Peralta, and Zach Davies would all begin the year among the starting five in some order behind Opening Day starter Jhoulys Chacin, though without specifying any sort of order beyond Davies getting the ball in game five on the road in Cincinnati. Earlier this morning, the club finally announced how the rotation would stack up for games one through five. (Read) By Kyle Lesniewski
The Atlanta Braves have acquired outfielder Matt Joyce from the Giants for cash considerations. It'll be the third team this week for the 34-year-old Joyce, who was released Tuesday by Cleveland after the team informed him he wouldn't crack the Opening Day roster. Joyce enjoyed a late-career renaissance in 2016 with Pittsburgh, slashing .242/.403/.463 (136 wRC+), and again the following season in Oakland, where his 2.7 fWAR was a career best. He fell back to earth last season, though, posting an 89 wRC+ and just 0.2 fWAR in a 246 plate appearances, the vast majority of which came against right-handed pitching. From Ty Bradley