MB SHOW DAILY
March 4th, 2019
Have a Great Monday!
On this day, 1941 Chicago Black Hawks goaltender Sam LoPresti faces NHL record 83 shots in a 3-2 loss to the Bruins in Boston
Cardinals Looking to Trade Josh Rosen
As the NFL combine is coming to a close the Arizona Cardinals are trying to position themselves to acquire another first round draft pick
Kliff Kingsburg seems to think Kyler Murray would be the QB for his offensive system and would pick him as the No. 1 pick in the draft

Alex Smith

is unlikely to play this year after breaking his tibia and fibula and then enduring several surgeries to deal with infections. So the Washington Redskins are showing serious interest in the Cardinal rookie QB.


---

2. LeBron James may not make the playoffs and his streak of NBA Finals appearances in jeopardy.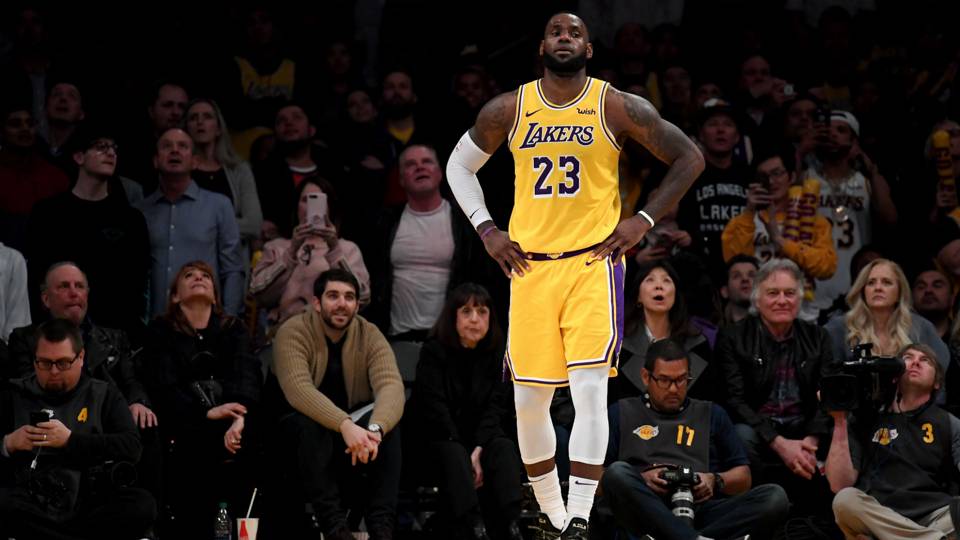 Photo: Sporting News
Saturday night's Laker loss to the Suns was a low point for LA, dropping the team to 30-33 overall and 4 1/2 games back of the eighth seed in the Western Conference playoff field.
Bookmakers update the betting lines, props and picks for NBA playoffs, finals and MVP, the Westgate SuperBook in Las Vegas also has an ongoing prop on the LA Lakers.
LeBron James' streak of eight consecutive NBA Finals appearances doesn't look like it will extend to nine. James has also made the postseason in 13 straight seasons. Lakers are searching who is to blame is it Magic Johnson, Rob Palinka, Lebron James or Luke Walton. Usually its the head coach so look for Walton to be looking for a job in the off-season.
This is how the bottom of the Conference looks:
No. 7 Clippers 36-29
No. 8 Spurs 35-29
No. 9 Kings 31-31
No. 10 Lakers 30-33
---
3. President Trump Making Fast Food a Tradition
Photo: President Donald Trump welcomes the 2018 NCAA FCS College Football Champions, The North Dakota State Bison, to the White House. (Photo: Carolyn Kaster, AP)
President Donald Trump welcomed the Football Championship Subdivision champions — the North Dakota State Bison — to the White House on Monday. And, according to a pool report, he served them a lunchtime spread of Big-Macs, Chick-fil-A chicken sandwiches and french fries, among other fast-food items.
Trump served a similar meal to the Clemson Tigers when they visited the White House in January.
Trump has now hosted six football teams at the White House since taking office in 2016, in addition to the MLB's Houston Astros and NHL's Pittsburgh Penguins. Other championship teams, however, have either declined to visit the White House or not received an invitation from the president. Trump has yet to honor a championship basketball team at the White House. From

Tom Schad

, USA TODAY
The president had praise for quarterback Easton Stick, comparing him to Tom Brady. "Somebody better draft him, he's going to be a rich guy," Trump said of Stick. Stick, who joined his former teammates after showing his skills at the NFL combine in Indianapolis, presented the president a North Dakota State No. 45 jersey.


---

4. Can the Michigan Wolverines Make the NCAA Finals for the Second Straight Year
Photo: Michigan Wolverines head coach John Beilein spells with guard Jordan Poole (2) and guard Zavier Simpson (3) during the first half against the Maryland Terrapins at XFINITY Center. (Photo: Tommy Gilligan, (USA TODAY Sports)
Michigan has also entered the No. 1 seed conversation. The victory over ranked Maryland on the road set the Wolverines in position to move into the top four seeds. Saturday's Big Ten finale match-up against rival and fellow No. 2 seed Michigan State could give John Beilein a shot at a No. 1 seed.
Bracketology:
Multi-bid conferences: ACC (8), Big Ten (8), Big 12 (8), SEC (8), Big East (4), American (4), Mountain West (2), Pac-12 (2).
No. 1 seeds: Virginia, Duke, Gonzaga, Tennessee
Last four in: Minnesota, North Carolina State, Georgetown, Arizona State
First Four out: Seton Hall, Clemson, Creighton, Furman