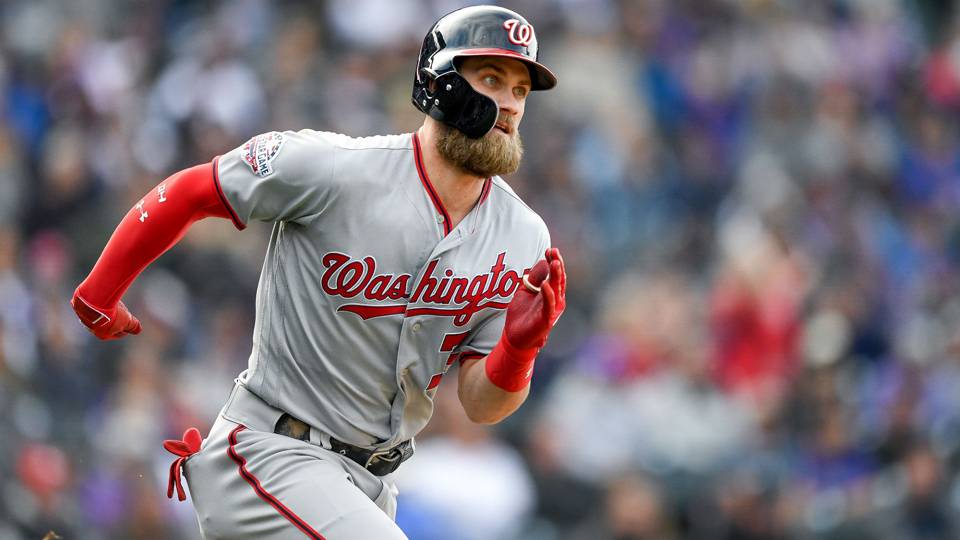 Photo Getty Images
The Bryce Harper sweepstakes is heating up even more.
The Dodgers have re-entered the race to sign the free-agent outfielder, ESPN reported, citing multiple league sources.
However, the Dodgers are offering only a short-term deal,
per MLB.com
, which is not what Harper reportedly wants. He's still pushing for a long-term contract akin to what Manny Machado received from the Padres.
It's a late push for Harper and could complicate other negotiations, especially with the Phillies. Philadelphia seems to be the heavy favorite to land Harper, since it reportedly is willing to sign him long-term. From Gabrielle McMillen Omnisport
Jesse Sanchez of MLB.com reports that the Los Angeles Dodgers are "back in he mix" for free agent Bryce Harper. Sanchez was told this by a source who said that Dodgers officials, including manager Dave Roberts, were seen in Harper's hometown of Las Vegas yesterday. It's a short hop there from Camelback Ranch, after all.
This comes two days after Phillies owner John Middleton flew to Las Vegas to meet with Harper, representing what was thought to be the only team seriously pursuing him with a long term deal. The Giants are reportedly interested but on a short term pact. There are rumors that the Padres may still be in on Harper as well, despite the fact that they have already signed Manny Machado, but people don't seem to really by buying their interest.
Buster Olney of ESPN added a few moments ago that, if the Dodgers are in on Harper, they may, like the Giants, be interested in a short term pact which he says is "in keeping with their operating philosophy." At the moment the Dodgers don't have anyone under contract for longer than five years. Their last free agent signing, of A.J. Pollock, came on a four-year pact. A Clayton Kershaw extension was for three years. Kenley Jansen is under contract for three more seasons. Justin Turner is signed through 2020.
Whether Dave Roberts' visit to Los Angeles represents serious interest on the part of Los Angeles or whether it's just an extraordinarily late exercise in kicking the tires will likely be revealed soon. From Craig Calcaterra Hardball Talk
The Dodgers' interest in Harper is still on a shorter-term pact, tweets Ken Rosenthal of The Athletic. Harper and agent Scott Boras are still eyeing a long-term deal. Mark Feisand of MLB.com tweets that the Phillies are the only team currently negotiating a "true" long-term deal with Harper and agent Boras. The Giants, like the Dodgers, are still only interested at shorter terms than the 10-year offer Philadelphia is reportedly willing to put on the table.
The Dodgers have jumped back into the Bryce Harper bidding and held a meeting with him as recently as last night, Jesse Sanchez of MLB.com reports (via Twitter). Dodgers officials, including manager Dave Roberts, were seen in Las Vegas to meet with Harper. Per Jeff Passan and Ramona Shelburne of ESPN (Twitter links), the Dodgers re-engaged with Harper's camp two weeks ago, although at the time, they were still hoping to secure Harper on a shorter-term pact. Harper, however, has been seeking at least a 10-year deal and has not budged from that thinking, Passan notes.
While there has not been any firm indication that the Dodgers are now willing to put forth a decade-long offer (or longer), the meeting is nonetheless quite notable at this juncture in Harper's free-agent saga. Over the weekend, Phillies owner John Middleton also visited Harper in his home city, and reports at the time indicated that there was optimism surrounding the possibility of finalizing a 10-year deal with Harper as soon as tonight. That could still prove to true, but the question for many onlookers had been whether the Phillies were bidding against themselves. That no longer appears to be the case, as the Vegas meeting between the Dodgers and Harper suggests a rather sincere level of interest on their end.
Los Angeles has already added one big-ticket outfield item this winter, signing A.J. Pollock to a four-year deal worth $55MM, and bringing Harper aboard would give them a new right fielder to go along with their new-look center fielder. It'd also muddy the outfield mix a bit, leaving only one spot with Joc Pederson and Cody Bellingerin need of at-bats there. Bellinger could also see time at first base, of course, although that would come at the cost of playing time for 2018 breakout slugger Max Muncy.
That said, the Dodgers are never ones to shy away from cultivating extreme levels of depth, and bringing Harper into the fold would create an extraordinarily deep mix of offensive options for Roberts. Of course, the Dodgers have also reportedly explored deals involving Pederson this winter as well, and signing Harper could also prove to be a harbinger for the trade of another outfielder.
The Dodgers already traded away Yasiel Puig, Matt Kemp and Alex Wood in what looked at the time to be a trade that opened both roster space and luxury tax breathing room for a possible Harper addition, but the only notable signing they've made since that swap was Pollock's four-year pact. Adding Harper would definitively skyrocket the Dodgers into luxury tax territory, as they're already only about $4MM shy of that threshold, per Jason Martinez of Roster Resource. From  Steve Adams MLB Trade Rumors