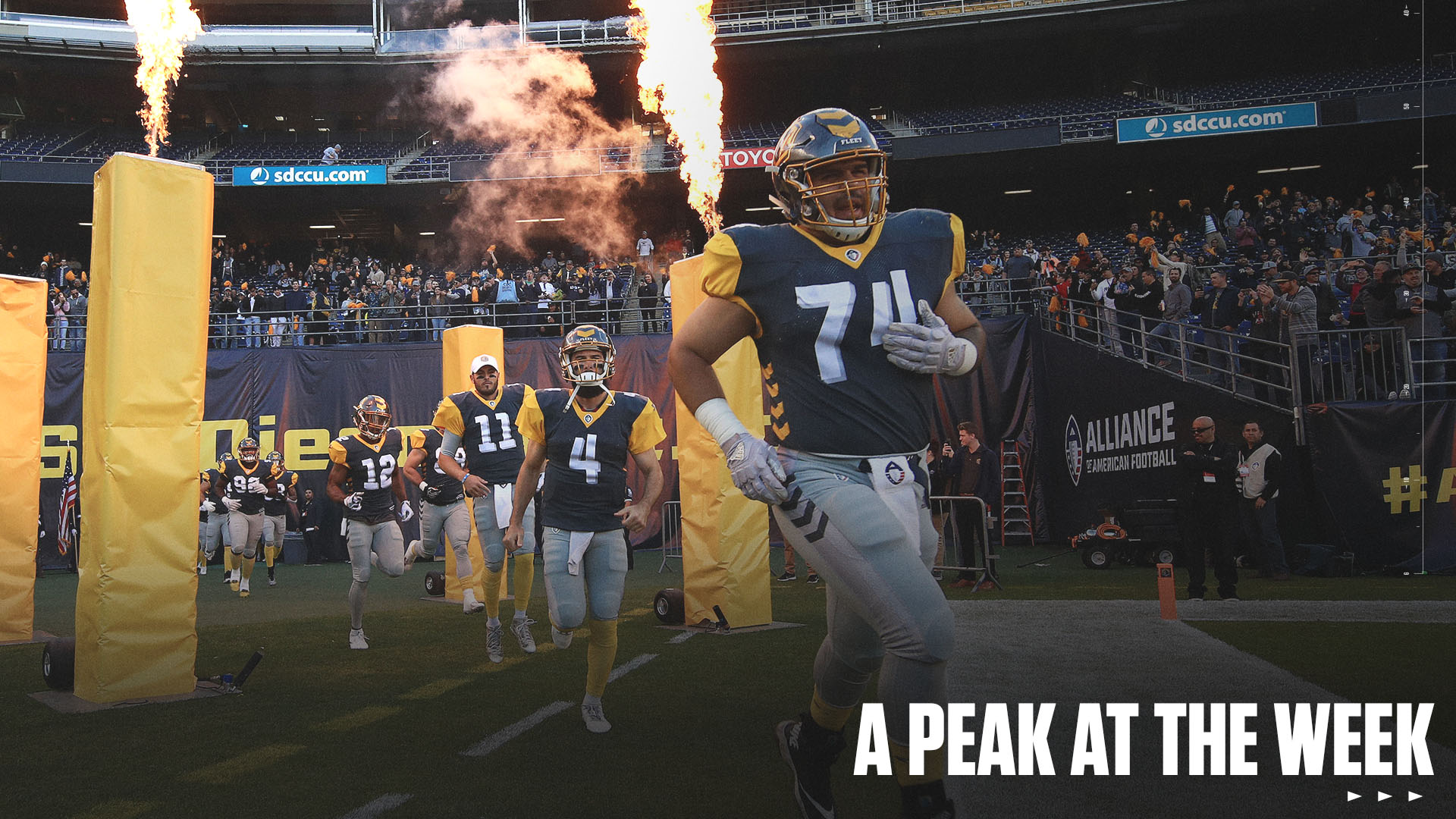 One reality of any football season on any level is that it flies by ridiculously quickly.
Whether it's 16 games in the NFL, 12 in college football or less in high schools, all you have to do is blink your eyes and find yourself saying, "Where did the season go?"
That's especially true in The Alliance of American Football where the inaugural season began just two weeks ago, but after this third weekend of games, there are only seven remaining before the playoffs begin on the weekend of April 20.
The stakes are always high, but even more so when each team plays 10 games.
After the results this weekend, what's already shaping up is one conference (Eastern) of haves and have nots and another (Western) that is tight with Week 4 on the horizon. That's how one game can change perspective in an instant.
In the East, Orlando and Birmingham at 3-0 have some breathing room as they look downward at winless Memphis and Atlanta. In the West, Arizona's loss and San Diego's victory left them tied at 2-1, while San Antonio and Salt Lake are a mere one game behind at 1-2.
Week 4 features all out-of-conference games with Orlando at Salt Lake and San Diego at Memphis on Saturday, followed by San Antonio at Birmingham and Atlanta at Arizona on Sunday. Each of the four teams with winning records play a team with a losing record, which will make for another crucial set of games. After all, when the dust settles on Week 4, The Alliance will be one week away from the halfway point of the season. Howard Balzer / The Alliance 
Photo: AP Photo/Phelan M. Ebenhack
On the football reactionary scale I fall somewhere between "O.J. Simpson was innocent," which I am only 80 percent convinced of, and "It's a disgrace that the NFL doesn't sell Jack Tatum jerseys from its official store." I hate replay. I am glad that the pros seem to be downplaying the dumb targeting rule. I thought the hit everyone whined about in the NFC championship game was awesome. I don't think the science behind CTE is close to settled. Nerd contrarian cases for eliminating basic elements of the game like kickoffs make me want to commit minor crimes against property. Continue Reading By Matthew Walther
Photo: San Diego Fleet running back Ja'Quan Gardner celebrates a touchdown with fans during an Alliance of American Football game against the San Antonio Commanders at SDCCU Stadium on February 24, 2019 in San Diego, California. (Photo by Denis Poroy/AAF/Getty Images)
It could be called the Last-Chance League.
Hundreds of players come out of college every year and chase the NFL dream, but they often only have a few months to prove themselves before final roster cuts.
Then what?
The hope is to fill that gap with the Alliance of American Football, the upstart pro football league now three weeks into its inaugural season.
Its eight teams are littered with former NFL training camp cuts and one-time college stars trying to keep the dream alive.
"I think everybody that comes into this league has a chip on their shoulder because, yeah they're getting another chance to play the game that they love but at the next level it's like 'I got this chip because I'm trying to play at the very top,' said Damontre Moore, a defensive end for the San Diego Fleet, who were fresh off a 31-11 win over the San Antonio Commanders on Sunday. Continue Reading By Dan Agnew, Yahoo Sports
Photo: Mark Almond | AL.com
In a few weeks, after spring training ends, Major League Baseball players are going to start shuttling back and forth between Triple-A and the big leagues. 
Maybe the Alliance of American Football ultimately will develop into that kind of feeder system for the NFL, though played at different times of the year.
If it does, the first year will be critical: Can the stars of the AAF make NFL 53-man rosters and practice squads ahead of undrafted free agents coming out of college? Continue Reading By Ryan Dunleavy | NJ Advance Media for NJ.com
Photo: ATLANTA, GEORGIA – FEBRUARY 24: Trent Richardson #33 of Birmingham Iron scores a touchdown against the Atlanta Legends during the third quarter of the Alliance of American Football game at Georgia State Stadium on February 24, 2019 in Atlanta, Georgia. (Photo by Logan Riely/AAF/Getty Images)GETTY
We're three weeks into the inaugural season of the Alliance of American Football, the latest in a long series of leagues that have tried to fill the gap between the Super Bowl and college football spring games and slake fans' thirst for spring football. My team, the Birmingham Iron, is sitting pretty with a 3-0 record and a pair of convincing wins over the Memphis Express and the Atlanta Legends to go with a come-from-behind victory against the Salt Lake Stallions, a team that avenged its opening-week loss to the Arizona Hotshots on Saturday. Here are a few thoughts from where I sit as an economist and a consumer of entertainment. Continue Reading By Art Carden Forbes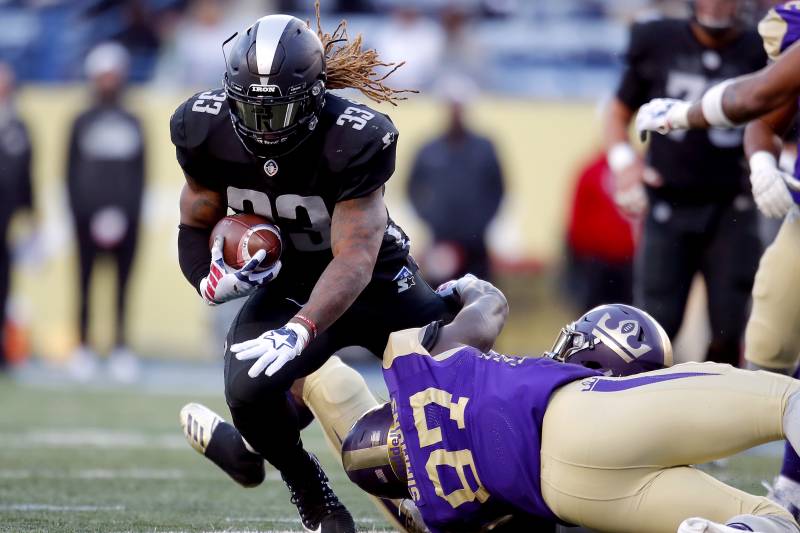 Photo: Todd Kirkland/AAF/Getty Images
The third week of the 2019 Alliance of American Football season is officially in the books.
The Birmingham Iron opened Sunday with a comfortable win over the Atlanta Legends, while the San Diego Fleet handed the San Antonio Commanders their second straight defeat.
Sunday represented a stark contrast from the previous day, when 12 combined points were the difference in Saturday's two games. Continue Reading By JOSEPH ZUCKER Bleacher Report
Photo: AAF founder Charlie Ebersol waits for the game to start at Sun Devil Stadium in Tempe, Ariz. on February 10, 2019. (Patrick Breen, Patrick Breen/The Republic)
There seems to be more trouble brewing for the Alliance of American Football.
The AAF and founder Charlie Ebersol are facing a lawsuit from Robert Vanech, who claims he came up with the idea for the league, according to a report by Action Network's Darren Rovell.
Vanech, a venture capitalist based out of Los Angeles, claims to have had a "handshake agreement" entitling him to 50 percent ownership of the league, according to the report. Continue Reading By The Heat Index, azcentral sports