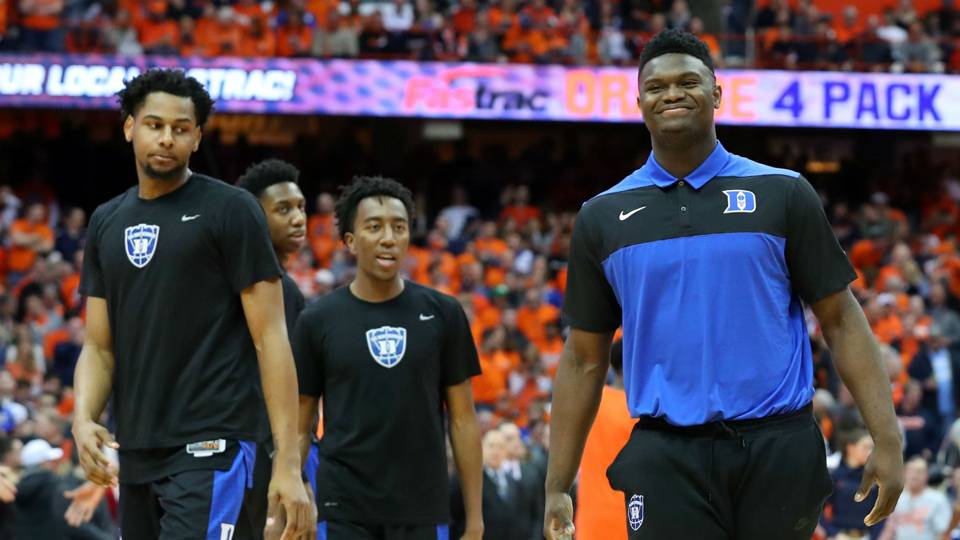 Photo: Sporting News
Duke has no plans to shut down Zion Williamson after the freshman sensation suffered a knee injury earlier this week, according to coach Mike Krzyzewski.
The Blue Devils coach explained Saturday after his team topped Syracuse, 75-65, that he hasn't had any conversations with Williamson or his family about ending the forward's collegiate career earlier than expected.
"We would never play a kid who's not ready," Krzyzewski said,
per ESPN
. "We would never play a youngster who didn't want to play. It's not about that. He wants to play. He loves being at Duke.
"He doesn't like being injured. It's an injury you can get over in a shorter period of time. There's just a protocol that we have to go through to make sure he's completely ready. We're not rushing anything, so that's why we said day to day because it's literally day to day." From Chelsea Howard Omnisport
Williamson, projected by many as a potential top pick in June's draft, suffered a mild knee sprain less than 40 seconds into his team's rivalry matchup against North Carolina on Wednesday. He slipped, ripped open his shoe and fell to the ground before walking off to the locker room for further evaluation. He did not return to that game and missed Saturday's game.
"He's in good spirits and everything," Blue Devils guard Tre Jones said of Williamson. "There's no rush on whatever is best for him. Make sure his health comes first before everything." From AMEER TYREE
The process of writing off Kansas in its quest for a 15th straight Big 12 regular-season title began in early February, after the Jayhawks lost by seven at Kansas State. But after a three-game win streak for Kansas, a home loss by Kansas State and some Bill Self voodoo, suddenly the Jayhawks were only one game out of first place entering the weekend. Continue Reading By Jeff Borzello
From ESPN
It's still possible for Kansas to extend its streak of consecutive Big 12 championships to 15. But it's no longer a likely scenario now that the Jayhawks are tied for third in the league standings, and two games back of Kansas State, with just four regular-season games remaining. Continue Reading By Gary Parrish
Kentucky coach John Calipari is in favor of the NBA's latest move to end its one-and-done draft rule. Jon Hale, Louisville Courier Journal
Lowering the NBA age limit would not raise the caliber of college basketball. It would not plug the pipelines that provide Duke and Kentucky with the best talent. It would not bring parity to a sport long dominated by self-perpetuating powers.
What it would do is cause more high school players to make more irrevocable mistakes and eliminate some of the embarrassment American universities feel for acting as accomplices for quasi-students. As reported by USA Today, the NBA proposal to lower the league's age limit from 19 to 18 is an idea with strong appeal on a libertarian level, one that would restore the perception of college as a choice rather than an obligation for high-level hoopsters, but while virtually guaranteeing some unpleasant and unintended consequences. Continue Reading By Tim Sullivan, Louisville Courier Journal
From left, Syracuse Coach Jim Boeheim and Duke Coach Krzyzewski after their team's matchup on Saturday. Photo: Nick Lisi/Associated Press
Jim Boeheim, the Hall of Fame coach of the Syracuse Orange, returned to the bench Saturday night, three days after he had struck and killed a pedestrian on a darkened highway.
Boeheim's first public appearance since the crash that killed Jorge Jimenez, 51, on Wednesday night near Syracuse, N.Y., was in a 75-65 loss at home to top-ranked Duke and Coach Mike Krzyzewski, a close friend. Boeheim, 74, in his 43rd season as coach at his alma mater, received an ovation from a record crowd of 35,642. Continue Reading By The Associated Press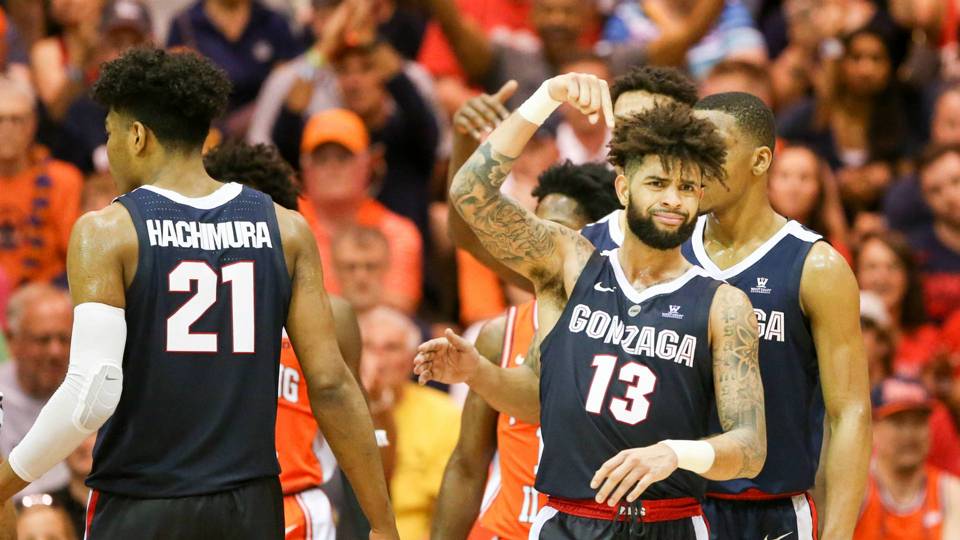 Photo: (Getty Images)
If an opponent called Complacency indeed is the most significant challenge remaining on the Gonzaga Bulldogs' schedule, that poor victim is taking a beating that would lead even the most ardent masochist to signal surrender.
Complacency? Gonzaga by 30 over BYU.
Complacency? Gonzaga by 30 over San Francisco.
Complacency? Gonzaga by 48 over Saint Mary's.
How is this a discussion? The Bulldogs have not relaxed for an instant. They are winning their West Coast Conference games by an average of 28 points, every single one of them decided by a double-figure margin. They have not lost in 66 days, and their winning streak stands at 16 games. Continue Reading By Mike DeCourcy
Top international prospect Oumar Ballo has committed to Gonzaga, a source told ESPN.
A 6-foot-10 Malian center with a 7-6 wingspan, Ballo averaged 21 points and 17 rebounds at the FIBA Under-17 World Cup in Argentina last summer. He is only 16 but will enroll this summer as a 2019 recruit.
Ballo plays at the NBA Academy Latin America in Mexico City. He took part in the Basketball Without Borders Global Camp at NBA All-Star Weekend in Charlotte, North Carolina, last weekend as one of youngest participants.
Ballo came to the attention of NBA scouts and college coaches two years ago with a dominant performance at the FIBA U16 African Championship. He averaged 14 points and 13 rebounds in just 21 minutes per game despite having turned 15 just days before the tournament. From Jonathan Givony ESPN