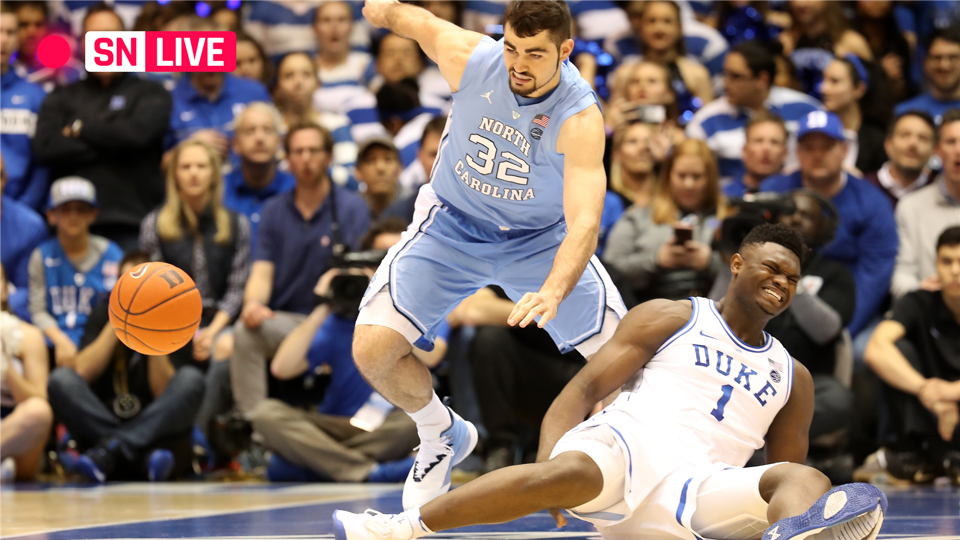 Photo: Getty Image
Duke freshman sensation Zion Williamson was forced out of Wednesday night's game against rival North Carolina after just 36 seconds with what Blue Devils coach Mike Kzryzewski called a "mild knee sprain." Continue Reading By Ryan McGee
Many talented Duke basketball players have taken the Cameron Indoor floor to face North Carolina over the years, from Shane Battier to J.J. Redick to Jayson Tatum.
Few had the hype freshman sensation Zion Williamson brought to the storied rivalry Wednesday night. But in the first minute against the Tar Heels, Williamson suffered a knee injury and was ruled out for the remainder of the contest. That setback seemed to stun Duke, and North Carolina rolled to an 88-72 victory. Continue Reading By Dan Bernstein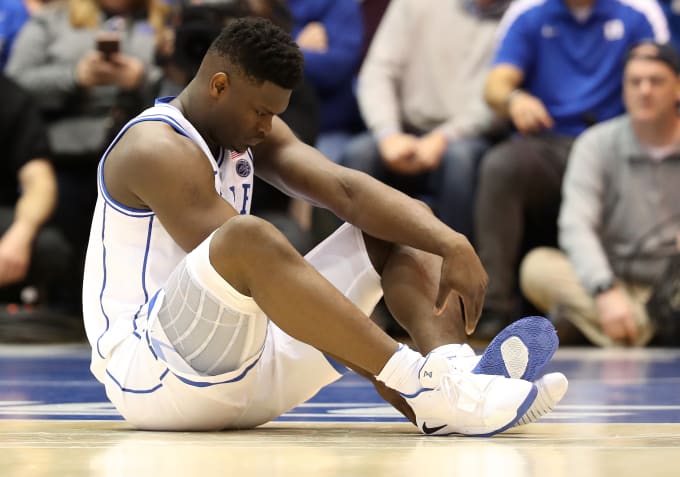 Photo: Streeter Lecka / Getty Images
Tonight, all eyes were on Cameron Indoor Stadium, the stage for the latest chapter of the storied rivalry between North Carolina and Duke Basketball. This matchup in particular was intriguing due to it being the rivalry debut of high touted freshman standout Zion Williamson, the overwhelming favorite to be selected with the top pick in this year's NBA Draft. Prior to tip-off, tickets for the game were reportedly selling for an average of more the $3,000 and among the notable names in the crowd was none other than former President Barack Obama. All the ingredients were in place for one of the year's most exciting nights of basketball. Then, the Sneaker Blowout Heard 'Round the World took place. Continue Reading By BRANDON RICHARD
Nike has been outfitting Duke's basketball team since 1993, but it's possible that the sports-apparel giant was never so happy with the arrangement as this year, given that among the current group of Blue Devils is one Zion Williamson. For his part, Williamson was never under more of a spotlight than Wednesday night, when the front-runner to be taken No. 1 overall in June's NBA draft squared off for the first time this season with Duke's arch-nemesis, North Carolina.
Unfortunately for Williamson and college basketball fans everywhere — and very unfortunately for Nike — Williamson didn't last long against the Tar Heels, because he was forced from the game in the first minute with a knee injury. The mishap occurred as the 285-pound forward was planting his left foot to pivot — and his shoe exploded. Continue Reading By Des Bieler
The entire NBA world will have an eye on Duke-North Carolina on Wednesday night, tuning in more for Zion Williamson than the pageantry of the historic rivalry. It's fitting for the audience to match the atmosphere, as this game has collected the buzz of an enormous NBA clash, with tickets hitting Super Bowl prices and preview commercials running every hour on the hour.
Of course, with the game being framed this way, Sports Illustrated's NBA staff had to weigh in. In advance of the game, we asked our staff what team they would most like to see land Zion Williamson. Continue Reading By  THE CROSSOVER STAFF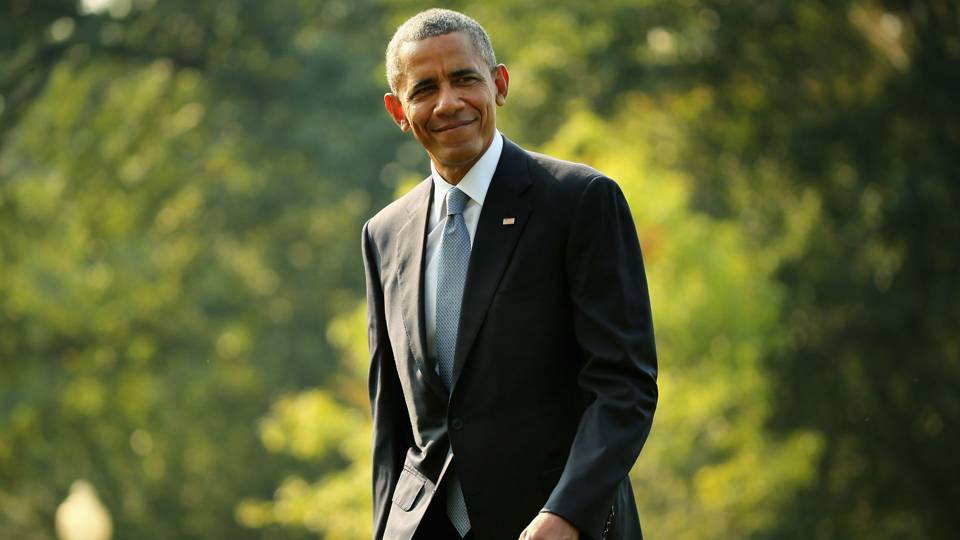 Photo: Getty Image
Former President Barack Obama was in attendance for Wednesday night's upset by the No. 9 North Carolina Tar Heels of the No. 1 Duke Blue Devils at Cameron Indoor Stadium.
Duke University officials had increased security with the likelihood that Obama would be in attendance, a person with knowledge of the situation told USA TODAY Sports earlier Wednesday.
The person requested anonymity because they were not authorized to speak on the matter.
Obama was video-taped pregame by ABC11's Mark Armstrong high-fiving fans and later was captured by ESPN cameras. Continue Reading By Scott Gleeson
Former President Barack Obama looks on during the first half between the Duke Blue Devils and North Carolina Tar Heels. (Rob Kinnan, USA TODAY Sports)
The 44th president of the United States is taking in one of the biggest college basketball games of the year.
Former President Barack Obama was spotted at Cameron Indoor Stadium on Wednesday before No. 1 Duke takes on No. 8 North Carolina in one of the best rivalries in all of sports.
Obama is a known basketball fan as he was famous for walking ESPN through his March Madness bracket during his two terms as the Commander-in-Chief.
The Duke-North Carolina game is one of the toughest and most expensive tickets to grab this season. One fan bought four tickets for $9,080.25 each, according to the Action Network. From Thomas Lott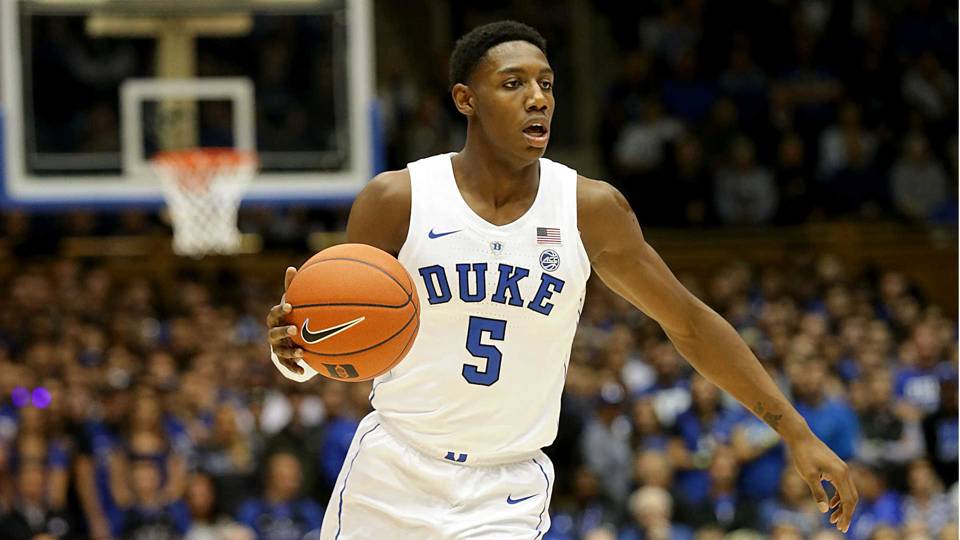 Photo: Sporting News
The Duke Blue Devils had just won a basketball game by 21 points that was played against an opponent with five NCAA championships in its past. This may seem routine by now, given that it was contested at Cameron Indoor Stadium, but even at that it was rather jarring to hear Duke coach Mike Krzyzewski using the occasion to address circumstances from a game the team played last week. This would be the antithesis of "taking it one game at a time." Continue Reading By Mike DeCourcy
It took less than a minute for Wednesday night's matchup between No. 1 Duke and No. 8 North Carolina to turn on its heels — literally.
Only 34 seconds in, Blue Devils star Zion Williamson blew out his shoe after an attempted about-face driving the lane, and with it went Williamson's night — he did not return and instead watched the game from the training room — and Duke's chances to win. North Carolina would score first on the ensuing possession, and with the air sucked out of Cameron Indoor Stadium, it never trailed in a dominant 88-72 win.
Williamson's injury took the life out of Duke, which looked listless throughout. The Blue Devils had a chance to cut the lead to a single possession just before half, getting to within five, but UNC went on a surge to extend its lead to 10 and it never got closer.
Luke Maye led UNC with one of his strongest showings of the season, scoring 30 points and grabbing 15 rebounds. Senior Cam Johnson added 26 points, while touted freshmen Coby White and Nassir Little combined for 11 points.
For Duke, RJ Barrett tied his career-high with 33 points, and Cameron Reddish added 27. But no other Blue Devils player added more than six points on the evening, and it was clear Williamson's absence — both physically and statistically, where he's averaging 22.4 points and 9.2 rebounds this season — was sorely miss
Even with the loss Duke will remain a No. 1 seed, according to CBS Sports Bracketology Expert Jerry Palm. From Kyle Boone