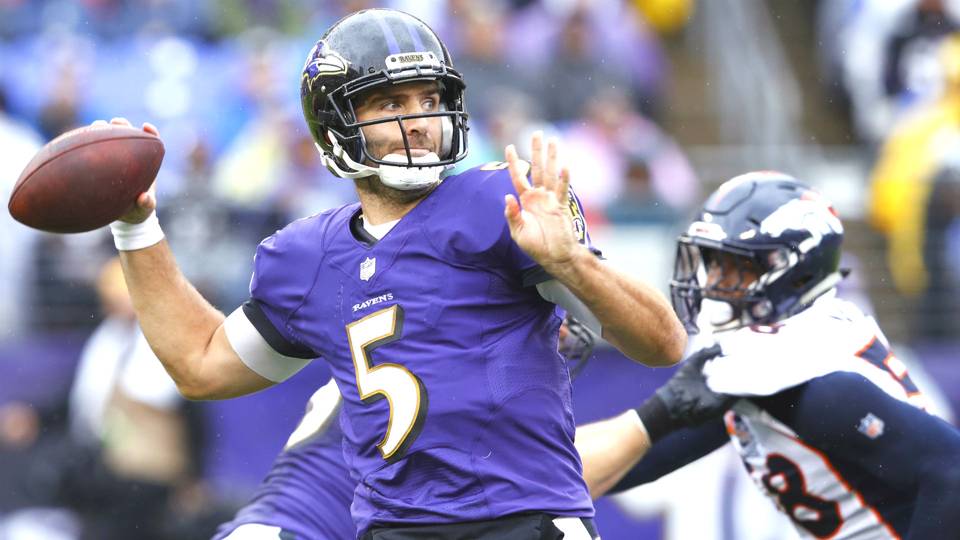 Photo: sporting news
The Denver Broncos swung the first big offseason trade of the year, agreeing to ship a fourth-round pick to the Baltimore Ravens in exchange for veteran quarterback Joe Flacco.
The move will have a trickle-down effect not only for the Broncos but the rest of the quarterback market as we barrel toward the opening of free agency on March 13.
Knee-jerk reactions to the trade fell into two buckets:
1) Praise for the Ravens' ability to receive compensation for Flacco.
2) Head-scratching over the latest John Elway QB move.
Thinking a bit deeper, here's a quick look at who might be the winners and losers of the pre-Valentine's Day swap: Continue Reading By Kevin Patra
Whenever John Elway talks about a deal, contract, player or most anything that crosses his desk for the Denver Broncos, two words almost always sum up how he goes about making the decision.
It comes down to what "makes sense."
For the second time in his tenure as the Broncos' top football executive, Elway has decided to make sense of the quarterback dilemma by securing a former Super Bowl MVP with some health questions. Continue Reading By Jeff Legwold
Photo: si.com
In one regard, the Broncos' reported agreement with the Ravens to trade for quarterback Joe Flacco is worthy of criticism. More than three years after Peyton Manning's final game, the Flacco trade confirms Denver still does not employ what most would call a "franchise QB," a passer capable of leading the offense for more than a few years.
But for the first time since Manning's retirement, the Broncos have a QB for which the plan should be clear. Flacco, at 34 and entering his 12th NFL season, should be viewed as nothing more than a bridge connecting Denver to its next attempt at solving football's toughest positional riddle. Continue Reading By Tadd Haislop
Like the Alex Smith trade during Super Bowl week a year ago, there are some maneuvers that are so critical to a team's planning that they often get done before the start of the new league year.
On Wednesday ESPN reported that Joe Flacco will end up with the Denver Broncos come March 13, and our Albert Breer reported that the Broncos are sending their 2019 fourth-round pick back to Baltimore. While Flacco's impending departure isn't a surprise—head coach John Harbaugh admitted as much following the Ravens' season-ending loss to the Chargers, signaling a full-on rebuild around Lamar Jackson—it is surprising to again see Broncos president John Elway take a major swing for a quarterback in free agency. Continue Reading By CONOR ORR
Todd Olszewski, Getty Images
The Broncos have found their new quarterback in Joe Flacco.
The collective Twitter reaction from around the NFL showcased surprise, excitement and disappointment. Below is a regularly updated roundup of what people are saying about the former Ravens passer heading to Denver. Continue Reading By KYLE FREDRICKSON
Shortly after the Ravens lost to the Los Angeles Chargers in the AFC wild-card round, head coach John Harbaugh gave Joe Flacco the ultimate compliment when he called him the best quarterback in Ravens history.
To some, that might not have meant much because the Ravens have only been here since 1996 and didn't have the storied tradition of franchises in Dallas, Green Bay or Pittsburgh. But for others, it spoke great volumes because Ravens fans had endured so many quarterbacks through their first 13 years. Continue Reading By Mike Preston
John Elway once saw Joe Flacco steal a shot at a Broncos Super Bowl title away from Denver, and now he's going to give Flacco a chance to bring the Broncos a title. On Wednesday, news broke that Denver has agreed to acquire the former Super Bowl MVP in a trade with the Ravens, the first domino to fall on the offseason QB market.
CBS NFL insider Jason La Canfora has more on the deal, which was first reported by ESPN's Adam Schefter: Continue Reading By Will Brinson