NATIONAL BASKETBALL ASSOCIATION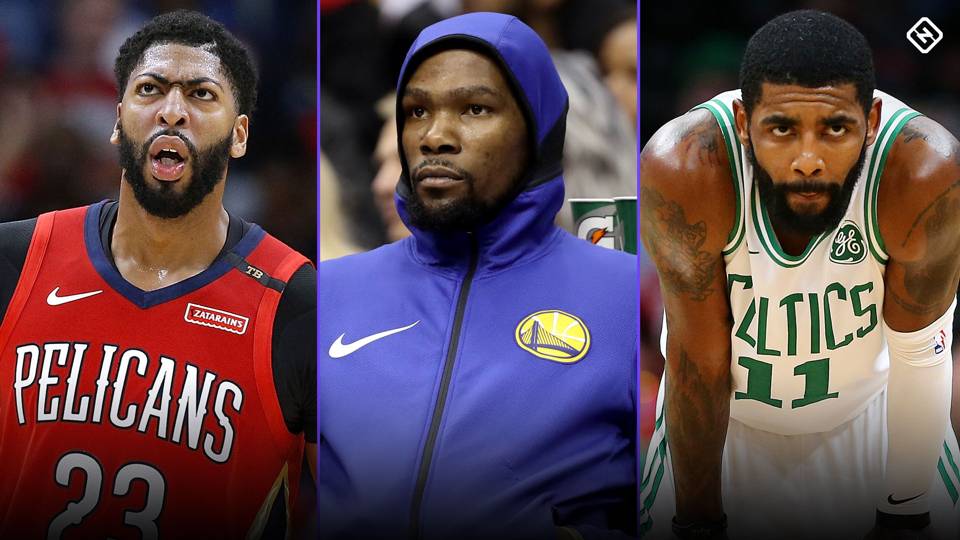 Getty Images
Los Angeles Lakers guard Josh Hart had a PRP injection to treat tendinitis in his right knee today. Hart will be re-evaluated after the All-Star break.
Atlanta Hawks guard Jeremy Lin is finalizing a contract buyout, clearing the way for him to sign with the Toronto Raptors.
Milwaukee Bucks co-owner Mark Lasry has reportedly been fined $25,000 for violating the NBA's tampering rule for comments on Anthony Davis, according to Malika Andrews of ESPN.
Nik Stauskas was briefly with the Cavs, who acquired him from the Portland Trail Blazers in a deal for forward Rodney Hood. He never appeared in a game before Cleveland sent him two days later to the Houston Rockets, who promptly traded Stauskas at the deadline to Indiana. The Pacers then waived him, allowing the rebuilding Cavs to pick him up.
The New York Knicks used an image of rookie center Mitchell Robinson playing alongside the Golden State Warriors' Kevin Durant in a pitch to season-ticket holders, then deleted the picture to avoid the perception that the organization had an ulterior motive in including Durant, who will be a 2019 free agent, in the pitch. From Ian Begley
Here's our breakdown of the 2019 NBA buyout market:
Veterans who have been bought out or released and are free agents:
Note: Players marked with an asterisk were injured at the time of their release. Players marked with a double asterisk remain on waivers.

Veterans who have been bought out or released and joined new teams:

Other candidates to be bought out or released:

From NBA Rumors
NATIONAL FOOTBALL LEAGUE
The Cleveland Browns have signed running back Kareem Hunt just months after he was released by the Kansas City Chiefs for his involvement in a video that showed him shoving and kicking a woman in a Cleveland hotel in February 2018.
Daniel Jones is one of the top quarterback prospects in the 2019 draft class. Experts say he's 6′ 5″, 220 lbs, he's accurate, he's shown an ability to read defenses and manipulate coverage with his eyes, and he's resilient.
Jerry Jones still wants head coach Jason Garrett to succeed at all costs. Dallas is actually well-fixed on cap space and could fit a new deal under the ceiling without wreaking too much havoc.
Patrick Mahomes had the greatest season in this history of fantasy football quarterbacks.  Mahomes, who finished with 50 touchdown passes and a record-breaking 417.08 fantasy points, also ranked among the top five quarterbacks 43.8 percent of the time.
Kansas City Chiefs and NFL MVP QB Patrick Mahomes are getting oddmakers' respect. The Westgate Las Vegas SuperBook opened odds to win Super Bowl LIV in early January. The Chiefs had the second-best odds at 7-1, with the Rams as the favorite at 6-1. However, in the weeks since, Kansas City has shifted to the 6-1 favorite there and at multiple other Las Vegas sportsbooks.
The Eagles want to maximize their return for Nick Foles. GM Howie Roseman has options? Franchise Foles then trade him, or let him go. Foles future should be a top priority.
Andy Reid expressed the biggest difference between Steve Spagnuolo and Sutton—this is actually one of the things that sets Spagnuolo apart if we're to go off of how he coached with the Giants a few years ago, his second stint with the Giants—is when he does bring pressure, he keeps two safeties deep a lot of the times, which is unusual.
Andrew Luck Comeback Player of the Year Luck was also a top-five fantasy quarterback in 31.3 percent of his starts. His shoulder injury is a non topic anymore for the Indianapolis Colts.
Former NFL referee Red Cashion, known for his vociferous calls of "First down," has died. He was 87. NFL Referees Association executive director Scott Green called Cashion "the kind of man everyone wanted to emulate both on and off the field, and he gave so much of his time to all of us."
Quarterback Baker Mayfield said Wednesday night that the hype about 2019 is warranted, and the team's new coordinators both said they chose to come to Cleveland because of the Browns' situation.
Pro Football Focus put out it's top 101 players from 2018. BY PFF ANALYSIS TEAM
MAJOR LEAGUE BASEBALL
The Orioles have agreed to a minor league contract with outfielder Eric Young Jr.
The Rays have agreed to a minor league contract with right-hander Tyler Cloyd.
The Athletics have signed veteran catcher Nick Hundley to a minor league contract with an invitation to spring training.
FolBy Cristiana Caruso
MLB should consider a lottery in their proposal to change the amateur draft. It's no secret that the draft needs to be fixed, and maybe this is the way to spice things up a little more.
While many fans have focused on the fates of its current players of late, nearly all of them mourned the passing of Frank Robinson who died last week at the age of 83. Frank Robinson was one of the absolute best to ever play the game and was also the league's first African-American manager. We at MLB Daily Dish send our heartfelt condolences to his family, friends, and fans. The world lost a giant.
Ramón Laureano deserves more attention.
The Marlins finally parted ways with their star catcher J.T. Realmuto as they traded him to the Phillies in a deal that was highlighted by flamethrowing pitching prospect Sixto Sanchez. The Phillies were late entrants into the Realmuto sweepstakes, but they closed the deal and the National League playoff race next year continues to look very, very interesting.
Bryce Harper is still a free agent, but the star outfielder has recently met with the Giants about possibly signing with them.
The Hartford Yard Goats are turning themselves into the Screaming Goat meme for one night only. Get your tickets now, folks.
The Nationals brought back Jeremy Hellickson to a one-year deal.
Beloved veteran outfielder Curtis Granderson will look to play another season in the big leagues, as he's inked a minor-league deal with the Marlins and will try to win a job this spring. If he does end up making Miami's roster, it'll be interesting to see if he's flipped to a contender down the stretch for a third straight year; he seems to be somewhat of a good luck charm, as he's played on nine playoff teams in 15 seasons, including three that have advanced to the World Series.
Yankees' Zach Britton has changed his name … to Zack Britton, you know for those of you who were about to make your fantasy picks and be like, "Wait, is this the same guy? Is this a typo?"
Our Andersen Pickard broke down the offseason moves in the NL West, which have been few and far between with just about a week before pitchers and catchers report.
These names will soon be known all around the National League. Check out these young stars who will be heading to a baseball broadcast near you.
Andersen Pickard continued his look at the first half of this offseason (with the second half seemingly looking like it will extend into the last week of spring training) with a look at how well the NL Central has done for itself so far.
Peter Alonso could be in for a big rookie year.
Nolan Arenado and the Rockies made history as they agreed on a one year, $26 million contract to avoid arbitration. That $26 million is a most given to an arbitration eligible player and frankly, Arenado deserves it.
More bad news for Orioles fans: It doesn't look good for Chris Davis.
The Padres have made a bit of a surprise entrance to the top of the free-agent market, as they are showing interest in some of the top names including Bryce Harper and Manny Machado. San Diego may not look the part of a contender right now, but they have one of the league's best farm systems and could become good in a hurry.
The Angels owe it to Mike Trout to at least make an effort to be better.
Is Isiah Kiner-Falefa the future of roster management?
The Diamondbacks are taking a chance on reliever Greg Holland after signing the three-time All-Star closer to a one-year, $3.5 million deal.
A modest proposal: the Twins should sign Dallas Keuchel and Craig Kimbrel. Just bear with us here.
Do free agents lose value when they remain on the market deep into the offseason? We took a look at the data, and let's just say it usually helps them to sign sooner than later.
What if Bryce Harper ditched the commitment and signed a one-year deal somewhere?
Our Stephen Tolbert took an in-depth look at how the qualifying offer system has affected players' value in free agency.
 NATIONAL HOCKEY LEAGUE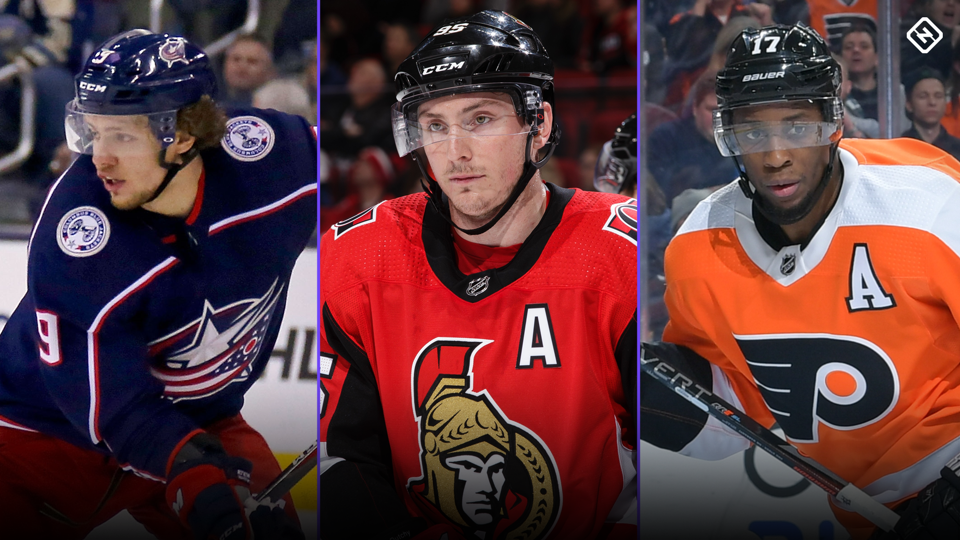 Sporting News
 The NHL's Feb. 25th trade deadline just two weeks away, general managers are evaluating their rosters to determine which players to move and which ones to pursue.
My NHL Trade Rumors Lyle Richardson writes the Penguins GM Jim Rutherford's been among the busiest in this season's trade market. In addition to swapping Carl Hagelin for Tanner Pearson, he sent Daniel Sprong to Anaheim for Marcus Pettersson followed by Derek Grant to the Ducks for Joseph Blandisi, traded Jamie Oleksiak back to Dallas for a draft pick, and shipped Derick Brassard, Riley Sheahan and two draft picks to the Panthers for Nick Bjugstad and Jared McCann.
Sergei Bobrovsky the two-time Vezina Trophy winner is struggling through his contract year. Most teams are waiting for the off-season the  Panthers could try to acquire him before the trade deadline.
The Senators are attempting to re-sign 27-year-old Matt Duchene and Mark Stone. If Duchene isn't signed he could be shopped for an offensive skilled center.
American center Jack Hughes, an unbelievable playmaker with hockey in his blood and jaw-dropping skill, is the expected No. 1 pick this summer in Vancouver. Hughes is listed at 5-10, smaller in stature than recent first-overall predecessors.
Major League Soccer 12 UP
 ​Wayne Rooney the ​DC United forward was arrested and charged with public intoxication last month at Washington's Dulles Airport. He was released that same day and paid a $25 fine.
​Cleveland Browns owners Dee and Jimmy Haslam decided to take ownership of the Columbus Crew, ensuring that the long-time ​MLS franchise will remain in Ohio for the near future.
FC Cincinnati's revealed its Adidas home jersey, or kit as it's called in soccer circles. The jersey is a primarily blue top with blue shorts and socks. Each separate piece has elements of orange, most noticeably on the jersey top with its vertical orange striping and orange trim along the sleeves and neck.
The Fire could have a free-wheeling attack in 2019, with Aleksandar Katai, Przemysław Frankowski, Djordje Mihailovic, Nemanja Nikolic and Bastian Schweinsteiger, but they'll need Dax McCarty energy and grit in the middle to get the most out of them.