Mark Humphrey
FILE – In this Jan. 23, 2019, file photo, Tennessee head coach Rick Barnes watches the action in the second half of an NCAA college basketball game against Vanderbilt in Nashville, Tenn. The Volunteers don't have a single top-100 recruit on their roster, yet they're ranked No. 1 and have a school-record 17 straight victories for the longest active winning streak of any Division I team. (AP Photo/Mark Humphrey, File)
Tennessee has been ranked No. 1 in The Associated Press poll the past three weeks, has one loss this season and owns Division I's longest winning streak.
It wasn't enough for the NCAA Division I Basketball Committee to give the Volunteers the top overall seed in its initial rankings. The committee revealed its preliminary rankings on Saturday and it was Duke, not the Vols, earning the No. 1 overall seed. Continue Reading By JOHN MARSHALL
si.com
In Duke's last game against Virginia, coach Mike Krzyzewski's squad shot 2-of-14 on three-pointers and relied on its talent to beat the Cavaliers' stifling defense. Instead of repeating that performance Saturday, the Blue Devils took a page out of UMBC's "make every shot" playbook, shooting 57.8% and 13-for-21 on threes in an 81-71 win. Continue Reading By JOE WILKINSON
Villanova Wildcats forward Saddiq Bey (15) and Marquette Golden Eagles guard Markus Howard (0) reach for a loose ball during the second half at Fiserv Forum. (Photo: Jeff Hanisch, USA TODAY Sports)
Saturday's unveiling of the top 16 seeds by the NCAA tournament selection committee provided a glimpse into the future. But the day's game slate also served as a reminder that there's still plenty of basketball to be played in the next five weeks up until Selection Sunday.
In a battle between two forecasted No. 1 seeds, Duke once again out-dueled Virginia. The Blue Devils started the day as the top overall seed, per the committee's assessment, and ended the day with an even stronger profile. The Cavaliers, meanwhile, only suffered their second loss of the season, but this one was a much more convincing loss and on their home court. Continue Reading By Scott Gleeson
Louisville Cardinals forward Dwayne Sutton (24) fights for a ball against Florida State Seminoles guard MJ Walker (23) during the first half at Donald L. Tucker Center in Tallahassee, Florida, on Saturday, Feb. 9, 2019. (Photo: Melina Myers, USA TODAY Sports)
It's always tough to win on the road in the ACC.
No. 24 Florida State (18-5, 6-4 ACC) outlasted No. 17 Louisville (17-7, 8-3 ACC) 80-75 in an overtime battle of ranked teams in front of a Tucker Civic Center crowd of 11,675 Saturday afternoon.
"That one was tough to swallow," Louisville coach Chris Mack said. "Felt like for the better part of the game we did what we needed to do to put ourselves in position to win."
Louisville had won seven of its last eight games entering Saturday. The Cardinals fall to 4-2 on the road in ACC play.
The Cardinals let a 10-point second-half lead slip away and the Seminoles tied the game at 65 at the end of regulation.
FSU didn't waste time in overtime.
The Seminoles scored the first eight points of the period to surge in front, 73-65. It was their first advantage since 23-22 in the first half. Continue Reading By Wayne McGahee III, Louisville Courier Journal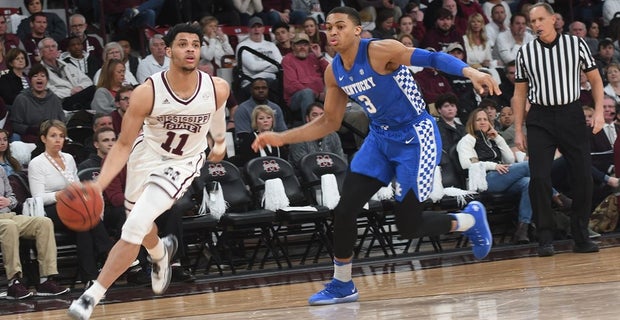 A slow first half from Quinndary Weatherspoon and the Bulldogs gave Kentucky enough momentum and margin for a 71-67 victory (Photo: Steve Robertson, 247Sports)
The best second half of Mississippi State's season wasn't good enough to complete a comeback as Kentucky escaped Humphrey Coliseum with a 71-67 victory. The #5-ranked Wildcats left 20-3, a game out of the SEC lead at 9-1, and with a tenth-straight victory.
Ben Howland's Bulldogs dropped to 16-7, 4-6 with the week's second close call. If not in overtime as Wednesday's setback to LSU, this was by another four-point margin. And maybe, more frustrating given the game's contrasting periods. Down 40-25 at halftime and seemingly out the Bulldogs slashed that deficit to a point with plenty remaining time to complete the comeback.
They couldn't. "If we come out the first half like we did the second half I feel we win the game," guard Nick Weatherspoon said. His coach didn't disagree about the key to winning…or avoiding defeat.
"It's not digging a hole in the first half," said Howland. "Go down 15 points to maybe the hottest team in the country, that put a very low probability. And I thought we gave ourselves a great chance." Continue Reading By DAVID H. MURRAY