The New York Giants are lined up, 50 players in a rowed formation, stretching in downward dog position. A head pops up.
Odell Beckham Jr. begins dancing. It's because Drake's verse from the new Travis Scott song "Sicko Mode" is coming through the twin loudspeakers. Drake is a good friend—Beckham stays at his house from time to time. And anyway, he doesn't mind standing out.
There is no consequence for his frequent dance breaks at practice. His padless football pants are rolled up to the length of compression underwear, revealing legs-long tattoo sleeves done by Joaquin Ganga Lopez, the same man who works on Lionel Messi. His cleats are replicas of the Nike Air More Uptempo sneakers that were a cultural landmark of 1990s street wear.
On this day, just like each pre-practice routine and pre-game warmup, he is a football commedia dell'arte. Every movement, every emotion is carried out to its fullest extent. He puts his whole body into air-drumming the fill from Black Sabbath's "Iron Man." He sidles up to a patch of grass near the stands like a Broadway dancer hitting the tape on stage and faces a group of kids who have teamed up to scream his name "OHHHHHHHHHHHHH-DELLLLLLLLLLLLLLLL!" He nods. They cheer. And like that, he's on to the next number.
In three weeks, he'll become the highest-paid wide receiver in football. But to observe Beckham at this practice and place him against the backdrop of the league he so often dominates is to understand why it took so long in the first place. There are wild nights in Paris and days spent gliding through worlds incompatible with football's militaristic churn. To some, this makes Beckham an icon, avant-garde. To others, it makes him distracted, and liable.
That is the most fascinating part of Beckham. From the moment he blew away co-owner Steve Tisch in a final-stage vetting phone call before the draft in 2014, to the instant he signed a five-year, $95 million extension to promises by co-owner John Mara that he was "personally moving in the right direction," Beckham has left a different impression on almost everyone he's come across.
The meaning of Odell is far more complicated than balletic displays of athleticism or curls of frosted hair. When you give your life to the world, you become a prism for everyone else's thoughts, fears and personal projections to pass through. Just ask those who reside in his orbit. CONTINUE READING, by  CONOR ORR
The annual handwringing over the length of the preseason and the regular season is back again, just like you knew it would be. An unlikely trio of Jerry Jones, Sean McVay and Matt Nagy set it off this time; Jones said a two-game preseason with an 18-game regular-season schedule could improve the safety of the game for the players, while McVay and Nagy stirred up debate while resting their starters in the third exhibition long known as the dress rehearsal for the regular season.
I'm in favor of keeping the regular season at 16 games and, if anything, trimming the preseason to three games, but let me present some of the main talking points through the lens of Jones's preferred schedule: extending the regular season to 18 games and reducing the preseason by two games. Let's begin…
Money: This is really the chief reason for contemplating an extended regular season, and we all understand it even without someone like Jerry Jones having to say it. Two extra regular season games hikes up the TV deal and brings in more money to the stadium. More money for the owners would also mean more money for the players, who would most certainly begin dividing their compensation by 18 rather than 16 and thus look for higher contracts in the future.
Timing and weather: If the NFL were to add two regular-season games onto the front-end of the schedule, the season would overlap with the start of college and high school football—that's not cool. It would also force players to play at full speed and contact in higher temperatures, which raises concerns of injury and fatigue. If the NFL added two games on at the end of the season, the Super Bowl would be played in late February, shortening the pre-NFL draft process and making teams play in often inclement winter conditions.
Undrafted free agents: By reducing the preseason, it will be much tougher for undrafted (rookie) free agents to make an impact and land a spot on the 53-man roster. A DIII receiver could shine at camp, but coaches would want to see how he does on the big stage. If he can't get any burn in those two exhibition games, how does he make the team?
Records: We've had a 16-game NFL season since 1978, and that's less than a decade of difference from the merger. In essence, we have a good understanding today of landmark records, so if the NFL increases the regular season to 18 games, get your asterisks ready. The 5,000-yard passing mark that only has been hit nine times is sure to balloon. The 2,000-yard rushing mark would also see some new faces to its club of seven. Would breaking Michael Strahan's sack record with two extra games really count?
Fans: They're already paying regular-season prices for preseason games, so they clearly win with an 18-game schedule. The bang-for-your-buck is more evident here than anywhere else.
Schedule makers: Good luck to Howard Katz and his team. They spend about four months creating the 256-game schedule. How much more time will they need when that goes up to 324 games? By  JONATHAN JONES, Photo: WESLEY HITT/GETTY IMAGES SPORT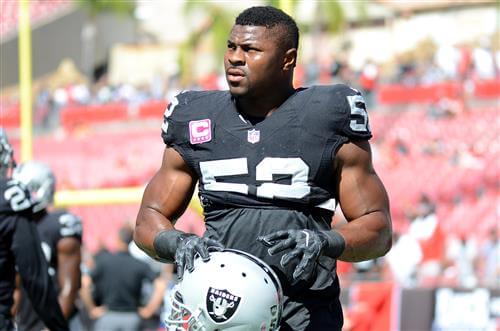 The Oakland Raiders are apparently in no hurry to trade Khalil Mack, even though he is still holding out with the 2018 season approaching.
According to Tom Pelissero of NFL Network, a number of teams have called the Raiders asking about the availability of Mack in a potential deal but have come away thinking the AFC West team is asking for at least two first-round draft picks and isn't "motivated" to move him at this point.
Manish Mehta of the New York Daily News called Mack "disgruntled" with the current situation and noted "more than a dozen teams" have asked Oakland about trading for him.
Mack is set to make just over $13.8 million during the 2018 season before hitting free agency on his current contract, but Charles Robinson of Yahoo Sports said he is looking to become the highest-paid defensive player in NFL history and may even miss regular-season contests as part of this holdout. By Bleacher Report, via Bleacher Report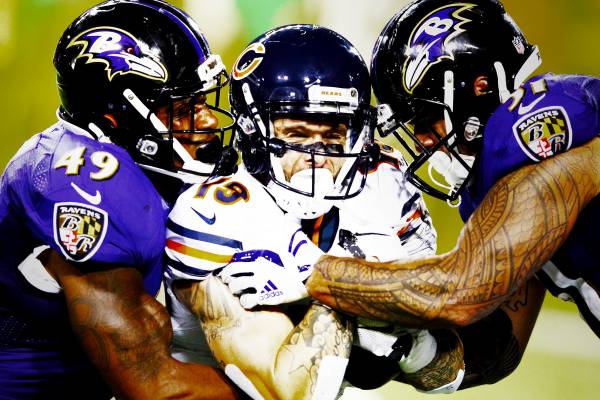 Let's start with something many of us can agree on: Malcolm Jenkins walloped Brandin Cooks in the Super Bowl.
It's a famous hit, and a vicious one. No flag was thrown, but the tens of millions of fans who saw it wouldn't have been surprised if there was one. It was a borderline play, the kind that should serve as a benchmark as the NFL implements its new use-of-the-helmet policy.
Under the new rules, which are meant to completely eliminate crown-of-helmet contact, the famous Jenkins-Cooks collision would appear to be a good template for an unnecessary roughness penalty.
Um, maybe not.
"It's 50-50 based on which referee you ask," Jenkins told B/R, just hours after an Eagles team meeting with referees early in training camp. "Some think it's a foul, some don't."
Jenkins is just speaking figuratively when he says "50-50," right?
"We put the Malcolm play up [on a video screen] on our own," Eagles linebacker Nigel Bradham said. "One ref said it was illegal, and one ref said legal."
Oh, Jenkins was being literal.
Unsurprisingly, the new helmet policy soon began causing preseason chaos across the league: incomprehensible flags, complaints from players and coaches and mixed messages from the league about on-the-fly tweaks or adjustments to a rule. As the season approaches, the new rule threatens to decide games and result in fines, ejections and suspensions for collisions that were previously considered routine, or even textbook examples of proper technique.
Underlying the confusion and mayhem is a faulty communication system between the league, officials, coaches and players; a lack of coordination between the NFL and those trying to teach safe tackling; and a simple fact that all wishful thinking about taking the head completely out of the game cannot change. CONTINUE READING, by MIKE TANIER
Getty Images
John McCain is being remembered this week as a war hero and U.S. senator, but Cardinals wide receiver Larry Fitzgerald remembers McCain as a friend.
Fitzgerald spoke at the memorial service for McCain in Phoenix today, and he gave a moving eulogy that highlighted the contrasts between the two men before explaining that their differences were not as great as their common humanity.
"I'm black, he was white," Fitzgerald said. "I'm young, he wasn't so young. He lived with physical limitations brought on by war, I'm a professional athlete. He ran for president, I ran out of bounds. He was the epitome of toughness, and I do everything I can to avoid contact. I have flowing locks, and well, he didn't. How does this unlikely pair become friends? I've asked myself the same question. But you know what the answer is: That's just who he is."
Fitzgerald talked about getting to know McCain, who would visit Cardinals practices and sometimes text Fitzgerald on game days to urge him on.
"Senator McCain," Fitzgerald said, "it's been a true honor to call you friend." By Michael David Smith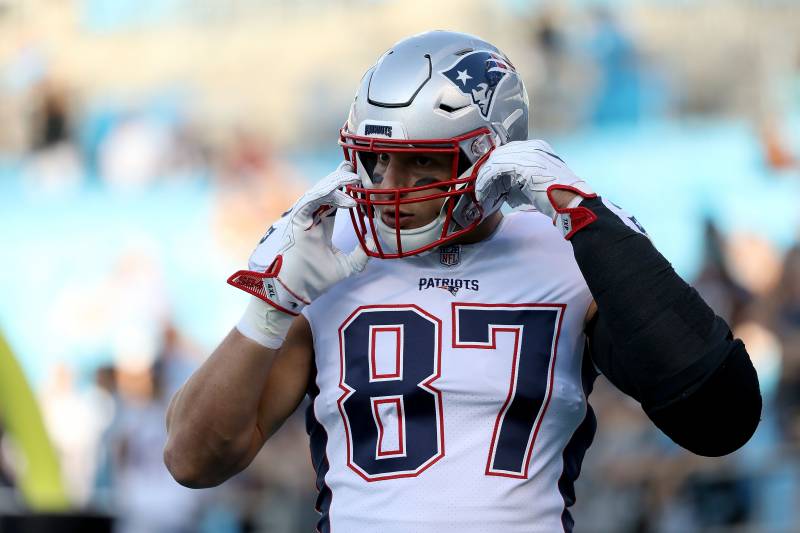 Some thought the New England Patriots would trade Rob Gronkowski. Some thought he'd retire. Instead, he's got a new contract.
The Patriots and Gronkowski agreed to a revised contract that could be worth up to $13.3 million in 2018, according to NFL Network's Ian Rapoport. The deal includes $3.3 million incentives, per Rapoport: $1.1 million for 70 catches, $1.1 million for 1,085 yards, $1.1 million for nine-plus touchdowns and $1.1 million for playing in 80 percent of the team's offensive snaps. He must reach three out of the four extensions to max out.
The 29-year-old has made five Pro Bowls and was a first-team All-Pro on five occasions, including 2017. He recorded 69 receptions for 1,084 yards and eight touchdowns last season, returning to form following an injury-plagued 2016.
If there is any criticism of Gronkowski, it's his inability to stay healthy. He has not played 16 games in a season since 2011 and has suffered injuries to his knees, back and elbow, among others. Some thought the Patriots would move on as he approaches 30.
Gronkowski also contemplated retirement following the Patriots' Super Bowl LII loss to the Philadelphia Eagles.
Greg Bedard of Boston Sports Journal reported Bill Belichick became wary of the player's lack of commitment and began to consider trading him ahead of the draft.
"I'm not going to speak for anybody else," Belichick told reporters. "So, conversations I've had with the players—and I've had a lot of them—I will keep those private between myself and the player. I respect those coach-to-player conversations. I don't want to speak for anybody else."
Much like it was with Tom Brady, this is much ado about nothing. Gronkowski told the team he would return early in the spring, though he and Brady took a bit of an extended hiatus while waiting for new contracts. Neither player was at voluntary minicamp despite both receiving treatment not too far away at the TB12 clinic.
Gronkowski entered the offseason as the fourth-highest paid tight end in football on average, behind Jimmy Graham, Travis Kelce and Jordan Reed.  By TYLER CONWAY, Photo via Bleacher Report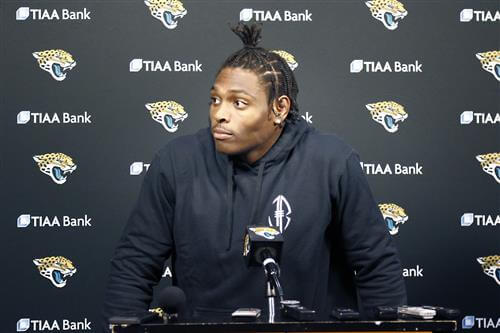 If you haven't figured out by now that Jalen Ramsey likes to talk, well, you haven't been keeping up with the NFL this summer.
Not long after drawing a brief suspension for going after the media on Twitter, the Jacksonville Jaguars' outspoken cornerback decided to give a no-holds-barred rundown of NFL quarterbacks, several of which he deemed "trash." Now, in a sitdown with Mina Kimes for ESPN The Magazine, Ramsey has unfiltered himself yet again, calling out Danny Amendola and Rob Gronkowski among others.
His latest sentiments make it clear that he doesn't lack confidence in himself, but one particular remark, buried beneath the talk of fellow Will Brinson players, makes it doubly apparent.
The remark where he suggests he could play another professional sport if he really wanted to. CONTINUE READING, by Will Brinson
Sportsline,com, Matt Franciscovich breaks down four potential running back committees before the season.
The Browns cut ties with linebacker Mychal Kendricks after he admitted to insider trading and Mike says Cleveland's handling of this situation is another example of why this team continues to struggle.
Here's a breakdown of Aaron Rodgers' blockbuster deal along with seven observations
The Saints acquired QB Teddy Bridgewater from the Jets, where he will back up and learn from Drew Brees, which is a great situation for all parties involved.
Packers trade back up QB Hundley to the Seahawks