The Dez Bryant Watch in Cleveland officially kicks in high gear.
Bryant's free-agent visit with the Browns ended Friday without a contract in place, NFL Network's Tom Pelissero reported.
The door to a potential signing with the wide receiver, however, is not closed, Pelissero added.
The 6-foot-2, 220-pound Bryant has taken his time in free agency since the Dallas Cowboys released him April, and a visit with the Baltimore Ravens before the 2018 NFL Draft didn't produce a deal.
Bryant's visit with the Browns came on the heels of general manager John Dorsey telling reporters he wanted to meet with the three-time Pro Bowl receiver, but couldn't reach him. Bryant then responded by tweeting he was coming to Cleveland for a visit.
The Browns would add a proven wide receiver to the roster with a signing. Bryant's production speaks for itself, as he amassed 531 catches for 7,459 yards and 73 touchdowns in eight seasons with the Cowboys.
Whether the two sides ultimately come to an agreement remains to be seen, but coach Hue Jackson recently emphasized the need for a good fit for the organization and team. By  Herbie Teope
Eagles free agent tight end Brent Celek tells 97.5 The Fanatic that he's leaning towards retirement (audio link). Celek didn't quite say that it's Eagles-or-bust if he were to play, but it was heavily suggested.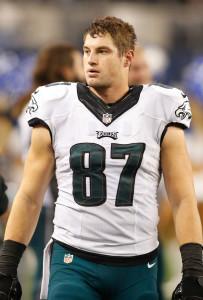 "I think I'm leaning more toward retirement," Celek said. "I've had a few offers, but none of them are worth leaving a city that I have been in for eleven years where I won the Super Bowl in my final year. It wouldn't feel right to put another uniform on."
Photo USA Today Sports
Celek was overshadowed a bit in Philadelphia last year with Zach Ertz and Trey Burton ahead of him on the depth chart, but he appeared in all 16 games for the Eagles. He has been remarkably durable over the course of his career, missing just one game since entering the league in 2007.
Once upon a time, Celek was a major part of the Eagles' passing attack. He nearly hit 1,000 receiving yards in 2009 and he averaged 59 catches for 744 yards and 4+ TDs between 2009 and 2012. In recent years, he's been used more for blocking purposes. He has just 27 grabs for 285 yards over the last two seasons. In theory, the Eagles could circle back to him now that Burton is out of the picture, but they could just as easily forge ahead with their current group, which includes second-round pick Dallas Goedert and free agent pickup Richard Rodgers.
If Celek does return, it sounds like it will be with the Eagles. But, no matter what, he says there's one team he'd never play for.
"Hell no," Celek said when asked about the possibility of heading to Dallas. "Do you think I would play for the Cowboys? Philly is my home. If they offered me 10MM, I still wouldn't go." By  Zach Links
Picking a high-profile running back coming off an injury always comes with some risk in your Fantasy league. David Johnson's wrist injury last season derailed the hopes of Fantasy football owners everywhere, while Dalvin Cook's knee halted a promising start to his rookie season. How these two high-profile running backs come back will go a long way in determining their team's success in 2018. Before you figure out which running backs with notable 2018 NFL injuries you can depend on, you need to see what Dr. Brandon Bowers has to say… Continue reading by CBS Sports Staff
The NFL preseason is in full swing, providing fans with an appetizer before the regular season of football begins. The preseason gives fans a first look at all of the teams, and also gives organizations valuable insight on what players to keep on team rosters. However, season-changing injuries happen in the preseason, and teams can assess players without putting their bodies in unnecessary harm. What do you think? Continue reading by The Tylt
Without stretching, New York Giants offensive lineman Chad Wheeler folds his 6-foot-7, 317-pound frame over far enough to place his palms flat on the ground. His knees are straight but not fully locked, because that's poor form, and he can comfortably hold himself there — he's that flexible.
That's nothing for Wheeler. Like many NFL players, he does yoga.
"It's funny doing it as a team because a lot of guys haven't done it," Wheeler said. "It makes me feel proud in a way. Like guys that are way more athletic than me, I can bend better than them in certain positions."
Football players don't fit the mold of a yogi, someone who regularly practices yoga. They're large athletes with sculpted muscles from countless hours of lifting and conditioning. Most do not look capable of the contortions required of the ancient discipline, such as standing on one foot with the other propped up on their knee in a tree pose for an extended period without falling over.