THE MICHAEL BARI SHOW DAILY
August 14, 2018
CLICK THE BAR BELOW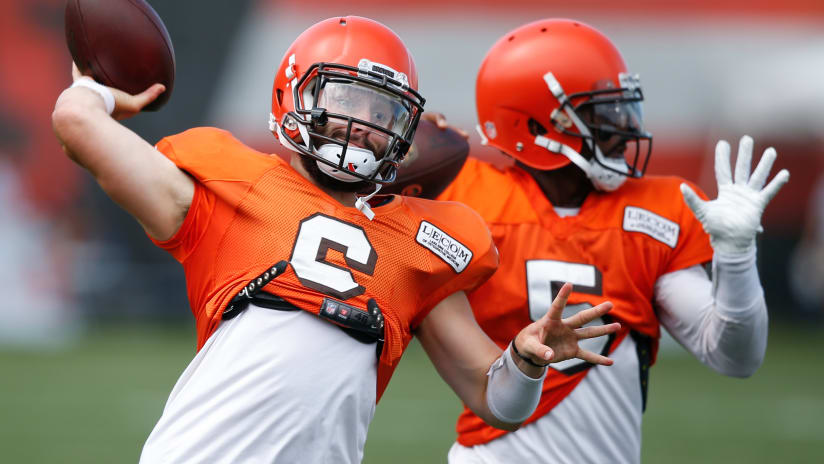 Photo from ClevelandBrowns.com
Hue Jackson confirmed Monday what most already assumed when it comes to Friday's preseason matchup with the Bills.
Expect a little more action from the starters, as Jackson plans to follow the general uptick of preseason playing time that typically hits a climax with the dress rehearsal game in Week 3. We can also expect to see veteran Drew Stanton under center for the first time as a Brown.
"They are going to play a little bit more," Jackson said. "It is the second game so I expect those guys to play more. That will be good for them."
Jackson thought the emotions that bubbled up at Monday's practice was good for the team. Here's what else you might have missed on a hot Monday in Berea. Continue reading by Andrew Gribble
Scribbles in my Browns notebook about Todd Haley and Hue Jackson:
1. In some media circles, the "Hard Knocks" coaches meeting featuring a debate between Hue Jackson and Offensive Coordinator Todd Haley is supposed to indicate the coaching staff is headed for big problems. Haley and running backs coach Freddie Kitchens weren't happy with so many players missing practice.
2. Jackson explained he wanted to avoid players such as Duke Johnson having hamstring issues. Haley and Kitchens were frustrated because they are installing a new offense and want as many key players practicing as possible. Jackson wants to keep players healthy for the regular season.
3. This is a debate that has gone on for decades. It's why virtually no important players play for long (if at all) in the fourth preseason game. It's why starters rarely play past the first quarter in the first preseason games. Head coaches tend to fear injuries more than not having their team fully prepared for the opener.
4. I thought Jackson should have allowed his assistants to speak up more before playing the "I drive the bus" card. Maybe this was discussed in another meeting not shown on "Hard Knocks," so there is no reason draw sweeping conclusions from a few minutes on HBO.
5. I did like Haley's willingness to challenge Jackson. Haley has taken over the play calling from Jackson. There probably will be times when Jackson will want to grab back those responsibilities. Haley is a former head coach of the Kansas City Chiefs. His most recent job was calling plays for the Pittsburgh Steelers. He has confidence and strong opinions, and that should help the Browns.
6. Jackson's defensive coordinator is Gregg Williams, another bold veteran assistant coach. General Manager John Dorsey also has a strong personality. I'd love to hear Jackson, Dorsey, Williams and Haley debate a few things. Jackson is not surrounded by "Yes men" when it comes to his coordinators or general manager.
7. I thought it wasn't wise for Jackson to play Antonio Callaway nearly the entire first preseason game. Jackson said it "was part of the consequences of what he's been through, and he knows it – either you sit him or make him play. I thought it was better to make him play. Make him play as long as he could."
8. Here's the problem: Callaway didn't play a single game at Florida in 2017. He had some minor injuries in the spring practices. Having him out there 54 snaps (the most on offense) was running an injury risk. It is counter to what he told Haley about keeping players healthy for the regular season. There were other ways to punish Callaway.
9. Callaway sat out of part of Sunday's practice with a rib injury. He was back on the field for Monday's practice. But I thought this was a bad approach to handling Callaway, who had an encounter with police and was cited for marijuana possession on August 5.
10. An interesting point by reader Stanley Olejarski, who emailed: "Dash cam tapes show Mr. Callaway showing respect for the officers, answering "yes sir" and "no sir" to their questions.  Similarly the officers are respectful to Mr. Callaway in their questioning, even concluding his seemingly implausible answers could be correct (there is hope for innocent until proven gutilty)…The good news is, due to mutual respect, he has a chance." Article by Terry Pluto, The Plain Dealer
The Browns made their debut on Hard Knocks last week, an emotional roller coaster of an episode that showed where Cleveland's been and where it hopes to go.
Here's what we think will fill Tuesday night's second episode following a win over the Giants on Thursday in the preseason opener.
Baker Mayfield's debut: The rookie quarterback shined in his NFL debut, passing for two touchdowns and showing plenty of poise in the pocket. Mayfield, the first-overall pick in the NFL Draft this spring, played significant minutes and made plays that back why Cleveland believes he's its quarterback of the future. Continue reading by Patrick Maks
If or when – pick your conjunction – the Browns win a game, there's going to be free beer for fans.
Bud Light, never adverse to sports marketing or promotions, has come up with a fun one: Special locked refrigerators, filled with Bud Light, will be triggered via smart technology and opened the second the Browns have notched their first regular-season victory. If you're near one, well, cheers.
"We're always cheering for them," said Andy Goeler, vice president of marketing for Bud Light, an NFL sponsor. "Obviously they haven't won in a while. We're putting victory fridges out into the marketplace. When the Cleveland Browns win, at the end of the game, these refrigerators … will send a wireless signal that will unlock them and give fans the opportunity to have a celebratory Bud Light." Continue reading by Marc Bona
Podcast: Play in new window | Download