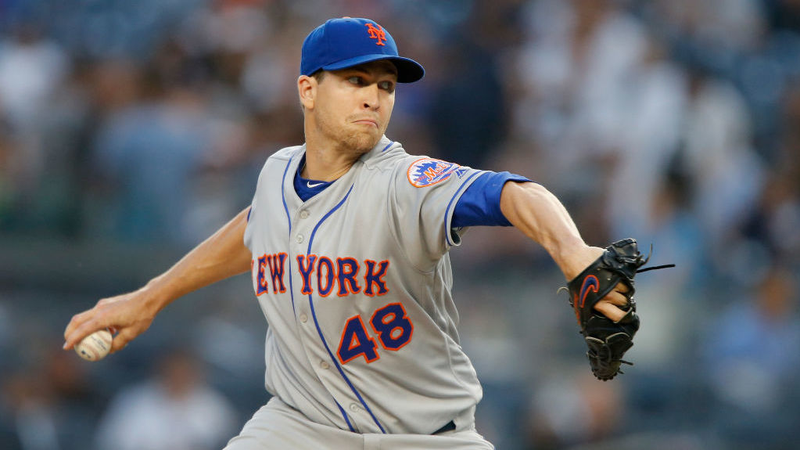 As Jacob deGrom rumbles into the final stretch of his best season ever, his manager knows "he's probably going to experience something that he's never experienced before." A pitching coach during both of Corey Kluber's American League Cy Young Award seasons in Cleveland, Mickey Callaway recalls the shift in Kluber's demeanor during his final half-dozen starts those years. He figures deGrom, similarly, "is going to be in a race for something else and it's going to mean a lot to him."
It was with that as a backdrop that Callaway stretched deGrom into the seventh inning of the Mets' 8-5 win over the Yankees on Monday, allowing his ace to return to the mound at 104 pitches. Two outs later, Callaway personally emerged from the dugout for a conference with deGrom, conversing briefly before removing him from the game. Continue reading by Anthony DiComo
Dodgers closer Kenley Jansen was hospitalized on Thursday due to an irregular heartbeat, manager Dave Roberts told reporters (including Andy McCullough of the Los Angeles Times and MLB.com's Anne Rogers) after last night's game against the Rockies.  The issue arose prior to the game, and Jansen has already been released and traveled from Denver to Los Angeles, where he will undergo more tests later today.  At a minimum, Jansen will miss the rest of this weekend's series, Roberts said.
This isn't the first time that Jansen has dealt with an irregular heartbeat during his career, as the issue arose during both the 2011 and 2012 seasons.  The right-hander missed around a month of action in both instances, and underwent heart surgery following the 2012 season in an attempt to fully solve the problem.
Jansen hadn't had any further heart situations until last night, Dodgers GM Farhan Zaidi told reporters.  Denver's high altitude may well have played a factor, as Jansen's irregular heartbeat episode in 2012 also took place during a Dodgers visit to Coors Field.
More details will be known about Jansen's condition after he undergoes his further tests, though obviously any sort of recurring heart problem is of the utmost seriousness.  Both Jansen and the Dodgers will surely be as careful as possible in monitoring his condition, and even if this was something of a fluke incident caused by the Denver thin air, Jansen's medical history surely means all parties will proceed with caution about a return to the field.  One positive sign is that Zaidi said Jansen was "feeling pretty normal right now, from what we understand."
If Jansen is facing another absence of four or five weeks (like in 2011 and 2012), then the Dodgers will be without one of baseball's best closers through the bulk of the late-season pennant race.  The L.A. bullpen has posted generally solid overall numbers this year, though obviously Jansen (2.15 ERA, 4.36 K/BB rate, 10.1 K/9) contributed heavily to those team totals.
Setup man Scott Alexander successfully converted a save opportunity against Colorado last night, and while Alexander doesn't have much closing experience in his young career, he is the most logical short-term candidate to handle the ninth inning.  Pedro Baez is another option, while Josh Fields only just began a rehab assignment after missing almost six weeks with shoulder inflammation.
With a lack of experienced closing options on hand, the Dodgers could also explore the trade market.  The club was already known to be looking at bullpen help prior to the trade deadline, coming away with only veteran John Axford after looking at higher-profile names on the Rangers, Marlins, Rays, Orioles, and Tigers.  Several of the names linked to Los Angeles are still on the board as potential trade candidates, not to mention multiple other relief possibilities likely to be on the move in August. By  Mark Polishuk
Like out of a fairytale, Cubs rookie infielder David Bote hit a two-out, two-strike grand slam in the bottom of the ninth inning with his team trailing 3-0 as Chicago pulled out a stunning 4-3 victory over the Washington Nationals on Sunday night.
Bote, 25, was pinch hitting with the bases loaded after the Cubs had been stymied all night versus starter Max Scherzer. But closer Ryan Madson couldn't put Bote away, attempting to get a low fastball by him after the Nationals had his number the day before. Continue reading by Jesse Rogers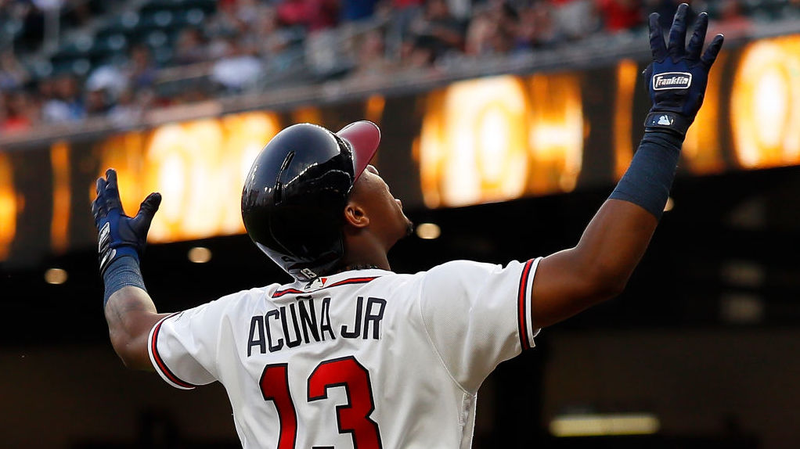 Photo: Kevin C. Cox (Getty)
Ronald Acuña Jr.—the second-most impressive sub-legal drinking age player in the NL East—is having an extremely good time these days. He's batting leadoff for an Atlanta Braves team that suddenly finds itself half a game up in the division, and he is smoking the hell out of the damn baseball.
Acuña has hit six dingers in the last seven Braves games, including both legs of today's doubleheader against the Marlins. Continue reading by Chris Thompson
In today's sports world, there's some fetish with a narrative that some sport is "dying." It's actually been around baseball for decades upon decades. I don't know why it exists, but it's there.
Further, baseball constantly hears about how it needs to be better at marketing itself.
At the intersection of these two areas, I'd like to discuss broadcasters. Specifically, the segment of announcers —  mostly color commentators, but there are some play-by-play guys who do this — who constantly lament the game and how it's played today.
I say this at a time with baseball fan demographics skewing older and a need to reach as many young fans as possible. The absolute last thing in the world that will get younger fans interested in a game is hearing from a former player about how much the game today is worse than it was "back in my day."
Your day is gone, dude. I'm sorry to tell you, but the game is constantly changing. And it's not just baseball. Things evolve over time. The biggest problem we actually have is those who refuse to accept it.
In a stunning move seemingly out of nowhere, the Athletics announced that they've acquired right-hander Fernando Rodney from the Twins in exchange for minor league righty Dakota Chalmers. Mike Berardino of the Pioneer Press reports that the A's will assume all of Rodney's remaining salary (around 1.3MM).
Susan Slusser of the San Francisco Chronicle reports that the transaction came as the result of a waiver claim by the Athletics, meaning Rodney never cleared revocable trade waivers. The 42-year-old was certainly a logical August trade candidate, as MLBTR's own Connor Byrne noted this past Saturday; more recently, the Twins' closer appeared near the top of our Top 20 August Trade Candidates, checking in at number seven. He's a reasonably affordable option for the surging yet cost-conscious A's.
Rodney has long been an effective MLB reliever, and has served mainly as a closer across the past decade. His 325 career saves rank 17th all-time among relievers, and although he's certainly shown some fluctuation in performance over the course of his lifetime, his 3.09 ERA at present would be his best in a full season since 2014 with the Mariners. The veteran has managed to strike out more than ten batters per nine innings in five of the past six campaigns and owns a solid if unspectacular 3.70 ERA (3.73 FIP) over the course of his 16-year MLB career.
For the A's, it's the latest move to bolster an already-spectacular relief corps. Headed into the second half of July, the club already boasted three relievers with a Win Probability Added of 1.00 or higher (Blake Treinen, Lou Trivino and Yusmeiro Petit). Since then, they've added Jeurys Familia in a trade with the Mets, claimed Shawn Kelley off waivers from the Nationals, and plucked Mike Fiers from the paws of the Tigers. Rodney serves as the club's fourth major bullpen addition over the course of the past month, fortifying an already-terrifying group. By Kyle Downing
Last week, we learned that Indians outfielder Leonys Martin was placed on the 10-day disabled list with what was being described as a "non-baseball condition." Manager Terry Francona called Martin's ailment "intestinal turmoil," which didn't sound very pleasant.
Martin has actually been battling a life-threatening bacterial infection that has affected multiple organs, Indians president of baseball operations Chris Antonetti told the media on Monday, MLB.com's Jordan Bastian reports. Antonetti said "progress will be measured in weeks, not days."
The Indians acquired Martin from the Tigers ahead of the non-waiver trade deadline on July 31. He played six games with his new team before going on the DL. Greg Allen and Rajai Davis figure to get most of the playing time in center field while Martin is out. By Bill Baer
When Cardinals starter Carlos Martínez returns from the disabled list, likely some time next week, he will pitch out of the bullpen, MLB.com's Jenifer Langosch reports. Martínez has been on the disabled list since late July with a strained right shoulder. The plan is still for Martínez to start in 2019 and beyond.
GM John Mozeliak said, "If you're going to go down that starting path and you're starting at ground zero, the likelihood of him being back would be sometime in mid-September. And we've done that twice this year and ended up in the same place after a few starts."
Martínez, 26, has a 3.41 ERA and a 98/49 K/BB ratio in 100 1/3 innings across 18 starts this season. The Cardinals' rotation currently features Miles Mikolas, Jack Flaherty, John Gant, Luke Weaver, and Austin Gomber.
The Cardinals entered play Monday 2.5 games out of the second Wild Card slot in the National League, so adding Martínez to the bullpen — or, subtracting him from the rotation, depending on how you look at it — could make a significant impact on the club's playoff chances. By Bill Baer
Major League Baseball's regular season is nearing its end. That means this is as good of a time as any to start talking about hardware. As such, this week on CBS Sports we're running through every award for each league. In this particular piece, you'll find all you need to know about the American League Manager of the Year award. For more on the National League race, click here.
Typically, the recipient of this award either oversaw the best team or the most surprising team. With that in mind, there only about four realistic candidates. Continue reading by  R.J. Anderson
The MLB season has hit the dog days of August and this is about the time we can seriously start discussing the races for major individual awards in addition to keeping watch with the divisional and wild-card races. In the case of the former, this week here on CBS Sports, we'll be running through each award for each league and discussing the top candidates. We start with Manager of the Year, specifically the National League race. For more on the American League Manager of the Year race, click here.
As we know, the path to winning Manager of the Year most of the time lies in taking a team that wasn't previously in contention to the postseason or just having a very surprising contender. In that light, there are two very strong contenders for the top spot. Continue reading by Matt Snyder