Since being acquired by the Cleveland Browns, Pro Bowl wide receiver Jarvis Landry has quickly become ingrained in the franchise that led to him working out an extension to remain with the team for the long haul without even playing a single game.
This has now seen him loft some major praise toward offensive coordinator Todd Haley for giving him a diverse role in the passing game while taking a shot at the Miami Dolphins, according to Aditi Kinkhabwala of The NFL Network. Continue reading by Bob Garcia IV
Preseason Week 1 Overreations From Mike Florio Pro Football Talk 
Pete Carroll Finds Roster Turnover "Thrilling" From Mike Florio Pro Football Talk 
The preseason is a time for jobs to be won, opportunities to be seized and depth charts to be determined. So, while wins and losses might not matter, there's plenty at stake for many players in these exhibition games. To help put these moments into context, Bucky Brooks will provide a grade for one player of interest from every NFL team after each of the first three full weeks of preseason action. Continue reading the NFC player grades following Week 1, by Bucky Brooks
The Los Angeles Rams made waves this offseason with the addition of Pro Bowl players such defensive tackle Ndamukong Suh alongside cornerbacks Aqib Talib and Marcus Peters. Meanwhile, the looming return of defensive tackle Aaron Donald has created plenty of hype around the defense.
However, one player that has flown under the radar is defensive tackle Michael Brockers. According to Cameron DaSilva of The Rams Wire, head coach Sean McVay feels Brockers is one of the most underrated players in the NFL. Continue reading by  Maximo Gonzales
Rookie running back Saquon Barkley exited Giants practice early on Monday after reportedly injuring his left leg on a reception down the sideline. The Penn State product limped to the endzone after snagging a deep pass from fellow rookie Kyle Lauletta.
Barkley briefly had an ice wrap around his left leg, but then took it off and walked to the locker room with his teammates at the conclusion of practice.
Despite the wrap and limp, it looks as though New York avoided a significant injury.
"Think he's all right, we'll find out," head coach Pat Shurmur said regarding Barkley following Monday's practice. By  MICHAEL SHAPIRO
The long wait is over for Roquan Smith and the Chicago Bears. The first-round pick has agreed to terms on his four-year rookie contract, a source informed of the situation told NFL Network Insider Ian Rapoport. Both sides are finalizing the language in the contract before the linebacker signs, Rapoport added.
Smith is the last of this year's first-rounders to agree to a rookie deal — a holdup that ultimately kept him out of Chicago's entire training camp and the Bears' first two preseason contests. Bears coach Matt Nagy said last month that the NFL's new helmet rules were "among" the reasons between the prolonged stalemate.
Selected No. 8 overall by the Bears, Smith is expected to slide right into the starting lineup as a sideline-to-sideline tackler for an underrated Chicago defense. Known for his speed and athletic ability, Smith tallied 6.5 sacks and 137 tackles at Georgia last year. Nagy told reporters Sunday he believes Smith missing camp could have a detrimental effect that lasts into the regular season. Continue reading by  Austin Knoblauch
There was something to like in just about every preseason debut from the five rookie first-round quarterbacks, a pleasant surprise given how universally panned the class was from those inside and outside the NFL leading up to the 2018 draft.
While there is still plenty of football to be played—and when Baker Mayfield, Sam Darnold, Josh Allen, Josh Rosen and Lamar Jackson face first-string defenses it will inevitably erode our expectations a bit—one has to wonder if the impressive displays will spark a market for trades.
I tend to agree with Steve Palazzolo of Pro Football Focus, who said on Twitter that the NFL is drifting toward an era in which quarterbacks 8-25 are not going to be vastly different, and that scheme, supporting cast and luck will drive success. But we're not there yet, and teams not fully satisfied with their quarterback room will be hot on the trails of a veteran quarterback in lieu of empowering their backup. The teams of those five first-round passers will be the first place they'll look.
In that spirit, let's look at the most tradable assets from those teams, and why they could (or won't) be wearing different uniforms in 2018. Continue reading by CONOR ORR
36-year-old Ben Roethlisberger isn't retiring. In fact, if you ask one of his coaches, he's looking better than ever.
Steelers offensive coordinator Randy Fichtner, who has been on Pittsburgh's staff since 2007, sees a quarterback who is feeling better physically than he has in recent years and is having the best camp of his career.
"I know he feels better walking off the field," Fichtner said, via Ed Bouchette of the Pittsburgh Post-Gazette. "He's not iced down all the way with two [practice] periods left to go. I've seen him walk off the field a couple nights. It's just totally different in that regard.
"I would say it's the best camp he's had. The only reason I say this is because he's in the best shape since I've had him. Now, obviously when you're younger you know you can probably move a little better, maybe his arm might have been a tad livelier."
After talking openly about retirement at various points, Roethlisberger reportedly wants to play a while longer. His body has aged, but he also seems to be staying healthier than he has in the past, which could bode well for Pittsburgh's title aspirations. By Grey Papke
After seeing quarterbacks AJ McCarron and Nathan Peterman suffer minor injuries Sunday, the Buffalo Bills' depth at the position won't be tested.
Bills offensive coordinator Brian Daboll told reporters Monday morning that McCarron and Peterman are fine, and both signal-callers are available for practice, according to Matthew Fairburn of The Athletic. According to multiple reports, trainers looked at McCarron's lower right leg during Sunday's practice, while Peterman appeared to hurt his right arm after falling during team drills.
Peterman started the preseason opener, and ESPN's Mike Rodak pointed out that Peterman and McCarron rotated first-team repetitions in recent days. First-round pick Josh Allen waits in the wings.
Meanwhile, wide receiver Zay Jones was cleared for contact after sporting a red no-contact jersey the past week, John Warrow of The Associated Press reported . Jones started training camp on the NFI list following offseason knee surgery, but was activated on Aug. 5. Continue reading by Herbie Teope
The San Francisco 49ers are signing running back Alfred Morris, so long as he passes his physical.
Niners head coach Kyle Shanahan announced the news of the planned Morris addition on Monday. San Francisco has had two running backs get injured recently. Jerick McKinnon has a knee strain, while Matt Breida has a shoulder injury. That led San Francisco to add Morris, who previously played in Shanahan's offense in Washington.
"Alf did a great job for us for the two years I was with him," Shanahan said. "It's not flashy but he runs extremely hard. He's very reliable. He's always been able to – you block it for zero, (he) usually can get at least one. He's a hard-nose runner, you can keep handing the ball off to who's very reliable."
Morris spent the last two seasons with the 49ers. He rushed for 547 yards on 115 carries last year.
The Niners might not have room for Morris once all their guys get healthy, but this is at least a good opportunity for Morris. By  Larry Brown
Chiefs safety Daniel Sorensen will miss "the first part" of the regular season after he undergoes an impending knee surgery, tweets Adam Schefter of ESPN.com. Herbie Teope of NFL.com (Twitter link) was the first to report that Sorensen was dealing with a knee injury, and specified Sorensen did not tear his ACL.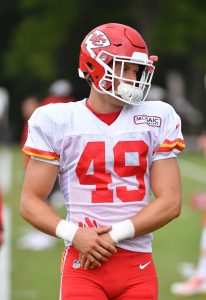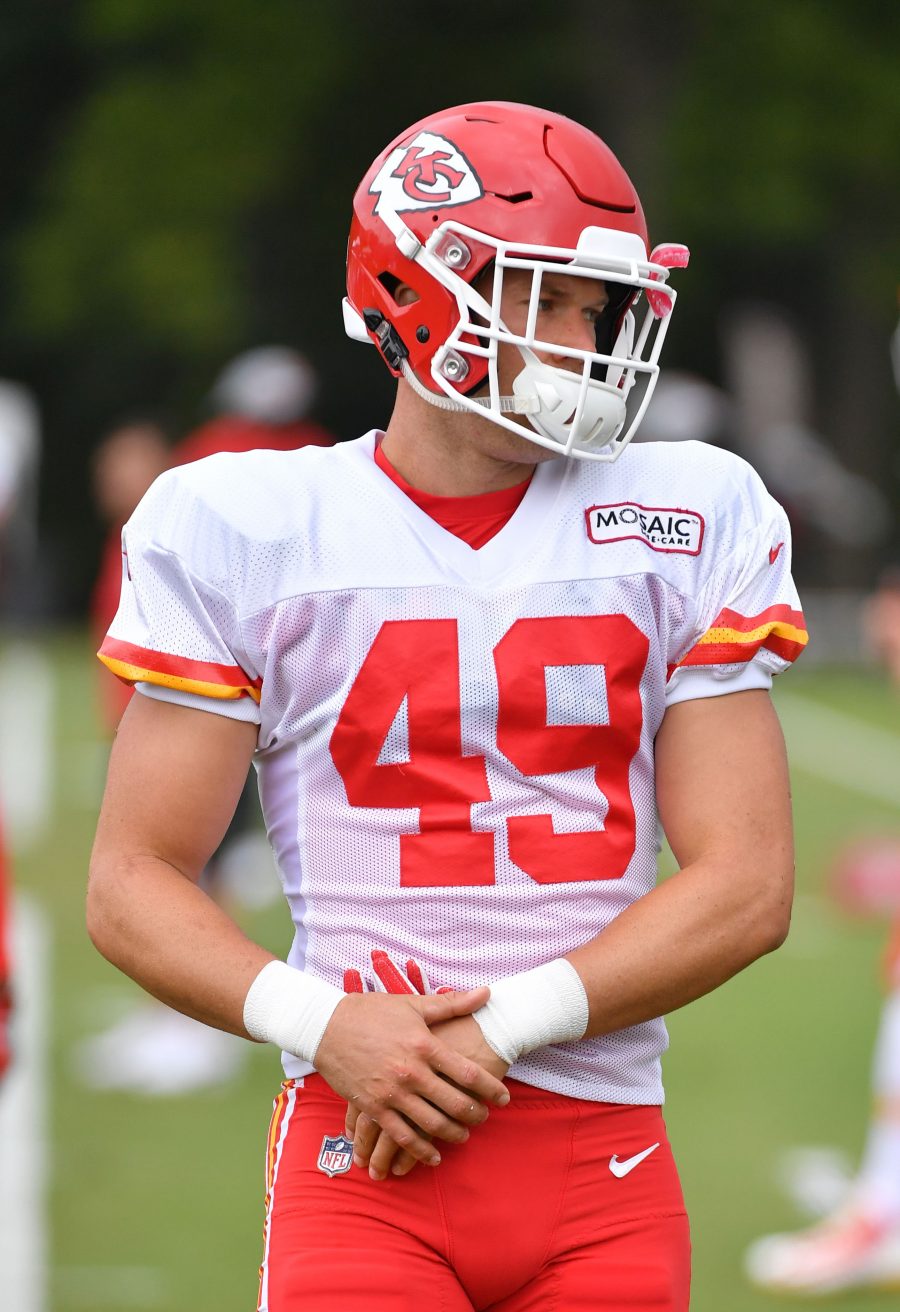 Sorensen had been set to replace Ron Parker in Kansas City's base defense. Parker, who was released by the Chiefs this spring, had played in at least 95% of the club's defensive snaps in each of the past four seasons. Sorensen was to take those snaps opposite All-Pro Eric Berry, who is returning from a 2017 campaign which was lost to an ACL tear.
With Sorensen sidelined, Eric Murray will likely step into the Chiefs' starting lineup. Murray, a 2016 fourth-round pick, saw a 39.8% playtime percentage last season, defensing five passes and posting one sack in the process. A Minnesota product, Murray will be backed up by a combination of Robert Golden, rookie fourth-rounder Armani Watts, and Leon McQuay.
If the Chiefs want to add a free agent to their safety mix, Steven Terrell is perhaps the likeliest option. Terrell, 27, spent the majority of the 2017 season in Kansas City. While he played mostly on special teams, Terrell did see 79 snaps on defense. He'd presumably offer a familiarity with the Chiefs' scheme, which could prove important with the regular season looming.
If they don't consider Terrell, the Chiefs could take advantage of a slow-developing free agent safety market to find a veteran on the cheap. Eric Reid is the best defensive back without a contract, while other available safeties include Lardarius Webb, Darius Butler, Mike Mitchell, T.J. Ward, Quintin Demps, and Tyvon Branch, the latter of whom played in Kansas City in 2015. By Zach Links Photo courtesy of USA Today Sports Images.