The Arizona Cardinals traded up in the NFL Draft to select Josh Rosen, so they obviously feel that the former UCLA star has what it takes to be their quarterback of the future. But in the short-term, it sounds like Sam Bradford has no intention of getting beat out by a rookie.
Ian Rapoport of NFL Media spoke about Arizona's quarterback competition on Wednesday, and he described it as a "competition-ish." Rapoport cited sources who informed him Bradford has been outstanding in training camp. Continue reading by Steve DelVecchio
Hip and neck troubles plagued Demaryius Thomas the past two seasons, enough so the Broncos' top wide receiver contemplated near-future retirement — either after the 2018 season or the '19 campaign, James Palmer of NFL.com reports. But a now-reinvigorated Thomas is looking at his career differently.
A new diet and a leaner physique has the 30-year-old wideout wanting to extend his career well into the 2020s, even though he acknowledges things change quickly.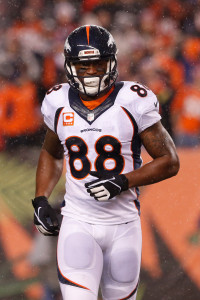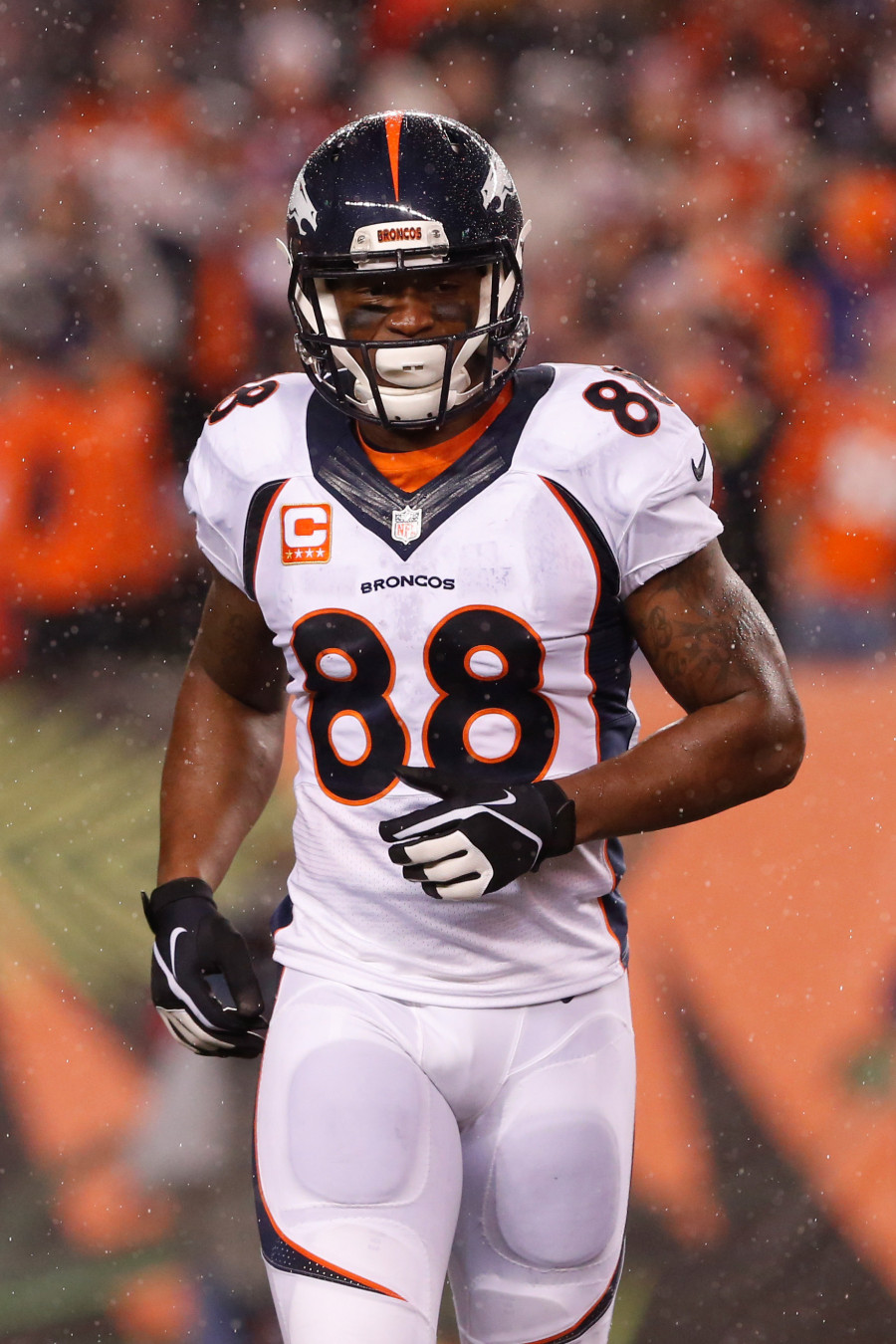 "Now I'm thinking, 15 or 16 (years)," Thomas told Palmer. "Like, for real, I'm going to be like Larry Fitzgerald. Maybe even more. It just depends, you know? I mean, s—, tomorrow I could finish my career off of one crazy injury. But yeah, my mindset has changed."
Thomas dropped more than 10 pounds this offseason, being currently under 220, per Palmer. And he's obviously not experiencing the kind of hip pain that bothered him in 2016 and '17. Even entering this season on the heels of the aforementioned injury-restricted ones, Thomas has played in 107 straight games since the 2011 season. Continue reading by  Sam Robinson
 The NFL is a copycat league, and after the 2017 season, the Philadelphia Eagles are playing the role of the cat. Doug Pederson's team went from last place in the NFC East to league champions in 12 months, exceeding even the wildest expectations of most Eagles fans in the process. While there were those around the league who were looking at the Eagles as surprise contenders last season — and underlying statistics suggesting Philadelphia was likely to take a step forward — nobody expected to see a parade on Broad Street in February of 2018. Continue reading by Bill Barnwell
Welcome to Hard Knocks' very own comeback szn. After two straight years spent slogging through the treachery of milquetoast, un-hypeable franchises, the HBO documentary series finally has a fitting cast of characters again. The Browns, it turns out, picked the right time to emerge from their two-year slumber in hopes of maximizing the optimism surrounding Rebuild 9.0.
Here are a few takeaways from episode one… Continue reading by CONOR ORR
Cleveland Browns wide receiver Jarvis Landry says he has been asking his team to try to trade for New York Giants wide receiver Odell Beckham Jr. Landry and Beckham are friends and former college teammates at LSU.
"If things like that are able to happen and the team can make it happen, then why not?" Landry told Cleveland.com. "He definitely would be (up for it). He would be."
"We've had talks, but at the end of the day, I want him to be happy" he added. "I want him to get what he deserves and you can't put nothing on that regardless of where it's at."
Landry was traded to Cleveland for the Miami Dolphins in March and subsequently signed a five-year, $75.5 million contract extension with more than $47 million in guarantees.
Beckham is seeking a long-term deal. He is currently slated to make $8.5 million in the last year of his rookie deal.
The Browns receiving core is limited outside of Landry as they traded former first-round pick Corey Coleman this week to the Buffalo Bills. Cleveland has 10 wide receivers in training camp competing for roster spots. By SCOOBY AXSON
Shurmur's Giants won't look all that different from last year's team led by Ben McAdoo, but the slight changes—the top running back in the draft and a capable offensive line—could be the key. By CONOR ORR 
omething about the word "vegan" scares many athletes away. Doubts about protein, taste and fulfillment immediately arise. Some never can get past that point.
Then there's the 15-and-growing number of Tennessee Titans players who set aside those doubts and jumped on a plant-based meal plan, which is a phrase that is a little easier to swallow. Still, it's a bit of a surprise to catch 250-pound NFL players scavenging through large black bags for extra vegan lunch meals after practice.
Yes, beware of the meal thiefs.
What started as a couple's personal undertaking has become a full-fledged Titans plant-based meal movement that is entering Year 2 of the program. It began when Titans linebacker Derrick Morgan decided to try a plant-based diet nearly a year-and-a-half ago, enlisting the help of his wife, Charity, to join him and re-educate herself to cook vegan. Morgan's teammates saw, smelled and tasted the food that his wife made during the 2017 season. One-by-one, players asked to join the vegan meal plan, and they were sold. Continue reading by Cameron Wolfe
When Tampa Bay Buccaneers defensive end Noah Spence reported to training camp last summer, he was a chiseled 228 pounds — lighter than tight end O.J. Howard and wide receiver Mike Evans.
This year, with a new approach to his diet — including eating 9-10 meals a day — Spence has managed to put on a whopping 35 pounds in his quest to become a more complete player, to remain on the field for all three downs and, specifically, to hold up better against the run.
"Today was the heaviest I've ever been and I felt great. I was 263 today," said Spence, 24, whose goal was to put on the weight cleanly, with minimal gain in body fat. "I kind of just started playing with it [in the offseason] to see what works. I felt like if I just don't stop eating or drinking, I won't lose weight." Continue reading by Jenna Laine
In the NFL world, August is a month that's annually packed with predictions: breakout players, breakthrough teams and so on. But all that future-casting is geared toward the coming fall and winter. What can we expect in the remaining days of summer? Jeremy Bergman has the answers! Here are 11 preseason headlines you can expect to see in the coming weeks:
1) Not your average Joe: Flacco pulling away from Lamar Jackson, and it's not close
Joe Cool is out, Joe Motivated is in. (Or Joe-tivated, for the syllable-phobes.) According to reports out of Owings Mills, Flacco has, in the wake of Baltimore using a first-round pick on Jackson, shown up to camp on another level, clearly outplaying the exciting rookie threat. Jackson's Hall of Fame Game performance was a sign that the first-year talent still has some catching up to do, especially when it comes to game speed. Meanwhile, Flacco, surrounded for the first time in half a decade with dynamic receiving talent, is reminding observers of that Joe from January 2013. It's amazing what happens when you give a Super Bowl-winning quarterback able-bodied wideouts.
Baltimore won't say Flacco won the QB competition, because there is no QB competition — exaggerated wink — but the veteran's victory over the newcomer will be made clear before the second half of the Ravens' second preseason game.
2) Indianapolis rages after Andrew Luck goes 22-for-23 on "Monday Night Football"
After years and months and days of consternation over Luck's cranky shoulder, all signs finally point to the Colts quarterback starting Week 1 and playing at the level expected of the former No. 1 overall pick. Jim Irsay is downright giddy over his signal-caller's return. Luck reportedly completed 86 percent of his passes in a team scrimmage, something beat writers dubbed a "vintage" performance. But the football community at large has not seen the return of Luck up close yet. That will soon change.
By the end of Indy's second preseason game — a nationally televised Monday night affair against the Ravens — Luck will confirm his return to greatness, tossing pinpoint fades to T.Y. Hilton and Ryan Grant and maneuvering about his remade pocket with the nimbleness of Aaron Rodgers. The aftermath of Luck's prime-time showing? Hoosiers statewide party like it's 2006, diving into canals of St. Elmo's cocktail sauce, Pat McAfee-style, and hanging preemptive banners in the Lucas Oil rafters.
3) Penny? Just a thought: Chris Carson runs away with Seahawks' running back job
Take your premature Rashaad Penny RB1 hype missives and discard them in a nearby compost bin, Cascadia. How quickly Seahawks fans — and the league entire — forget how dynamic Carson was in his rookie year before he suffered a season-ending ankle injury. The second-year man will have Seattle's starting tailback gig locked up after the third preseason game, a performance that prompts Pete Carroll to leap out of his Air Monarchs in excitement.
Penny and third-down back C.J. Prosise will still get play in the regular season, but Carson will be treated like Seattle's first unquestioned bell-cow since Beast Mode hung up his cleats.
4) Players, coaches bewildered by inconsistent implementation of new helmet rule
We're only one game into this rulebook update, and already, there is mass confusion among fans and players as to how and when penalties will be called on tacklers. Ravens safety Bennett Jackson was flagged for leading with his helmet against Chicago in the Hall of Fame Game and mused after that refs are over-officiating in the preseason on purpose, "just to make people aware" of the rule. Vikings safety Andrew Sendejo is taking extra precautions to make sure he's always leading with his facemask.
My not-so-bold prediction? This rule will take some getting used to for everyone involved, including officials — it's preseason for everybody! Four-plus weeks of preseason experimentation might not be long enough to explain to players and coaches what a correct tackle in 2018 looks like, so we are guaranteed to see more confuddled postgame press conferences in the near future.
5) Texas forever: Dez Bryant stays in-state, signs with Houston
Dez might have lost the star on the side of his helmet this offseason, but the Texas native won't be leaving the Lone Star State. Bryant has flirted with the Browns, Ravens and (purportedly) anonymous teams he's not letting on about, but before August ends, Bryant will be a member of the Texans, the third receiver in an athletic trio of high-pointing ball-wranglers. Houston's current WR3 options are Braxton Miller and Bruce Ellington. And the second wideout behind All-Pro freak DeAndre Hopkins — the speedy, dynamic Will Fuller — is injury-prone, to say the least. The Texans have reportedly experimented with moving Fuller all around the formation, and Bryant would be a sturdy cross-field companion to Hopkins, with Fuller taking on more of an X-factor role.
Houston has the cap space and flexibility to make it happen and meet Bryant's short-term demands. This move also allows Bob McNair to one-up Jerry Jones in the war between Texas' football barons. Win, win, win.
6) Steve Wilks: No decision on which QB will start season opener
It's presumed that, barring injury, Sam Bradford will waltz into the regular season as Arizona's starting quarterback. That's why the Cardinals paid him the big bucks. But the effusive praise for Josh Rosen coming from Cards vets like Larry Fitzgerald and Patrick Peterson makes me think Arizona might consider playing the rookie earlier than expected.
The above headline will come after Arizona's third preseason game, when Wilks starts Rosen in the first half and Bradford in the second against the Cowboys in Jerryworld. The rookie head coach, looking to make a splash and appease aging vets who want to aim for the team's ceiling, opens the door for Rosen to steal the job from the journeyman Bradford. Mike Glennon, meanwhile, is out playing 18.
7) Jets name Sam Darnold starting quarterback, trade Teddy Bridgewater
With Darnold's contract impasse behind them, the Jets finally moved on last week to the pressing issue of the summer: how to make sense of their QB room. So far, all three quarterbacks have shone brightly, but the one player whose performance holds the most power here is Darnold. The Jets are giving him every opportunity to win the job from Josh McCown (the incumbent No. 1) and Bridgewater (No. 2), and he's not disappointing. So, if and when Darnold wins the job, New York has an interesting decision to make: pay Bridgewater $5 million in roster-bonus cheese (essentially) to be a third-string quarterback, or ship the fully rehabbed veteran to a QB-needy franchise? In my scenario, Bridgewater is gone.
The likeliest candidate for Teddy's services will be the team that loses its starting QB to a season-ending injury in the next four weeks — it happens every year, unfortunately (see: Ryan Tannehill in '17, Teddy in '16). But until then, I can only send Bridgewater to a team with major starting or backup QB questions, like the Bengals, Buccaneers or Jaguars. Matt Barkley and Jeff Driskel are currently backing up Andy Dalton in Cincinnati. (Cripes.) Jameis Winston's off-field behavior is compromising his future in Tampa Bay, even though the Bucs picked up his $20 million fifth-year option for 2019 in April. Blake Bortles remains a question mark in Duval despite his elevated play last year, and Jacksonville employs human beings Cody Kessler and Tanner Lee as backups.
8) All three Bills QBs to play in final preseason game
The crummiest quarterback competition in the land is headed for a snail-paced photo finish. Rare is it that a team starts, or even plays, its presumptive starting quarterback in the last week of the preseason, but Buffalo doesn't have one, so …
Right now, AJ McCarron and Nathan Peterman are neck and neck for the starting gig, with rookie Josh Allen taking a series of first-team snaps per practice. Buffalo would prefer Ajian Sushi's namesake win the job, so as to validate its offseason investment in the longtime Bengals backup. But early indications are McCarron is doing more to lose the starting gig than secure it. Settle in, Bills Mafia. Winter is coming early this year.
9) Earl Thomas continuing holdout into regular season — with no end in sight
Don't expect either side of the Thomas-Seahawks divide to be sleepless in Seattle. The All-Pro safety is holding out for a new deal or a trade out of town (cough, Dallas, cough). But the Seahawks have no interest in fulfilling either of Thomas' desires — unless they find the right asking price (reportedly a first- and third-rounder before the draft) or Thomas lowers his.
Save for a safety injury in either Seattle or, say, Dallas, neither Thomas nor the 'Hawks will budge on their demands before the season starts. Who blinks first? Are they even staring at each other at this point?
10) Josh Gordon returns just in time for 'Hard Knocks' finale
Gordon isn't in Browns camp. The wide receiver, whose struggles with addiction are well-documented, is concentrating on his mental and physical health for the time being. There's no telling when he'll return, and Cleveland isn't rushing him back; the Browns won't penalize Gordon for reporting to camp past the deadline that would allow him to eventually become an unrestricted free agent after the 2019 campaign.
The wideout's absence from Berea will be one of the many storylines to get the Home Box Office treatment. In premium-cable-TV style, I expect this season's series, one of the most anticipated since the Jets' in 2010, to close as Gang Green's edition did — with Gordon making a triumphant return to the team in the closing minutes, a la Revis Island.
11) Aaron Donald gets paid before Week 1; Khalil Mack … not so much
Arguably the two most dominant defensive players in the league are entering the final year of their rookie deals, but not before holding out for mega-extensions. Donald's holdout was expected. Mack's was more of a surprise, and his lack of communication with Raiders coach Jon Gruden even more so.
The Rams say, despite their offseason spending spree (SEE: new contracts for Ndamukong Suh, Brandin Cooks, Todd Gurley), they have "budgeted" Donald's contract, and I'm naive enough to believe them — though Donald might not agree with the size of the Rams' cap allotted to him. Donald's deal, which could pay him over $20 million per year, will have to be fancy with its language — heavy on guarantees and back-loaded to the max — but it has to get done. The Rams are hoping the millions of dollars in fines that Donald could accrue during his holdout will force his hand, but L.A. will also want to get the deal done before Oakland even considers re-signing Mack and resetting the elite pass rusher market. Mack and the Gruden regime are already off to an acrimonious start, and I wouldn't expect Gruden, in his first year back, to placate a player he didn't draft. The DE is earning nearly double what Donald is slated to this year and needs to prove that last season's slow start was a fluke.
My prediction: When the Rams and Raiders meet on "Monday Night Football" in Week 1, both Donald and Mack will be on the field — but only one will be paid in full. By Jeremy Bergman