As he prepares for his 14th NFL season, Aaron Rodgers does not look back fondly on his unlucky 13th. He missed nine games due to a broken collarbone — and, not coincidentally, the Green Bay Packers missed the postseason for the first time since 2008.
Yet when Rodgers reflects on the 2017 campaign, the two-time NFL MVP takes solace in the fact that, in the wake of attacks from President Donald Trump and others surrounding player protests timed to coincide with the playing of the national anthem, he and many of his NFL peers have become more united and galvanized in their efforts to fight for social justice.
"Last year was definitely a different year, and I think you're finally seeing a lot of crossover with social media and the NFL," Rodgers told NFL.com on Monday following the Packers' training-camp practice.
"Obviously, the league is worried about its ratings and everything, but it seems that with the distribution from the TV (networks) that everybody's doing pretty well. But it is interesting to see how moments like that can be the impetus for guys coming together and getting some perspective." Continue reading by Michael Silver
In a matter of four days in early June, the world was shocked and saddened by the suicides of two renowned and highly successful figures: Kate Spade and Anthony Bourdain. Each had a profound impact on society prior to death. Their legacies live on and continue to inspire. But Spade and Bourdain left us too soon. Unfortunately, this wasn't the first time we've lost icons in such a tragic manner — and it won't be the last.
Now more than ever, it's important to be honest about mental health, something new Pro Football Hall of Fame safety Brian Dawkins also shed light on in his enshrinement speech over the weekend. It's crucial for everyone to know that acknowledging personal struggles isn't a sign of weakness, but one of strength. Too often taboo, depression is shut behind closed doors — especially in a tough-guy sport like football, with a social media environment that glorifies successes and status. Continue reading by Steve Smith Sr.
Pittsburgh Steelers wide receiver Antonio Brown returned Tuesday for the team's walkthrough session following a five-day absence while nursing an undisclosed injury.
Steelers coach Mike Tomlin told reporters Brown would not practice, but is expected to return to the practice field after Thursday night's preseason opener against the Philadelphia Eagles.
"He won't be playing in the game. He is getting closer to return in terms of his health," Tomlin said. "But he won't be playing in the game like some of the others who missed time because of a myriad of injuries…whether it's Bud Dupree in the protocol or T.J. [Watt]…he won't' play this week…look forward to getting him back out there when we get back from Philadelphia." Continue reading by Herbie Teope
Texans defensive end J.J. Watt joins Colts quarterback Andrew Luck and Giants wide receiver Odell Beckham — among others — in a star-studded field of Comeback Player of the Year candidates this season.
To hear coach Bill O'Brien tell it, though, Watt has his sights set even higher: an unprecedented fourth Defensive Player of the Year award.
"Those '14 and '15 seasons were arguably two of the best seasons any player at any position has ever had," O'Brien told NBC Sports' Peter King at Texans camp. "I remember we're playing Baltimore in '14, and they're driving, and it's late, and our guys are just exhausted. I remember J.J. looked over at me and basically said, If you give me a timeout here, I'll get to Flacco. So I call time. We get a breather. That next play, J.J. strip-sacks Flacco. Game over. We win.
"That's what I'm seeing now, this summer. That's the kind of play I'm seeing from him. There's no reason he can't do it again." Continue reading by Chris Wesseling
The Cleveland Browns have chosen not to place Josh Gordon on the non-football injury list Tuesday after learning they don't have to make a roster move to ensure he gets an accrued season, a source informed of the situation told NFL Network Insider Ian Rapoport.
A player who fails to report 30 days before the start of the season due to illness or hardship doesn't need to go on NFI in order to earn credit for that season, Rapoport reported, so Gordon will remain eligible to get credit for playing this year.
The Browns have made it clear to Gordon that his absence from the team won't jeopardize his path to free agency after the 2019 season, Rapoport reported. They want Gordon to focus on his health and well-being and not feel pressured into rushing back.
While it remains unclear when Gordon will return, Browns general manager John Dorsey has expressed confidence in the wide receiver being back before the start of the regular season. Continue reading by Austin Knoblauch
Veteran quarterback Josh McCown is more than holding his own against a counterpart who is 18 years younger.
Ralph Vacchiano of SNY reported on Tuesday that McCown has been the best quarterback in New York Jets training camp and is showing "no signs" of losing his grip on the starting job.
McCown, 39, is competing against 21-year-old rookie Sam Darnold, who was drafted by the Jets with the No. 3 overall pick in this year's draft. Former Minnesota Vikings quarterback Teddy Bridgewater is also in the mix, but Vacchiano notes that the Jets are "much more likely" to turn to Darnold should McCown eventually fall out of favor.
A recent report suggested that Darnold had a good chance of starting Week 1. But for now, it sounds like McCown, a 15-year vet who started all but three games for the Jets in 2017, may eliminate the need to baptize Darnold by fire. Continue reading by  Darryn Albert
The Buccaneers wanted defensive end Noah Spence to gain weight this offseason. Mission accomplished. Spence says he has gone from 228 pounds a year ago — tiny by NFL defensive end standards — to 263 now.
"Today was the heaviest I've ever been and I felt great. I was 263 today," Spence told Jenna Laine of ESPN. "I kind of just started playing with it [in the offseason] to see what works. I felt like if I just don't stop eating or drinking, I won't lose weight."
"Don't stop eating" pretty much covers Spence's approach to the offseason. He starts a day with two protein shakes, followed by cream of wheat, french toast and potatoes for breakfast, then two more protein shakes, chicken, broccoli and cauliflower for one lunch, turkey and pasta for another lunch, two more protein shakes in the evening, steak, shrimp, potatoes, zucchini and squash for dinner, a peanut butter and jelly sandwich with milk for a late snack, and one more protein shake before bed. Add it all up and it's 9,000 calories. Continue reading by Michael David Smith
The Browns may have renewed interest in Brandon LaFell, Tony Grossi of ESPN.com (on Twitter) hears. The wide receiver was released by the Bengals last week, freeing him up to sign with any club.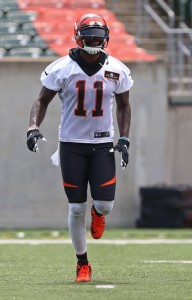 LaFell was the Bengals' No. 2 WR for the last two years, but his production tailed off a bit last season. After compiling 64 catches for 862 yards and six touchdowns in 2016, LaFell had just 52 grabs for 548 yards and three scores in 2017. Then, this summer, he started "feeling the heat" from other wideouts in camp this summer, according to coach Marvin Lewis. With other options to consider, including speedy 2017 first-round pick John Ross, the Bengals no longer had any use for LaFell.
The Patriots are still considering additions to their secondary. With that in mind, they worked out free agent cornerback Bashaud Breeland on Tuesday (Twitter link via Ian Rapoport of NFL.com).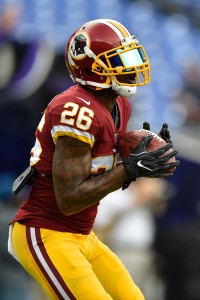 Breeland stands as one of the top defenders still on the market, and he's garnered previous interest from the Jets, Raiders, Chiefs, Ravens, Browns and Colts. He thought he had a deal with the Panthers back in March, but his three-year deal was voided after he failed his physical. Now that he's healthy, interest is picking up once again, though it seems unlikely that he'll match the length of that would-be Carolina contract or the average annual value of $8MM.
To date, Breeland has spent his four-year career with the Redskins, missing only four regular season games during his tenure. The former fourth-rounder had another productive season in 2017, finishing with 50 tackles, 19 passes defended, and one pick-six. Last season, Pro Football Focus ranked Breeland as the No. 50 cornerback among 121 qualifiers, but teams appeared to view him as a borderline CB1 when free agency began.
The Patriots don't necessarily need Breeland, but they would surely be happy to add him to the fold at the right price. For now, the Pats plan to draw from a cornerback group that includes Stephon Gilmore, Eric Rowe, Jason McCourty, second-round pick Duke Dawson, Jonathan Jones, and seventh-round pick Keion Crossen. By Zack Links
Richie Incognito wants to play football this season now that the Buffalo Bills have released him, and he recently said at least two teams have expressed interest in him. One of those teams says Incognito is a liar.
In an interview with TMZ, Incognito listed the Minnesota Vikings and Seattle Seahawks as two teams he has been in contact with this offseason. Vikings head coach Mike Zimmer was asked about that claim on Tuesday, and he said it is "totally false." Continue reading by  Steve DelVecchio