The NFL did itself and its players no favors by issuing the rule in May that any athlete who kneels during the National Anthem will face fines and penalties come 2018.
The motivation behind the league's decision was likely due in part to pressure from multiple angles, but no voice was louder or equal to the criticism faced by the president of the United States, who so infamously referred to NFL players last season as "sons of b-tches."
Unfortunately, the rhetoric from the White House never changed, and here we stand, players still battling social injustices given a "resolution" that feels anything but that. New York Giants co-owner Steve Tisch weighed in on what he thinks of the league's policy and the president's vocal stance. CONTINUE READING, by Joseph Jungermann
President Donald Trump on Friday reignited his criticism of NFL players who protest during the national anthem, saying the "debate" over "The Star-Spangled Banner" was once again "alive and well," while offering up some suggestions on possible punishments for protests.
"The NFL National Anthem Debate is alive and well again – can't believe it! Isn't it in contract that players must stand at attention, hand on heart?" Trump tweeted. CONTINUE READING, by Elizabeth Zwirz | Fox News
Miami Dolphins owner Stephen Ross says national anthem discipline language the team submitted to the NFL was merely a placeholder, emphasizing no decisions have been made regarding whether the Dolphins would punish players for protesting during the anthem.
Ross clarified the team's position on the matter in a message released Friday… CONTINUE READING, by Austin Knoblauch
The offseason drama surrounding the Patriots has officially come to an end. Matter of fact, ​Tom Brady just left no doubt this team is ready to get back on the gridiron and work their tails off to try and reach another Super Bowl. ​After the heartbreaking loss to the Eagles last season, you know this team is motivated. This certainly includes TB12. CONTINUE READING, by Braulio Perez
Ever since a late-season ESPN report detailed alleged tension within the organization, the New England Patriots have spent the past six months denying that there is rift in the working relationship between coach Bill Belichick and his players, specifically quarterback Tom Brady.
Outside interest in the team's dynamics only increased when starting cornerback Malcolm Butler was bizarrely benched during the Pats' Super Bowl LII loss. When Brady and All Pro tight end Rob Gronkowski opted to skip a portion of offseason practices, the football cognoscenti assumed the schism between players and management was widening. That certainly wasn't the case in January and early February, James Harrison insists. CONTINUE READING, by Chris Wesseling
Baltimore Ravens head coach John Harbaugh made it clear that he would be taking a different approach to this year's training camp. It appears the changes are not limited to just how the practices are conducted.
Baltimore's new personnel allows them to experiment with the playbook a little bit. According to NFL Network's Aditi Kinkhabwala, the Ravens gave fans a sneak peek of what is to come in the 2018 NFL season… CONTINUE READING, by MAXIMO GONZALES
Heading into his second year in the NFL, Chicago Bears quarterback Mitchell Trubisky has a tremendous level of expectations on his shoulders to make a significant leap in his development.However, this has also generated some doubt that he could be the franchise cornerstone player under center that the Bears can build their team around for the long haul. According to Emily Kaplan of ESPN, Trubisky has decided to quiet his presence on social media with a 'Zero Dark 10' approach to focus in more on his craft. CONTINUE READING, by Bob Garcia IV
The news all Indianapolis Colts fans have been waiting to hear for over a year.
Colts general manager Chris Ballard told reporters on Friday that ​quarterback Andrew Luck is "good to go" for training camp with no intention of placing him on the PUP list. CONTINUE READING, by Scott Rogust
The Bills report to training camp July 26, but it's not certain LeSean McCoy will be there.
The matter of his possible involvement in a home invasion and assault of his ex-girlfriend continues, and the attorney for Delicia Cordon said her client "believes very strongly" McCoy was involved.
"She absolutely thinks Mr. McCoy had something to do with it," Tanya Mitchell Graham said in an email response to Jay Skurski of the Buffalo News. "She believes anyone else involved was likely contacted by someone else on behalf of Mr. McCoy."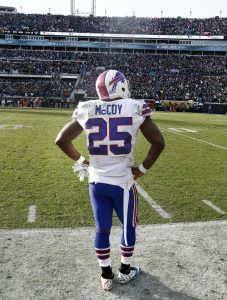 Skurski notes Graham wanted to clear up some confusion last week, when she said neither she nor Cordon had indicated directly McCoy was involved in an incident that left his ex-girlfriend badly bruised. Graham responded that her client still believes McCoy was involved to some degree. (Photo courtesy of USA Today Sports Images)
McCoy, 30, denied he was involved, saying he was in Miami at the time of the invasion. But Graham previously said the assailant demanded specific jewelry items from Cordon, items Graham said were gifts from McCoy to his ex and items he'd demanded back on "many occasions." Court records over the past year show McCoy and Cordon argued over jewelry while additionally indicating McCoy attempted to have Cordon removed from the home and retrieve items that belonged to him. A police investigation is ongoing, as is an NFL inquiry.
An eviction hearing was scheduled to take place on Aug. 14, Skurski reports. Cordon has since moved out of the house, Graham said.
"I mentioned that I had a conversation with our client about the 'criminal burden of proof,' which is a higher standard than a civil burden of proof, and 'probable cause' – legal terms," Graham said, via Skurski. "At this time, there is circumstantial evidence, which is not significant enough probable cause for an arrest; so, I said you can't blame Mr. McCoy without additional evidence.
"This matter is under investigation, and we should allow the City of Milton (Ga.) Police and their detectives to do their job. I think either the way I said that, or the way it was interpreted caused some confusion to suggest that my client was backtracking. She is not. I was just trying to explain the legalities of the incident."
Due to the ongoing investigation, McCoy could be a candidate for the commissioner's exempt list. This would sideline him indefinitely from the Bills. By Sam Robinson
It doesn't sound like a new deal between Packers and Aaron Rodgers is imminent. No meaningful progress has been made recently on a contract extension and nothing will happen right away, barring a dramatic change, a source tells Mike Florio of PFT. (Photo courtesy of USA Today Sports Images)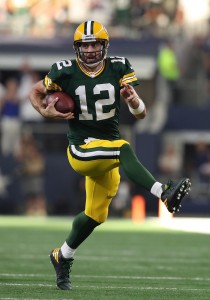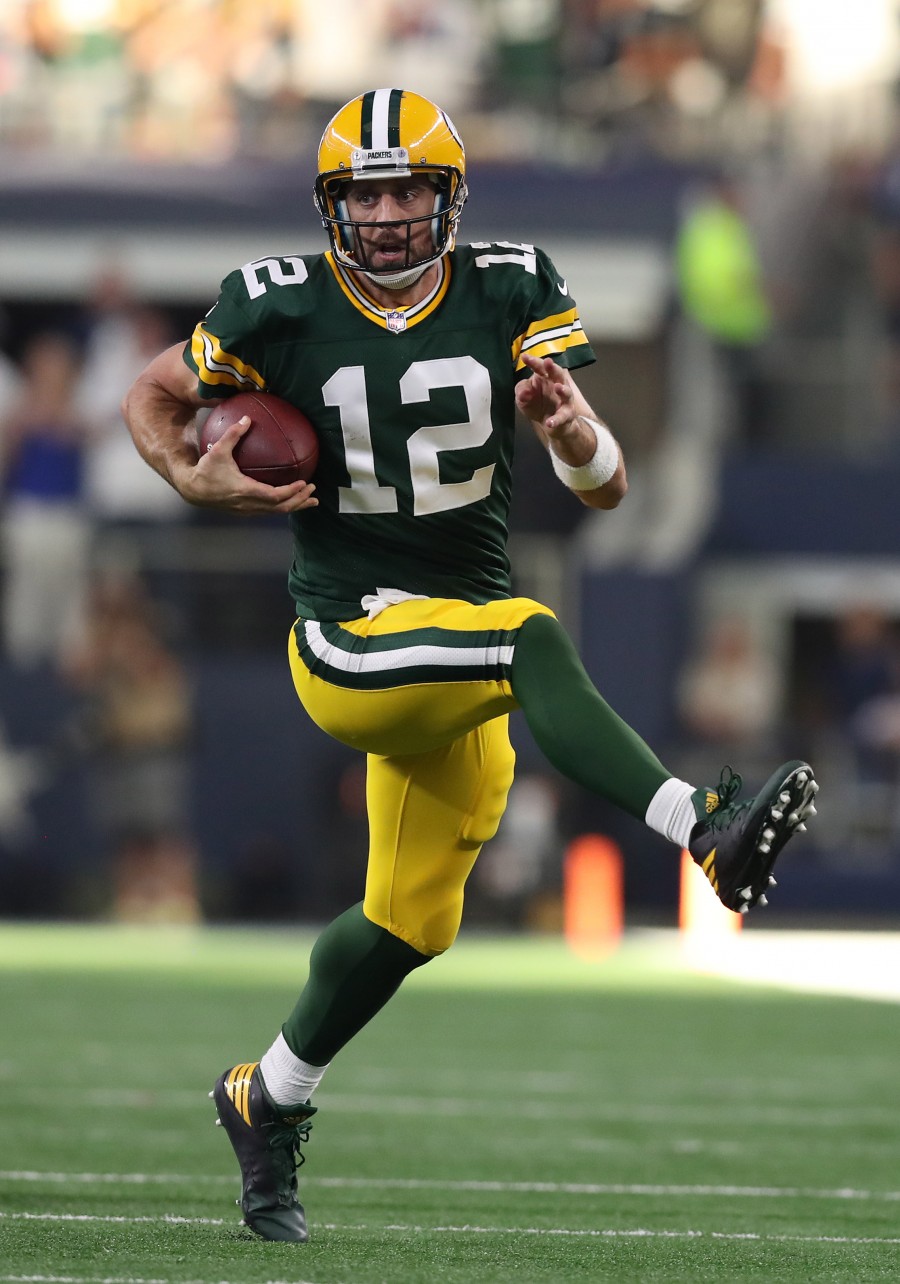 Rodgers is averaging about $22MM/year on his current deal and will average $19.9MM in the final two years of the pact. Those numbers are well below market for a quarterback of his caliber, but Rodgers also isn't publicly making a big fuss over his next deal. Behind the scenes, it's likely that Rodgers has pushed for a unique deal to highlight his unique talent level.
"It's only been on my mind because … people have been writing and talking about it a lot," Rodgers said recently when asked about the possibility of a non-traditional contract extension. "There have been many conversations about it. I think that there's some merit to looking into where you do a non-traditional contractual agreement. If anybody at this point is gonna be able to do something like that, I think there needs to be a conversation about it. I never said anything about [tying the contract to] the cap. I just think there's ways to do contracts where you can still be competitive so the team is happy about it, but have some more freedom."
The Packers, meanwhile, have lots of leverage here. After paying him $39.8MM over the next two seasons, the Packers can franchise tag him in 2021. After that, they can franchise tag him once again for 2022, if they're willing to give him a 20% pay bump over the '21 tender. Assuming a rate of $27MM in '21, that comes out an average of less than $25MM/year for the next four seasons. It's not clear what the Packers would want in return for surrendering that option, especially since it would keep Rodgers in place through his age-38 season.
The Bills began discussing the idea of taking a quarterback near the top of the 2018 draft all the way back in May 2017 when general manager Brandon Beane was hired, Jason La Canfora of CBSSports.com.
"It's a quarterback league; you've either got one or you don't," Beane said. "And we were getting to know Tyrod and Tyrod brought a lot of good things for us, but we decided as the season moved on that we were probably going to go in a different direction, and at the same time we were still thinking, 'OK, if Tyrod is our guy we'll draft other things, and if not, we'll be ready to move forward.' And that planning really started in August with some of the moves we made, and to add the draft capital that we did."
When it came time for the draft, the Bills managed to move up for Allen by sending their No. 12 pick and two second-round picks to the Bucs for the No. 7 choice. After that, the Bills doubted that they would be able to land Virginia Tech linebacker Tremaine Edmunds, who was another one of their top targets. Luckily for them, the Raiders opted to bolster their offensive line with the No. 15 pick, giving them an opportunity to trade up for Baltimore's pick at No. 16.
"We had tried to trade with Oakland … and they were like, 'No, we're taking the pick,'" Beane said. "So I called [Ravens GM Ozzie Newsome] and we agreed to the terms while Oakland was still on the clock and he said, 'Let me know if your guy is still there.' So until I heard them say it was Kolton Miller you had to assume that they were taking Tremaine. And if they had we would have stayed pat at 22."
The Bills are happy with how things turned out in the first round, but it may take a while before we see how this draft class pans out, particularly when it comes to Allen.
Here's more from the AFC:
Texans quarterback Deshaun Watson tells NFL Network that he expects to be "full-go" for the first day of training camp (Twitter link via Adam Wexler of KPRC). Watson was able to practice without a knee brace during the team's minicamp last month, so it was expected that he would be ready to roll for camp this month. Watson threw for 19 touchdown passes in his injury-shortened seven-game season and expectations are high heading into Year Two.
Colts GM Chris Ballard says the team will have Julian Edelman in training camp as his legal process plays out. "We're getting two extreme versions of the truth," Ballard said (Twitter link via Stephen Holder of the Indy Star). McCain has been charged with battery in California, but maintains his innocence.
Patriots wide receiver Julian Edelman will not sue the NFL over his four-game suspension. By Clutch Points
Training camp is officially underway in the NFL, with the Ravens and Bears already on the field prepping for the 2018 season. This year's draft was high on drama thanks to the interest around the quarterbacks, but there are plenty of other players worth keeping an eye on as the regular season approaches.
Let's take a look at the assortment players I'm watching during training camp and preseason to see if they have what it takes to make an early impact on the 2018 NFL season.
Players listed here are, at the very least, somewhat under-the-radar. For example, listing Saquon Barkley here was not the goal. He's in store for the lion's share of backfield touches for the Giants as a rookie. We all know that. CONTINUE READING, by Chris Trapasso
It has been a long (and busy) offseason. What is the most important move your team made? NFL Nation brings you up to speed before training camp kicks off. CONTINUE READING, by ESPN.com