"They say I never show any emotion. It's just who I am," Frank Mason III told the Kansas City Star. "I've got a lot more to prove, a lot more work to get in…I'll definitely have a better season next year."
Mason was selected with the No. 34 pick in the 2017 NBA Draft, but his value to the Kings has shown to be even more than than you might expect from a second round pick. The Consensus National Player of the Year in 2017 wants to continue to improve, a testament to his outstanding work ethic and the dog inside of him.
"I honestly think I'm 7-feet," Mason said in May. "I have one of the biggest hearts in the NBA. I think it's what matters the most."
Mason finished the 2018 Las Vegas Summer League averaging 8.0 assists, the most by any player in just three games. Continue reading, by Jordan Ramirez, Digital Managing Editor, NBA.com
The Nuggets have reached an agreement with Monte Morris on a three-year contract worth $4.8MM, with the first two seasons guaranteed, reports Shams Charania of Yahoo Sports (Twitter link). Morris had been on a two-way contract with Denver, but his new deal will be a standard contract that moves him to the team's 15-man roster.
Morris, the 51st overall pick in the 2017 draft, only appeared in three NBA games during his rookie season. However, he had a strong season for the Rio Grande Valley Vipers in the G League, averaging 17.8 PPG, 6.5 APG, 4.5 RPG, and 1.8 SPG in 37 contests.
The 6'2″ guard also played well for the Nuggets in Summer League action this month, posting a team-high 17.5 PPG on 50% shooting in four games in Las Vegas. He also chipped in 6.3 APG and 3.3 RPG.
Morris will fill out the roster for the Nuggets, who now have 15 players on NBA contracts. He figures to slot in as the team's third point guard behind Jamal Murray and Isaiah Thomas. As long as both Murray and Thomas are healthy, Morris may not have much of a role in Denver's rotation, so more G League stints are possible.
A three-year, minimum-salary contract would have been worth about $4.66MM for Morris. Based on Charania's report, he'll receive slightly more than that, so Denver will likely use Morris' Non-Bird rights to complete the signing.
The three-team trade that will send Carmelo Anthony to the Hawks (briefly), Dennis Schroder to the Thunder, and Mike Muscala to the Sixers may not be officially completed for several days, according to reports from Chris Vivlamore of The Atlanta Journal-Constitution and Keith Pompey of The Philadelphia Inquirer (Twitter links).
As Vivlamore notes, the Hawks will almost certainly waive Antonius Cleveland and his non-guaranteed salary in order to create the cap room necessary to make the deal work, but that shouldn't hold things up much. Pompey hears from one source that the delay may be the result of the 76ers working on another move.
While it's not clear what that Sixers move might be, the club does have a tiny sliver of cap room still available. It's not enough space to be useful at this point, but perhaps Philadelphia wants to explore all its options before officially going over the cap and closing certain doors.
Whether the trade is ultimately finalized today, this weekend, or next week sometime, Anthony looks like a strong bet to eventually land in Houston once he's acquired and then waived by Atlanta. Anthony has reportedly considered both the Rockets and Heat, but Houston has been viewed as the strong frontrunner for the last week or two.
David Aldridge of TNT provides more evidence in favor of Anthony joining up with James Harden and Chris Paul in Houston, citing a source who says that Carmelo has been telling people for over a week that he'll wind up with the Rockets (Twitter link).
When the deal becomes official, the Hawks will use up their remaining cap room, leaving the Kings as the only NBA team with any meaningful space available. Sacramento still has more than $20MM in open cap room. By Luke Adams
Michael Porter Jr., who slid to Denver at No. 14 in the NBA Draft due to ongoing back issues, had a second surgery last week, NBA.com learned Wednesday.
The team confirmed the procedure on Thursday, issuing a statement that read: "Michael Porter Jr. has undergone surgery of the lumbar spine at The Carrell Clinic in Dallas, Texas. The Procedure was performed by Dr. Andrew Dossett. There is no timetable for his return to basketball participation."
This latest procedure, according to Porter's camp, has led to a greater understanding of Porter's herniated-disks condition, boosting confidence he can move on from the injury and begin his Nuggets career. There is no plan at this point to have him sit out the 2018-19 season. Continue reading, by Steve Aschburner NBA.com
Ben Simmons was the driving force behind the 76ers surging from 28 wins two years ago to 52 last season, and he was rewarded with the Rookie of the Year award.
In the span of two years, Ben Simmons went from "guy who couldn't lead LSU to the NCAA Tournament" to one of the 10 best players in the NBA (according to me, at least). I believe Simmons is the best player under the age of 25 in the NBA.
Simmons has enjoyed a meteoric rise off the court as well, and is now dating model Kendall Jenner. The two are reportedly living together this summer in West Hollywood, renting a place for $25,000 a month. Jenner previously dated Blake Griffin … and the two broke up shortly after he was traded to the Pistons.
Continue reading, by Jason McIntyre
The Cavaliers have agreed to bring back veteran forward Channing Frye, reports Shams Charania of Yahoo Sports. According to Charania, Frye will sign a one-year, minimum-salary deal with Cleveland.
Frye will earn approximately $2.39MM this season and count for roughly $1.51MM on the Cavs' cap sheet.
The 35-year-old played in 144 games for Cleveland over parts of the last three seasons. He was traded from Orlando to LeBron James' squad at the 2016 deadline before being dealt to the Lakers during a massive overhaul at the 2018 trade deadline. Now, he'll head back to Cleveland from Los Angeles as LeBron goes in the other direction.
Frye, a 13-year veteran averaged 5.0 points and 2.5 rebounds per contest in limited minutes (13.1 MPG) last season. He's widely known as a solid locker room presence and that will likely be valued by a team that could end up embarking on a total rebuild should it trade Kevin Love. By  Chris Crouse
The Los Angeles Lakers have signed Jeffrey Carroll, it was announced today. Per team policy, terms of the deal were not released.
In 118 career games (77 starts) for Oklahoma State from 2014-18, Carroll averaged 12.0 points (.451 FG%), 4.9 rebounds and 1.1 assists in 25.1 minutes per game. As a senior last season, Carroll notched 15.4 points, 6.2 rebounds and 1.8 assists in 30.7 minutes.
Carroll most recently played in six Las Vegas Summer League games for the Lakers, notching 4.2 points (.480 FG%) and 2.0 rebounds in 9.0 minutes per game. By Lakers.com
Smart has officially signed his new contract with the Celtics, according to agent Happy Walters, who tweeted a photo of the signing. The team has also issued a press release confirming the deal.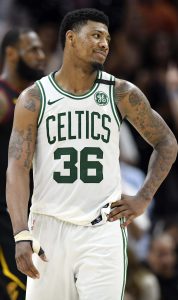 Marcus Smart has agreed to a four-year, $52MM deal to remain with the Celtics, according to Shams Charania of Yahoo Sports. Jordan Schultz of Yahoo Sports first reported that the Celtics and Smart were finalizing a deal in that neighborhood after ESPN's Adrian Wojnarowski said the two sides were engaged in serious discussions.
The final terms are a little higher than the $46-$50MM range that was reported yesterday, and the deal takes one of the last high-profile free agents off the market. Smart has been with the Celtics since being selected with the sixth pick in the 2014 draft and has developed into one of the league's top perimeter defenders.
Smart's contract will push the Celtics into luxury tax territory, at least for now, notes ESPN's Zach Lowe (Twitter link). It will also become Boston's only contract between $7-20MM, which could make it a valuable trade chip down the line, adds Kevin O'Connor of the Ringer (Twitter link).
A restricted free agent, Smart had expressed frustrations with the slowness of the process while waiting for an offer. He met with several teams, including the Nets and Grizzlies, last week during the Las Vegas Summer League, according to Charania, but also had a private meeting with Celtics president of basketball operations Danny Ainge. Significant progress was made in the past few days, allowing the team to quickly finalize a deal in a meeting this morning with Smart and his agent, Happy Walters.
The Celtics were happy to get a long-term deal done with Smart a year before backcourt mates Kyrie Irving and Terry Rozier both become free agents, Charania adds. The team will now have at least one of its point guards locked up before entering into negotiations with Irving and/or Rozier.
Smart appeared in 54 games last season, with his playing time limited by a right hand injury caused by punching a glass frame and a torn UCL he suffered in his right thumb while diving for a loose ball in March that caused him to miss the start of the playoffs. He posted 10.2 PPG, 4.8 APG, and 3.5 RPG during the regular season, along with 1.3 steals per night.
"It's been a tough summer with free agency and his mom's (cancer)," Smart's high school coach, Kenny Boren, tells Mark Murphy of The Boston Herald. "It's been tough emotionally for him." (Twitter link).
Smart ranked 14th on our list of the Top 50 Free Agents of 2018. His signing leaves Clint Capela of the Rockets and Rodney Hood of the Cavaliers as the best unsigned players left on the market. By Arthur Hill    Photo courtesy of USA Today Sports Images.
Fans streamed into the Thomas & Mack Center in anticipation of a marquee Saturday afternoon game. While many were decked in purple and gold—the Los Angeles Lakers were playing later that evening—they were there to watch the Phoenix Suns take on the Sacramento Kings. During the regular season, a matchup between two bottom-feeding franchises wouldn't elicit much interest. At Summer League, however, it's a headliner featuring the top-two picks in this summer's NBA Draft, DeAndre Ayton and Marvin Bagley III. Star rookies aside, the swelling crowds were a daily occurrence at this year's event and are indicative not only of Summer League's increasing popularity but also that of the NBA.
Last year, the 12-day NBA Summer League, held on the campus of UNLV, set attendance records in both total attendance and single-day attendance at 127,843 and 17,500, respectively. This year, attendance surpassed last year's high mark on the 11th day and ended with 139,972 total attendees. It also featured the second sell out in Summer League history, matching last season's 17,500, on the second day of the tournament when Ayton and Bagley met. Naturally, where the fans go, the networks follow. Continue reading, by Doyle Rader
The Knicks winning the 2018 NBA Summer League held in Las Vegas was not the primary goal of their team president Steve Mills and general manager Scott Perry. They finished 2-3 as the 12-day league concluded Tuesday night, with the Portland Trailblazers defeating the Los Angeles Lakers in the championship game.
Mills and Perry were focused on the development and performances of individual players during practices and games, particularly their top two picks from last month's draft, 6-foot-9 forward Kevin Knox, selected No.9 in the first round, and 7-foot forward/center Mitchell Robinson, acquired in the second round with the 36th pick. Continue reading by Jamie C. Harris
A year ago, Los Angeles Lakers rookie Kyle Kuzma was named MVP of the NBA summer league championship game as he and No. 2 overall pick Lonzo Ball led the Lakers to victory in Las Vegas.
Kuzma's success didn't stay in Vegas. He'd go on to become the lowest-drafted player on the All-Rookie first team (No. 27 overall), joining four players taken in the lottery.
So can studying the results from summer league help us uncover the next Kuzma? Or are we more likely to be led astray by outliers like Josh Selby, who shared 2012 NBA summer league MVP honors with Damian Lillard? Let's take a closer look at how summer performance has translated to NBA competition. Continue reading, by Kevin Pelton
The 2018 NBA Summer League is officially, and mercifully, in the books after the Blazers blew out the Lakers in Tuesday night's title game.
Earlier Tuesday, the NBA announced the annual Summer League MVP and All-Summer League First and Second Teams. They were as follows:
Summer League MVP: Josh Hart (Lakers)
All-Summer League First Team: Hart, Collin Sexton (Cavaliers), Kevin Knox (Knicks), Wendell Carter Jr. (Bulls), Christian Wood (Bucks)
Alll-Summer League Second Team: Trae Young (Hawks), Wade Baldwin IV (Blazers), Deandre Ayton (Suns), Jaren Jackson Jr. (Grizzlies), Svi Mykhailiuk (Lakers)
Here's how The Crossover cast its official ballot for this year's Summer League awards. Criteria for selection included individual stats, team success and age (rookies earned bonus points). Note: each team was comprised of two backcourt players and three frontcourt players, and players had to appear in at least three games to be considered by this voter. Continue reading, by BEN GOLLIVER