For the past day, the Baltimore Orioles trading shortstop Manny Machado to the Los Angeles Dodgers for a prospect package has felt like a fait accompli. The only thing that could stop the deal from happening before the regular season resumed was, well, an act of God — or, the joke went, Baltimore's medical staff finding an issue with one of the players coming back.
It looked for much of Wednesday like that joke may have grown into reality, which could have put teams like the Phillies and Brewers back in play for the superstar shortstop. But the Dodgers and Orioles were able to finalize a Manny Machado deal at around 7 p.m. ET. Both teams later announced the trade, so it's official. You can read all about the deal here, along with our projected Dodgers lineup and what's next for the Orioles.
More on the latest MLB trade rumors as they're reported below. But first, get caught up on everything you need to know about trade season.
First, you can read all about the key names likely to be available in the trade market, in the infield, the outfield, the rotation and the bullpen, depending on what your team needs. Then you can take a look at the top 25 prospects that rebuilding teams can target in trade talks. Finally, we've broken down what each potential playoff contender should be looking to do on the market, including the Astros, the Athletics, the Braves, the Brewers, the Cubs, the Diamondbacks, the Dodgers, the Giants, the Indians, the Mariners, the Nationals, the Phillies, the Red Sox, the Rockies and, last but not least, the Yankees. Continue Reading, by R.J. Anderson & Dayn Perry
Though the Phillies lost out to the Dodgers in the Manny Machado sweepstakes, they're far from done looking for upgrades to their ballclub. Dennis Lin of The Athletic tweets that the club is interested in Padres reliever Brad Hand. As Lin notes, there are certainly many other clubs in competition for the lefty's services; he's easily one of the most talented bullpen arms in the game. As one might expect, however, San Diego's asking price for Hand remains very high, as he can be controlled through the 2021 season at a very reasonable cost. The Yankees, Indians and Cubs are among the other teams who've been connected to Hand, who owns a 3.03 ERA and 13.20 K/9 on the season.
More rumors and rumblings from around the league…
The Dodgers aren't done yet, either, Bob Nightengale of USA Today Sports reports, as they'll now pursue a reliever to help closer Kenley Jansen at the back end of their bullpen. It's worth noting that Los Angeles will sit just a few million dollars below the luxury tax threshold following the acquisition of Machado, so any bullpen additions will likely come cheap, or send a player (such as Logan Forsythe) back to a trade partner in order to offset some of financial burden involved. In addition to Hand, Jeurys Familia, Zach Britton, Kirby Yates,Craig Stammen and Raisel Iglesias are just a few names who could be available.
Also in the aftermath of the Machado sweepstakes, the Brewers are left looking to acquire an infield upgrade. Ken Rosenthal of The Athletic reports that they're expected to explore trading for Twins second baseman Brian Dozier. With Minnesota all but out of the the AL Central race already and Dozier set to become a free agent at season's end, he makes plenty of sense as a potential trade target for the Brewers, despite a down season so far. The Brewers are also expected to explore pitching upgrades, Rosenthal adds.
Also from Rosenthal, the Angels aren't likely to trade young starters Andrew Heaney and Tyler Skaggs, despite previous reports that the club might consider doing so. The Angels see the two young southpaws as key components during a 2019 season in which they hope to contend. Rather, Rosenthal notes, the club is more interested in trading some of their relievers (he lists Jose Alvarez,Blake Parker, Cam Bedrosian and Justin Anderson), though they'd want a good enough return to justify giving up controllable players. By Kyle Downing
The American League's playoff picture has been outlined for months now. Sure, there's still some squishiness around the center—Red Sox or Yankees?—but the boundaries, just halfway through the season, are all but officially settled. In terms of simple probability, there's not much room for surprises here, and in terms of sheer practicality, there's far less.
Or, at least, that appeared to be the case as recently as a week ago. But Oakland's recent hot streak has pushed just the tiniest bit of ambiguity into the room. Currently riding a 19–5 run, they're now just five games out of the second wild card spot. That doesn't give them fantastic odds, by any stretch of the imagination, and it doesn't necessarily mean that their best course of action at the deadline will be pushing their chips in for a serious run. It does give them an interesting position in a polarized league, though: Oakland's right in the middle of things, which means that they're more or less alone.
Nothing demonstrates this situation so well as the playoff chances over at FanGraphs, which are the same projections used by MLB. One week ago, Oakland was given a 9.2% chance of making the postseason. That qualified them as only the longest of long shots, to be sure, but it also made them the league's only team at the time with odds somewhere in the gulf between 2% and 87%. Four of the AL's five playoff spots were locked in at or above 99.7%. The A's chances weren't even double-digit, but they were just enough to make them the sole club who might conceivably hold a wild underdog fantasy. Now? At Seattle's expense, Oakland's chances are up to 21.2%. Again, very much a long shot—but no longer such a crazy one. Continue Reading, by EMMA BACCELLIERI 
The All-Star festivities are a welcome break, but don't get too comfortable: It's going to start getting real serious real quick now that this little week-long celebration is over. Every Major League Baseball team has a lot of decisions to make in the next two weeks leading up to the July 31 non-waiver Trade Deadline; decisions that will affect not only the rest of this season, but seasons in the future.
It's an exciting, unsettling time for a fan, but worry not: The Thirty is here to help. Here is one second-half prediction for each MLB team. Some involved on-field performance; some guesstimate about trades; some are just goofy. But you have questions about the second half. We have some probably wrong, but hopefully entertaining answers. Continue Reading, by Will Leitch MLB.com
Both the Dodgers and the Orioles have officially announced the deal. Valera has been optioned to Triple-A Norfolk, while the other four prospects involved will report to Double-A Bowie (h/t Rich Dubroff of BaltimoreBaseball.com).
6:17pm: After a small medical holdup involving one of the prospects coming back, the Dodgers have acquired All-Star shortstop Manny Machado from the Orioles. Outfielder Yusniel Diaz is the key piece headed back to Baltimore in the deal. They'll also receive minor-league right-handers Dean Kremer and Zach Pop, along with infielders Rylan Bannon and Breyvic Valera. The Dodgers will take on the entirety of Machado's remaining 2018 salary, which checks in at about $6.3MM.
Since starting out the year with an 8-20 record, it's been all but certain that the Orioles would deal the impending free agent in exchange for more controllable talent ahead of the July 31st non-waiver trade deadline. But the question of where he would go would prove to be one of baseball's most intriguing storylines for months. At different points in time, the Yankees, Brewers, Phillies, Diamondbacks, Dodgers and Indians were all strongly connected to the four-time All-Star and two-time Gold Glove Award-winner, with the Braves and Red Sox more loosely associated in trade rumors.
The trade will, of course, close the book on Machado's tenure with the Orioles organization, who drafted him with the third overall pick back in 2010 and watched him blossom into one of the best players in franchise history. With his new team, Machado will step in as the club's everyday shortstop — a void that was created earlier this year when Corey Seager incurred a torn ulnar collateral ligament that required Tommy John surgery.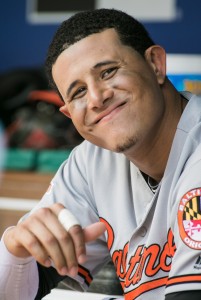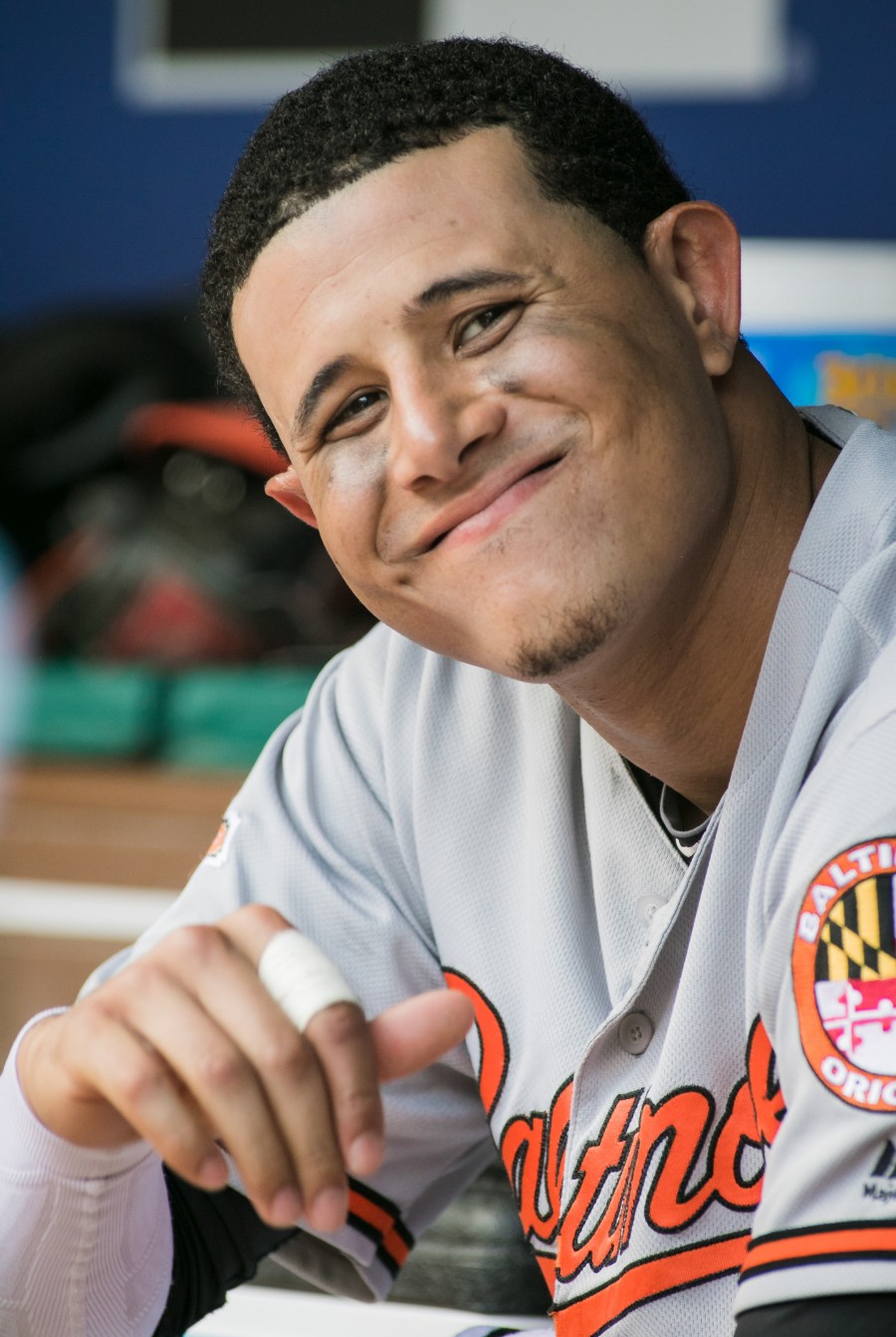 Though Machado, 26, broke into the league as a third baseman, he was drafted and developed as a shortstop and only moved to the hot corner due to the presence of J.J. Hardy at shortstop early in his Baltimore career. Machado voiced a strong preference to move to shortstop this season, and the Orioles accommodated that desire this winter, although defensive metrics have painted him in a dismal light (-19 Defensive Runs Saved, -7.7 Ultimate Zone Rating). It's also possible, of course, that Machado's glovework at short will continue to sharpen as he continues to re-acclimate to his natural position after spending years as one of the game's premier defenders at third base.
Regardless of his defensive skills, there's little denying the type of offensive upgrade he'll bring to an already potent Dodgers lineup. Machado posted a .280/.338/.502 slash and 105 homers from 2015-17, and he's in the midst of his finest offensive campaign yet; through 413 trips to the plate, he's raked at a .315/.387/.575 clip with 24 homers, putting him well on his way to a new career best.
As was made abundantly clear at the time of this offseason's Matt Kemp swap with the Braves, the Dodgers have a strong desire to remain south of the $197MM luxury tax threshold this year. Doing so would reset their penalty level from 50 percent to 20 percent the next time they cross that line (not coincidentally in advance of a stacked free-agent class). The Dodgers were roughly $15MM south of that line prior to acquiring Machado and the roughly $6.45MM remaining on this year's $16MM salary. Earlier on Tuesday there were reports that Los Angeles could attempt to send a veteran player such as Logan Forsythe back to the Orioles as a means of offsetting some of that salary, but Rosenthal since reported that the Dodgers were sending only minor leaguers to Baltimore in the deal.
The 21-year-old Diaz immediately becomes Baltimore's top prospect. MLB Pipeline's most recent ranking pegged him as baseball's #84 overall prospect, praising the potential of all his tools outside of power. In fact, he earns 55 grades across the board with his hitting, speed, arm and defense. Though he's played center field in the minors, MLB Pipeline suggests he's more likely to play right field at the MLB level. Thus far in Double-A this season, Diaz has hit at an impressive .314/.428/.477 clip with more walks than strikeouts to go along with six homers and eight steals.
Bannon, 22, is largely regarded as the second-best player headed back to Baltimore in the deal. Checking in as the Dodgers' 27th-best prospect prior to the trade, Bannon profiles as a third baseman and has earned praise for his great defensive capabilities. That's not to say that his bat doesn't hold some potential, however, as he's managed an impressive .296/.402/.559 so far with the Dodgers' High-A affiliate. Though he's compiled a gaudy strikeout total, his 14.6% walk rate is nonetheless impressive. Bannon game to the Dodgers by way of the number 250 overall pick in the 2017 draft.
Kremer checked in right behind Bannon at #28 on MLB Pipeline's list of Dodgers prospects before being shipped to Baltimore. It's said that his best pitch is his fastball, which sits around 91-94 MPH with some good horizontal movement. He also features an impressive curveball, and has recently found some success with a slider and changeup. Though he struggled as a swingman at the High-A level last year, the success he's enjoyed thus far in 2018 (3.30 ERA, 12.99 K/9 at High-A Rancho Cucamonga) has convinced scouts that he has a good chance to stick as a starter.
Pop, however, does indeed profile more as a reliever. Despite a mediocre 7.67 K/9, he's managed to post a 0.33 ERA through 27 innings in High-A this season. A 95% strand rate suggests he may have been a bit lucky so far, but a dirty 94-97 MPH sinker has impressed scouts and annihilated opposing hitters to such an extent that there's optimism as to the right-hander's upside.
Valera is the only player in the deal who's spent any time in the majors. He spent seven years in the Cardinals' minor-league system, eventually earning a promotion to St. Louis and making 11 plate appearances before ultimately being traded to the Dodgers in exchange for minor-league outfielder Johan Mieses. Valera's made 34 plate appearances with the Dodgers this year, amassing just five hits but walking as many times as he struck out (four). That patience is a skill he's shown in the minors this year, as evidenced by his 9.4% walk rate and 9.0% strikeout rate at Triple-A Oklahoma City. That's in tandem with a .284/.350/.433 batting line at that level.
Eduardo A. Encina of the Baltimore Sun first reported that the agreement was in place, moments after Roch Kubatko of MASNsports tweeted that it looked like a deal would go through pending some final points to review. Jeff Passan of Yahoo Sports was the first to report that the deal was finalized and that players were being notified. J.P. Hoornstra of the Southern California News Group had the first report on the inclusion of Diaz, Kremer, Pop and Bannon in the deal. Ken Rosenthal of The Athletic was the first to report that Valera was headed back to Baltimore, and was also first to mention that the Dodgers were taking on all of Machado's remaining salary. By Kyle Downing and Steve Adams
Angels outfielder Mike Trout's marketability has been a topic of conversation in recent days as the best players in baseball converged upon Washington, D.C. for the All-Star Game. We learned that, according to one firm that measures consumer appeal of personalities, Trout is as recognizable to the average American as Brooklyn Nets reserve forward Kenneth Faried, despite being far and away the best player in baseball and one of the greatest players ever to play the game.
Commissioner Rob Manfred also addressed Trout's marketability, Gabe Lacques of USA TODAY Sports reported. Manfred said, "Mike has made decisions on what he wants to do, doesn't want to do, how he wants to spend his free time or not spend his free time. I think we could help him make his brand very bug. But he has to make a decision to engage. It takes time and effort." Continue Reading, by Bill Baer
The phone call that Matt Kemp never saw coming came as he was having lunch with some friends on the afternoon of Dec. 16, 2017. On the other end was his longtime agent, Larry Reynolds, with some surprising news for the veteran outfielder: The Braves—his then-team—were trading him away.
Changing cities was nothing new for Kemp: Atlanta was his third team in his last four years, and his stay there had lasted 16 months. Being dealt is an inescapable part of the business of being a baseball player, and even though Kemp had figured he was staying put with the Braves, learning that he was heading somewhere else wasn't too huge a shock. Then Reynolds dropped a much bigger bomb.
"He kind of laughed, and I was like, are you joking with me," Kemp says. "And he was like, you got traded, and you'll never guess where."
Four years earlier, the only team Kemp had ever known to that point had broken his heart by sending him to San Diego. He was a face of the Dodgers and a long-term superstar in the making for one of the game's most venerable clubs. But then came the call telling him that his time there was done, and just like that, Matt Kemp was no longer a Los Angeles Dodger—until that December day last winter, when they suddenly brought him back.
"My agent said 'Los Angeles,' and I thought he was playing," Kemp says. "I think I was in shock like everybody else. It was cool and weird at the same time."
It was a reunion that no one expected, but it's paid off handsomely for both parties. Halfway through his second stint with the Dodgers, the 33-year-old Kemp is raking like the old days, hitting .318/.354/.557 with 16 homers in 285 plate appearances. His 145 OPS+ is his best mark since 2014, his last year in Los Angeles, and with 1.6 Wins Above Replacement, he's on pace for his best finish in that stat since his last All-Star campaign in '12. Continue Reading, by JON TAYLER