The Vegas Golden Knights have locked up their goaltender, signing Marc-Andre Fleury to a three-year contract extension. Fleury still had one year remaining on his current contract, meaning this extension will kick in for the 2019-20 season. The deal will pay Fleury $21MM, and carry a cap hit of $7MM per season. It also includes a no-trade clause, though notably not a no-movement clause which was part of the reason Fleury ended up in Vegas in the first place. In the expansion draft process, teams were forced to protect players with no-movement clauses unless they agreed to waive it, something that Fleury did to help the Pittsburgh Penguins retain Matt Murray who would have been otherwise exposed. The Golden Knights won't be in that same situation when the next expansion team comes around.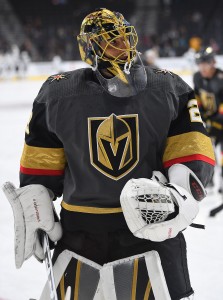 Instead, Fleury will continue to be the face of the NHL's 31st franchise for a few more years. The 33-year old goaltender registered arguably the best season of his NHL career in 2017-18, when he fought through injury to lead the Golden Knights on a deep playoff run. In the regular season Fleury posted a .927 save percentage, the best full-season number of his career, and followed it up with the same number in the playoffs. That 20-game playoff run included four shutouts and just 47 goals allowed en route to a Stanley Cup Finals appearance in the franchise' first season. Fleury is earning $5.75MM in the final year of his current contract but will get a healthy raise next year. Frank Seravalli of TSN gives us the yearly breakdown of the three-year extension:
2019-20: $8.5MM
2020-21: $6.5MM
2021-22: $6.0MM
Indeed there is more to Fleury than his on-ice performance. He, James Neal and Deryk Engelland were immediately raised up as the new faces of the Golden Knights organization, the first two for their star power and the latter for his ties to the community. Though that moniker may now be shifting to younger stars like William Karlsson, Jonathan Marchessault and Nate Schmidt, who broke out as legitimate stars this season, Fleury remains a big part of the marketing strategy for Vegas. His personality and charm have been raised up as something to celebrate for the Golden Knights, and with his healthy on-ice performance backing it up he has become an even bigger star than he was in Pittsburgh—despite having won three Stanley Cups with the Penguins. Continue Reading, by GAVIN LEE
The Detroit Red Wings are in transition. After making the Stanley Cup Playoffs for 25 straight seasons, they have missed them back to back. They are trying to keep a winning culture and remain competitive, while slowly turning over the team to younger players.
Detroit added forward Thomas Vanek, 34, and re-signed defenseman Mike Green, 32, when free agency opened July 1. But they were to short-term contracts: Vanek one year, Green two. They can help the offense, mentor younger players and buy time for prospects to develop. Continue Reading by Nicholas J. Cotsonika NHL.com Columnist
he rebuild of what's now called KeyArena will be transformative for Seattle sports, providing a home at Seattle Center for professional hockey, and, perhaps, pro basketball.
But a related project will also be significant, as the probable owners of an NHL franchise plan a practice facility that could cost between $30 million and $50 million.
Tod Leiweke, CEO of the NHL Seattle organization, told KIRO 7 he envisions a facility that could become an attraction in itself with three sheets of ice.
"If we really want to be a world-class organization, we have to have world-class training facilities for our players," Leiweke said. "But we're thinking even beyond that. We're thinking about a training center that could impact the sport of hockey in Seattle and the Pacific Northwest," he said.
Leiweke said three rinks could provide space for the team to practice in front of fans and to host hockey tournaments, national and international events and leadership gatherings for corporate or nonprofit clients.
"We've got to find a piece of land that can accommodate that type of activity," Leiweke said. "It's got to be large enough. It's got to have a certain amount of accessibility. We want the neighborhood to complement what's going on and we're deep into that process right now," he said.
Leiweke would not say if the facility would be in Seattle, and only said, "We're looking at various sites."
Spokespeople for the cities of Kirkland and Bellevue said there have not been any discussions with officials in their cities. Continue Reading, by Graham Johnson
The Edmonton Oilers have been relatively quiet this offseason but signed free agent forwards Kyle Brodziak and Tobias Rieder trying to return to the Stanley Cup Playoffs after failing to qualify last season.
The Oilers also re-signed forward Ryan Strome to a two-year contract July 6 and selected defenseman Evan Bouchard with the No. 10 pick in the 2018 NHL Draft. Continue Reading, by Derek Van Diest NHL.com Correspondent
The 2018 NHL free-agent frenzy is over. Some teams found answers. Other teams created more questions.
Here's a look at the 10 lingering mysteries and conundrums from NHL free agency and our attempts to address them thusly. Beginning with, of course, the greatest mystery of them all.
The mystery was somewhat solved by the venerable Bob McKenzie of TSN, who told me it was an alarm clock. "He wanted it right above his head because he had an early tournament game the next morning and was afraid his parents' alarm might not work. So he doubled up with his own alarm clock," he said.
Sorry, but we're going to need more clarification. Is John Tavares a prequels apologist? Does he rank any of them higher than the original or sequel trilogy films? CGI or puppet Yoda? Is Jar Jar a tragic figure? And does he relate more than ever to the chosen one being betrayed by the institution that selected and trained him, forcing him down an irreversible path to the dark side? Continue Reading, by Greg Wyshynski ESPN
What happens when scoring rates aren't particularly reflective of the offensive value a player is providing?
It's a paradox that National Hockey League front offices have been dealing with for quite some time – in particular with defencemen. For as long as hockey has been around, the hockey world has generally drawn a straight line between point accumulation and offensive impact. The more points a player has, the more of an offensive impact he is having. And the more offensive impact he is having, the more valuable that player is to his team's offensive production.
It seems logical in theory, but doesn't hold up as well under a microscope. A lot of the issue has to do with the fact that scoring from forwards is quite different than scoring from defencemen.
What do I mean? Let's start at the foundation of how goals are scored. You can't score a goal without a shot. But there is only one puck on the ice at all times and every shot is a decision point. It's reasonable to infer that when players shoot, the opportunity cost of passing to a teammate (or a number of other hockey plays) is less than the value of the immediate chance at scoring a goal. Continue Reading, by Travis Yost TSN
On the night of May 22, 2007, Anaheim defeated the Detroit Red Wings in Game 6 of the Western Conference final, to propel the Ducks to the Stanley Cup Final against the Ottawa Senators.
While most members of the Senators spent that night inside their Ottawa homes – resting from a hard-fought series win over Buffalo and scouting their next opponent for the Cup Final – their No. 1 netminder was off doing something completely different.
Ray Emery was at a lavish mansion south of the city in Greely, Ont., where he was helping lay down vocals for an updated track by local rap artist Belly. Emery had initially agreed to be filmed for a television feature while at this venue, but had a change of heart because of the optics.
There were scantily clad women all over the property, open liquor bottles everywhere and not a single television tuned into the Western Conference final. Continue Reading, by Ian Mendes