One summer day a few years ago, a bunch of 16-year-olds were playing ball in Southern California. Nobody was keeping score, nothing mattered for any standings. It was just a bunch of kids with bats and gloves, sun beating down, school still weeks away. It sounds glorious, doesn't it?
But the scene actually touched the sadness parts of my brain. These kids were playing not for fun but because there were dozens of scouts and major league execs watching them at a showcase event. Those scouts weren't all that interested in this game — they were there to see the 17-year-olds — but the teenagers were still trying to stand out. The pitchers were trying to light up radar guns, the batters were selling out for power, the fielders were overthrowing cut-off men to show off their arms, every baserunner was trying to steal. Nobody was keeping score, but this all counted, and it counted mostly to the extent that it would affect some major league team's chances of winning a World Series someday. The stands were full, and nobody cheered. Continue Reading, by Sam Miller, ESPN.com
The lineups and starters for the 2018 All-Star Game are set. All that's left to do between now and Tuesday night is dream of the possibilities.
Managers AJ Hinch and Dave Roberts laid out their lineups for the American League and National League on Monday in Washington, and they also announced a marquee starting-pitching matchup for the 89th All-Star Game presented by Mastercard.
Red Sox ace Chris Sale will make his third consecutive start for the AL, while Max Scherzer takes the ball for the NL for a second straight year. It's a reprise of last July's starting matchup in Miami, where Sale posted two scoreless innings and Scherzer matched him with a clean first inning of his own. The last time two starters opposed each other in back-to-back All-Star Games was Red Ruffing and Paul Derringer in 1939-40.
"The proof is in the numbers, and he is the most consistent starting pitcher in our league," Hinch said of his decision to start Sale. Continue Reading, by Matt Kelly,  MLB.com
It will be a rerun at the start of Tuesday night's All-Star Game. This one will feel a little different for Max Scherzer, however.
Scherzer's accomplished major league career will add yet another milestone when he starts for the National League in Tuesday night's All-Star Game, giving the Washington Nationals right-hander and three-time Cy Young Award winner the honor of seizing the spotlight in front of his home crowd at Nationals Park.
"It's his city. It's his ballpark," says Los Angeles Dodgers and NL manager Dave Roberts, who noted that NL ERA leader Jacob deGrom of the New York Mets was also under strong consideration. "It's an honor to give the ball to Max and watch him do his thing.
"I've tried to make things bigger than me and the club. And Max, for the game of baseball and for our country, is the right guy to take the ball."
Said Scherzer: "When Dave told me he was going to give me the nod, there were so many emotions knowing you'd be pitching in your home park. I can only imagine how the Nats fans will be here supporting us. To go out and start this thing again, it's a dream come true." Continue Reading, by Gabe Lacques, USA TODAY
It's Home Run Derby day in Washington. Before some of baseball's biggest stars look to go deep at Nationals Park (Watch the Derby at 8 ET on ESPN, ESPNews and streaming in the ESPN App), we asked some of our writers to take a swing at some pressing Derby and All-Star Game questions. Continue Reading, from ESPN Writers
Bryce Harper will get to enjoy at least one more grand celebration as a hometown fan favorite at Nationals Park when he trots out to right field at the beginning of the All-Star Game.
Harper is batting sixth in his fifth All-Star start, the lowest he has been in the National League lineup since the No. 9 spot in 2013. In a contract year that could be his last with Washington, Harper is hitting .214 with a .365 on-base percentage, .468 slugging percentage, 23 home runs and 54 RBIs. Continue Reading, from Associated Press
 Holding court at his home ballpark, Nationals outfielder Bryce Harper fielded questions from the media about his first-half struggles and, of course, his impending free agency.
As teams brace for his potential availability this winter, this is as close as Major League Baseball will ever come to the NBA's quadrennial NBA's LeBron James sweepstakes.
The 25-year-old has been peppered by the media since the day he showed up to spring training, as the baseball world looks for bread crumbs that could feed the rumor industrial complex.
Harper has struggled in the first half, batting .214 while his team is 48-48, sitting third place in the National League East.
Here are some of the takeaways from Harper's availability ahead of Monday night's Home Run Derby. Continue Reading, by Jesse Yomtov, USA TODAY
Sunday marked the conclusion of the first half of the 2018 Major League Baseball season. The league will pause for the next few days in order to observe the All-Star break.
With that in mind, let's recap the first half by focusing on six of our biggest takeaways.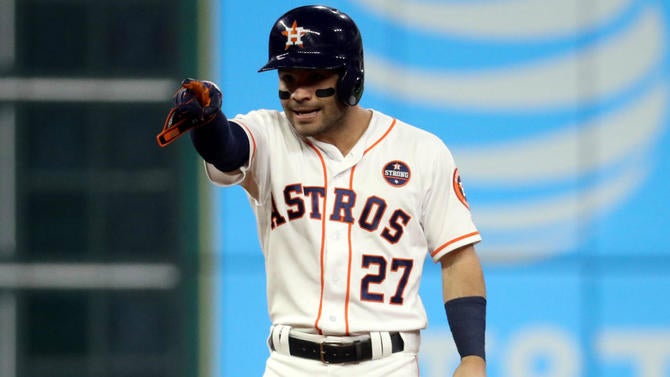 Baseball Prospectus tracks a statistic called third-order winning percentage — basically, it estimates how good each team is when underlying measures, including their quality of competition, is accounted for. Per that measure, the three best teams in baseball are housed in the American League. In whole, five of the top eight belong to the Junior Circuit.
Anyone paying attention to the standings already knew that was the case. The Red Sox, Astros and Yankees are probably the three best teams in the game; the Indians shouldn't be discounted; the Mariners, meanwhile, are proving that luck is as important as anything. Because of those five teams, the AL playoff field is about set. Just one AL team is within five games of the second wild-card spot; comparatively, there are five teams within five games of the second spot in he National League.
The AL superpowers will spend the rest of the season jockeying for seeding, but unless the Athletics can continue their improbable run, it seems like one half of the playoff bracket is set Continue Reading, by R.J. Anderson CBS Sports
The Orioles are getting "very close" to reaching an agreement on a Manny Machado trade, reports Roch Kubatko of MASNsports.com (via Twitter). However, despite a report of a "handshake agreement" between the Orioles and Phillies by Barstool Sports, Kubatko adds that there's no deal between the two teams in place. To the contrary, Kubatko notes that both the Brewers and the Dodgers remain involved in the Machado market. Brittany Ghiroli of MLB.com agrees, tweeting that "numerous" sources tell her that rumors regarding an agreement with the Phillies are "untrue."
To be sure, it'd be strange for any club, especially one in the Orioles' position, to effectively close off bidding 36 hours in advance of completing a trade when a better offer could come floating in at any time. An arrangement of that nature would come with little in the form of precedent. The inevitable Machado trade will be a franchise-altering moment for the Orioles, and cutting off negotiations this far in advance would be a downright bizarre means of going about it. By agreeing to a delayed agreement, they'd leave no room for the Dodgers, Brewers or any other club — the Yankees, D-backs, Braves, Indians and others have been involved to varying extents — to top whatever is currently being offered by the Phillies.
That said, it's true that the league generally frowns on news of this magnitude breaking during All-Star festivities. It's certainly possible that both sides are optimistic about something coming together shortly after the All-Star Game, and none of this is to say that the Phils won't ultimately come away as the "winners" of the Machado sweepstakes, so to speak. But for the time being, it's only logical to assume that the bidding for Machado remains open as the the Orioles seek to extract the best possible package of young talent.
Regardless of where Machado ultimately lands, the timeline depicted this lengthy saga may indeed reach its end shortly after the All-Star Game. Reports over the past week have indicated that the O's are loath to trade Machado prior to the Midsummer Classic, where he'll represent them in Washington D.C. as the American League's starting shortstop. Jim Bowden of The Athletic took matters a bit further this morning, tweeting that Machado is "expected to be traded" after Tuesday's All-Star Game and before the regular season resumes play on Friday.
As one can imagine, the rumor cycle is beginning to wear on even Machado himself. Speaking to reporters during the media hour for today's events, Machado said that if he is ultimately going to be traded, he "100 percent" hopes it is over with sooner rather than later (Twitter link via The Athletic's Jayson Stark). "To not answer these questions anymore, that would be good," said Machado. The infielder also once again acknowledged that he has "no say" in where he plays following a trade (Twitter link via Fancred's Jon Heyman), but his preference in free agency will be to pursue opportunities where he's able to play shortstop (Twitter link via Ghiroli). By Steve Adams MLB Trade Rumors
The All-Star break is here, and the trade market is heating up.
The race to make moves before the July 31 non-waiver Trade Deadline is two weeks away and teams in the market to pick up a big bat or solidify their starting rotation for a playoff run are making calls around the league.
It was a big week for rumors, and there was no one more talked about than Orioles shortstop Manny Machado. Baltimore has baseball's second–worst record and could be looking to be sellers during the trade period.
Here is the latest news and rumors from around the league:
• The Phillies, Brewers, Dodgers are waiting on a call to possibly trade for Machado, as the Orioles have narrowed their focus on potential trade partners. (Buster Olney, ESPN.com)
• The Nationals were believed to have moved on from Marlins catcher J.T. Realmuto. (Jon Heyman, FanCred Sports)
• The Cubs are one of eight contending teams discussing Orioles reliever Zach Britton. Chicago is also interested in Padres closer Brad Hand. (Bruce Levine, 670 The Score)
• The Phillies and Giants have shown interest in Mets closer Jeurys Familia. (Buster Olney, ESPN.com)
• The Minnesota Twins are open to dealing pitchers Kyle Gibson and Jake Odorizzi, (Joel Sherman, New York Post)
• The St. Louis Cardinals could be sellers if the team continues to struggle amid firing manager Mike Matheny. (Joel Sherman, New York Post)
• Scooter Gennett says he wants to remain with the Cincinnati Reds. The two sides have not discussed a contract extension. (Ken Rosenthal, FOX Sports) By SCOOBY AXSON SI.com