The Bulls rescinded their qualifying offer to David Nwaba Thursday night, a source confirmed, making the spark-plug reserve guard/forward an unrestricted free agent. They also made official a move that has been reported for weeks, waiving Sean Kilpatrick. Continue Reading By K.C. Johnson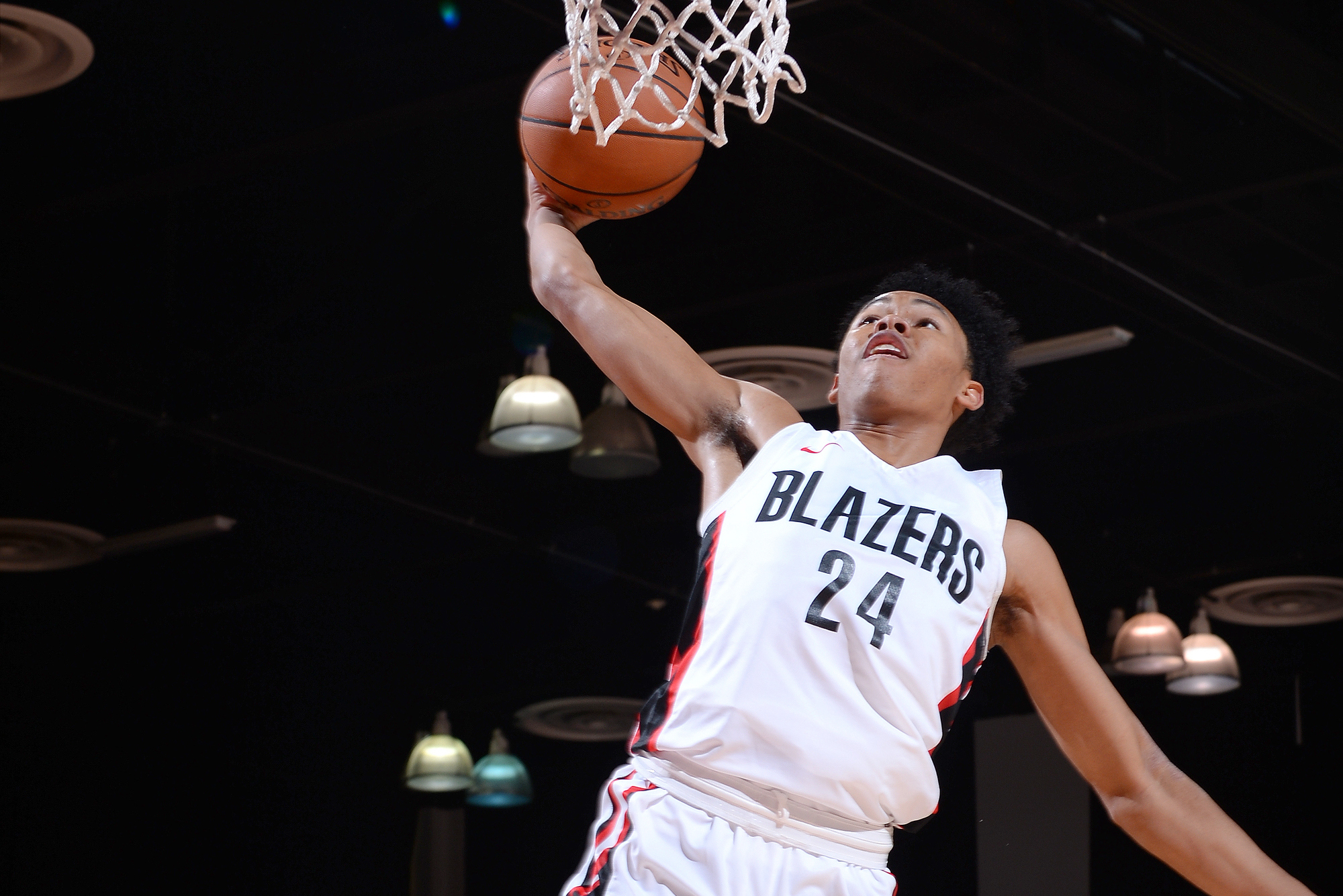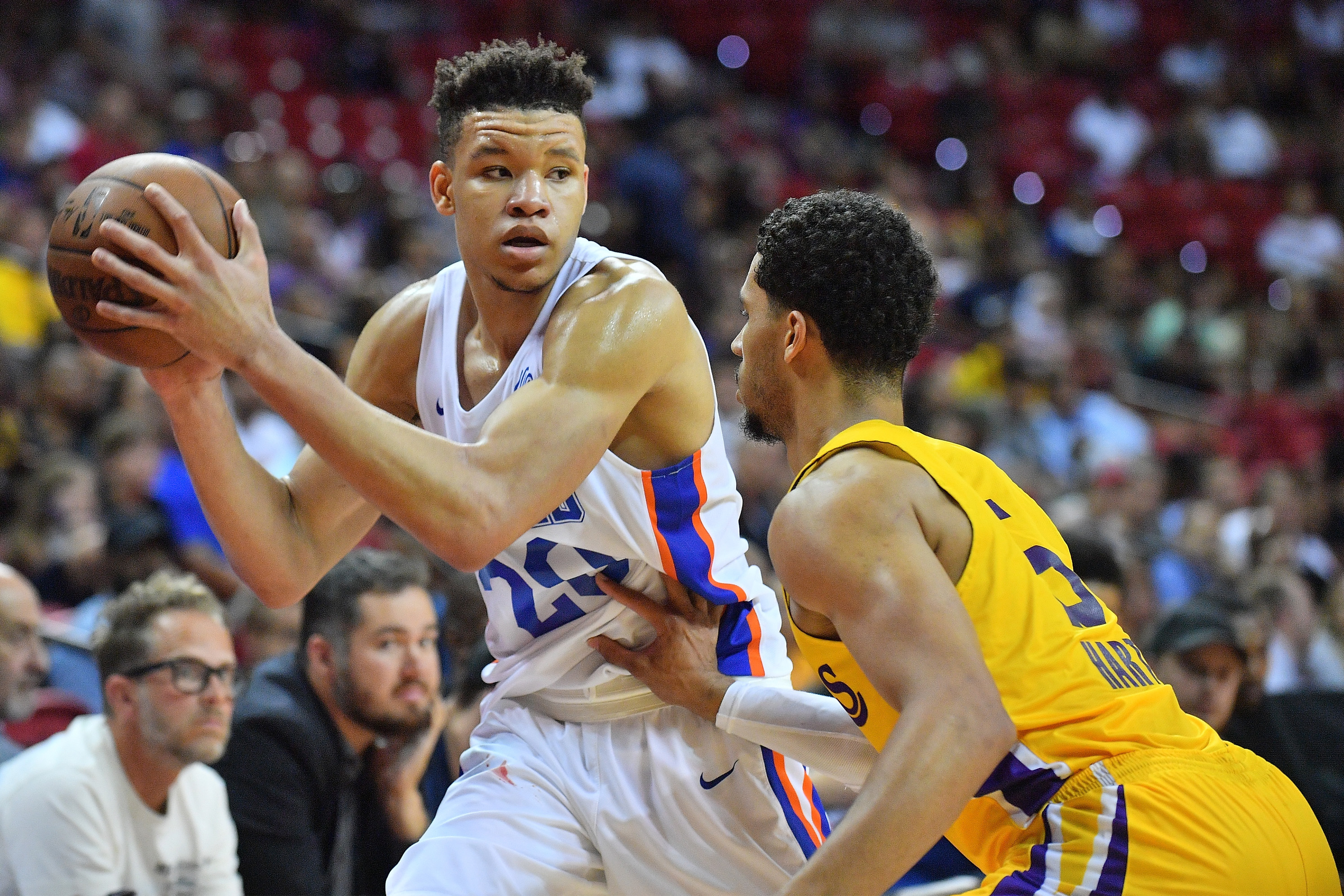 The Kevin Knox buzz in Las Vegas is building by the day. 

There is still a side to the

NBA

scouting community that downplays every wow moment and stat by noting that it's just summer league. But at 18 years old, the draft's No. 9 pick by the

New York Knicks

leads all rookies in scoring, and he's tied with

Los Angeles Lakers

sophomore Josh Hart, 23, among players who've played at least three games.

If you look at the members of the 2017-18 All-Rookie team, Kyle Kuzma, Donovan Mitchell and Jayson Tatum ranked in the top three in scoring from their class during summer league. Knox's start isn't a guaranteed indicator of high-level NBA success, but it's no doubt an encouraging sign. His age, tools and eye-test results appear to show an improved player who's thriving in a more suitable role compared to the one he occupied at Kentucky. Continue Reading By JONATHAN WASSERMAN
After missing the playoffs by one game last season, the Nuggets will reportedly turn to a former All-Star to help push them over the hump. ESPN's Adrian Wojnarowski reports that Denver has come to terms with free agent guard Isaiah Thomas on a one-year deal. Thomas, a two-time All-Star with the Boston Celtics, struggled last season while trying to recover from a hip injury that ultimately required hip surgery in March. Continue Reading By Adrian Wojnarowsk
The Cleveland Cavaliers reportedly aren't actively soliciting trade offers for Kevin Love and Kyle Korver, but ESPN.com's Brian Windhorst said Thursday he doesn't believe they are "untouchable" if the right deal pops up.
"I think the Cavs would trade Kevin Love and Kyle Korver but aren't out there peppering teams for trade offers," Windhorst told ESPN Cleveland. "I don't think the Cavs want to trade them, it's just that they aren't untouchable. The only untouchable is Collin Sexton."
That sentiment echoes a report from The Athletic's Jason Lloyd earlier this month that suggested the defending Eastern Conference champions could look to move Love. Continue Reading By Alec Nathan
While LeBron James' free agency period was relatively quick and painless, the NBA has had its fair share of extended drama with the Kawhi Leonard situation in San Antonio.
Nobody really seems to know what the hell is going on with Leonard and the Spurs, and trade rumors surrounding the forward have been all over the place. Are the Lakers still his preference? How about the Clippers? Could the Celtics make a run at him?! The 76ers have the pieces to get it done!!! You know what … maybe there's a chance he works things out in San Antonio.
Honestly, it seems like nobody really knows at this point. But, in the latest development, there's been some interesting movement on the betting front, as the Toronto Raptors now have the best odds to start next season with the superstar forward on their roster.
The Golden State Warriors have won three of the last four NBA titles, and as hoops fans know, they really should have won all four. There's no reason to suspect they'll lose next year, either. After sweeping LeBron James and the Cavs, the Warriors somehow managed to add yet another star, DeMarcus Cousins, to the roster. Now they look downright unbeatable.
The league's commissioner has taken a lot of heat for allowing the rich to keep growing richer, but Adam Silver doesn't think the Warriors' continued dominance reflects negatively on the league. Here's how Silver explained his perspective to Ben Golliver of Sports Illustrated. Continue Reading By AARON MANSFIELD
Right now, the state of the NBA can be distilled into one sentence. Even after the Lakers signed LeBron James, with a potential Kawhi Leonard trade hanging over everything, with the Rockets having pushed Golden State to seven games sans Chris Paul in the Western Conference Finals, the Warriors are still the team to beat. Stephen Curry knows it.
"You've still got to beat us," the superstar told USA Today. Yeah, that's pretty much it. Until someone does beat the Warriors, they are the NBA's unstoppable force, even more so after signing DeMarcus Cousins. Continue Reading By Ethan Sears
The Nets have agreed to a trade that will send Jeremy Lin to the Hawks, reports ESPN's Adrian Wojnarowski. The deal will allow Brooklyn to clear the cap space necessary to take on a pair of expiring contracts from the Nuggets in another deal.
According to Wojnarowski, the Nets will receive Portland 2020's second-round pick and the rights to 2016 draft-and-stash second-rounder Isaia Cordinier in the trade.
In addition to Lin, the Hawks will acquire a 2025 second-round pick and the right to swap picks with the Nets in 2023, Woj adds. His report doesn't mention anything about first-round picks, so we'll assume for now that the '23 pick swap applies to second-rounders.
For the Hawks, adding Lin will mean further bolstering a point guard depth chart that already features leading scorer Dennis Schroder and fifth overall pick Trae Young. Schroder has been frequently cited as a potential trade candidate and Young's performance in Summer League action has been up and down, so Lin could provide some added stability at the position. His presence also could expedite a Schroder trade, as Wojnarowski reports.
Of course, it may be premature to pencil in Lin for 25-30 minutes per game for the upcoming season, since he's coming off a major knee injury. The veteran point guard admitted recently that he has yet to play 5-on-5 ball, but fully expects to be ready for training camp. The Hawks plan to keep him, tweets David Aldridge of TNT.
As we detailed earlier today, the Hawks had upwards of $18MM in cap room available, with the flexibility to increase that number to nearly $24MM by renouncing free agents and waiving non-guaranteed players. No additional moves will be required in order to absorb Lin's $12.5MM expiring contract using their current cap space.
As ESPN's Bobby Marks notes (via Twitter), Lin also had a 10% trade kicker, so if he doesn't waive it as part of the deal, the Nets would pay that $1.25MM bonus and the 29-year-old's cap hit would increase to $13.75MM.
General manager Travis Schlenk had said that the Hawks didn't expect to pursue major free agents, noting that the team's "free agency is going to be trades." The acquisition of Lin reflects that plan, though it's still a somewhat surprising move. Given where the Hawks are in their rebuilding process, it would have made more sense to me if Atlanta had used its cap room to take on the Nuggets' unwanted contracts and acquired a pair of picks in the process.
That's exactly what the Nets will do with their newly-created cap room after moving Lin. As we detail in a separate story, shedding Lin's salary will allow Brooklyn to take on Kenneth Faried and Darrell Arthur from Denver. The Nets will receive a first-round pick and a second-round pick from the Nuggets for their troubles.
Meanwhile, the Nets should still have plenty of depth in their backcourt heading into the 2018/19 season, with Spencer Dinwiddie and D'Angelo Russell capable of handling point guard duties.
Photo courtesy of USA Today Sports Images.
The Nuggets have found a team willing to take on their unwanted contracts, according to ESPN's Adrian Wojnarowski, who reports that Denver is sending Kenneth Faried, Darrell Arthur, a protected 2019 first-round pick, and a 2020 second-round pick to the Nets in exchange for Isaiah Whitehead.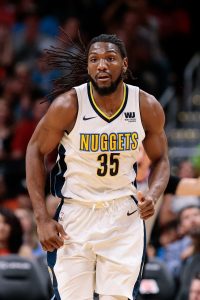 It's a salary-dump deal for the Nuggets, who intend to waive Whitehead after acquiring him, Wojnarowski adds. Whitehead's salary guarantee deadline was recently pushed back, so his $1.54MM salary for 2018/19 remains non-guaranteed — Denver won't be on the hook for it.
Having reached a deal with Isaiah Thomas earlier in the night, the Nuggets were poised to have 16 players on guaranteed NBA contracts and were well into luxury-tax territory. Their deal with the Nets will solve both issues, reducing their roster count to 14 players after Whitehead's release and getting their total team salary below the tax threshold.
Bobby Marks of ESPN.com has the full details, noting that the Nuggets should be about $8.7MM below the tax line after the trade, giving the team room to use the rest of its mid-level exception to fill the last spot on its roster, if it so chooses. So far, Denver has committed $2MM of its MLE to Torrey Craig and is believed to have used about another $1MM on Jarred Vanderbilt.
As Marks observes, trading Faried, Darrell Arthur, and Wilson Chandler (to Philadelphia) projects to save the Nuggets approximately $90MM in salary and tax payments. The team gave up a first-round pick and two second-rounders in those two deals.
The Nuggets have also created three sizable traded player exceptions to work with — those TPEs are equivalent to the salaries for Faried ($13.76MM), Chandler ($12.8MM), and Arthur ($7.46MM)
Meanwhile, from the Nets' perspective, they'll rent their cap room in order to add a pair of draft assets. The big prize is the 2019 first-rounder, which is top-12 protected, according to Wojnarowski (via Twitter).
Coming into the day, Brooklyn didn't have the cap room necessary to absorb both Faried and Arthur, but the club created that space by trading Jeremy Lin to the Hawks in another deal. It's not clear whether Faried and/or Arthur are in the Nets' plans for 2018/19 or if they'll become buyout candidates. By  Luke Adams Photo courtesy of USA Today Sports Images.
The Raptors' potential pursuit of Kawhi Leonard is the hottest rumor making the rounds at summer league, according to Doug Smith of The Toronto Star. Toronto appears poised to join the Lakers, Sixers and Celtics as teams in the conversation for the Spurs' star. With LeBron James out of the East, the addition of Leonard could tilt the balance of power in the race for the conference title.
Smith speculates that San Antonio would ask for DeMar DeRozan, OG Anunoby, two first-round draft choices and another player or pick. Smith suggests countering with an offer of DeRozan or Kyle Lowry, along with either Norman Powell or Jakob Poeltl, plus Delon Wright and a pair of first-rounders.
DeRozan erased his Instagram feed this week and posted the message, "We had some bumps along the way. But the reward is in the journey. I'm in my bag." However, a source close to him tells Michael Grange of Rogers Sportsnet that there's no significance behind the move and it's not an indication that a trade is coming (Twitter link).
There's more tonight from the Atlantic Division:
The Raptors have become the new odds-on favorite to acquire Leonard, notes Tom Orsborn of The San Antonio Express-News. OddsShark.com, a sports betting site, lists Toronto as the even-money favorite to swing a deal for Leonard.
The Nets haven't had any extension talks with D'Angelo Russell, according to Michael Scotto of The Athletic. Russell, who was acquired in a trade with the Lakers last summer, put up some impressive numbers in first 12 games with Brooklyn before being sidelined by a left knee injury. He posted a 20.9/4.7/5.7 line on 46% shooting prior to the injury, which required arthroscopic surgery. Russell, 22, will make $7.02MM in the upcoming season and will be a restricted free agent next summer if no extension deal is reached.
Japanese star Yuta Watanabe is making a bid for an NBA job with his performance for the Nets' summer league team, writes Candace Buckner of The Washington Post. Watanabe averaged 9.8 points, 5.3 rebounds and 2.0 blocks in four summer league games. "It's great for me," he said. "Great experience, but it's still summer league. I still have a lot to go, so my goal is not here." By Arthur Hill