Last season, the Houston Texans emerged as a serious threat in the AFC after rookie Deshaun Watson finally gave the team a solid contributor at the quarterback position. The Clemson product took the NFL by storm shattering rookie records and providing a lot of hope for the future of the franchise in Houston.
Along with Watson proving to be the real deal before his rookie campaign was cut short by injury, the Texans have one of the best wide receivers in the NFL today. DeAndre Hopkins has been able to put up impressive numbers year in and year out despite the poor quarterback play in Houston. Former Texans star Andre Johnson thinks Hopkins is the best wideout in the game and should take it to another level while paired with Watson, via Aaron Wilson of the Houston Chronicle. Continue Reading, by Ryan Ward
The NFL had intended for its rule to achieve a resolution.
For more than a year, controversy had eddied endlessly around players' decisions to kneel during the national anthem. And the league thought a policy requiring players to stand for the anthem if they were on the field — but also allowing them to stay off the field and out of sight — would end an uncomfortable conversation that had reached even the White House.
But if it was resolution the league was seeking, the move failed.
The NFL Players Association announced Tuesday that it has filed a grievance against the league "on behalf of all players."
"The union's claim is that this new policy, imposed by the NFL's governing body without consultation with the NFLPA, is inconsistent with the collective bargaining agreement and infringes on player rights," the group explained in a statement. Continue Reading, by COLIN DWYER
The 2018 NFL Draft was highly touted for its bevy of potential star players. However, NFL legends Ronnie Lott and Kenny Easley feel this class and every other one pales in comparison to the 1981 NFL Draft.
It goes without saying that the 1981 draft boasted a number of Hall of Fame-caliber players. Lott and Easley even went so far as to tell Landon Buford of The Hype Magazine that it was the greatest draft class of all time. Continued Reading, by Maximo Gonzales
Former NFL player Brandon Browner is facing life in prison after being charged with attempted murder in a case involving his ex-girlfriend.
Browner was arrested on Sunday after allegedly breaking into his ex-girlfriend's apartment in La Verne, Calif. and beating her up. He allegedly "chased the victim, dragged her and then smothered her in a carpet." He also stole a Rolex before fleeing, though he did get arrested.
Browner is being charged with one count of attempted murder, first-degree residential robbery, first-degree burglary, person present, and false imprisonment, according to TMZ Sports. He also faces two misdemeanor counts of cruelty to a child.
Browner, 33, played in the NFL from 2011-2015. He was a member of the Seattle Seahawks for three seasons, including 2011 when he had six interceptions and was a key member of the "Legion of Boom."
Browner was arrested last year for allegedly making criminal threats against a woman. He was arrested a month later for cocaine. He failed multiple PED tests during his playing career. By Larry Brown
In some ways, the 2018 Bears are a very different team than the one that ended the 2017 season. In other ways, they are building on more of the same.
Those were the first steps for Chicago in trying to get a breakout second year out of quarterback Mitchell Trubisky. Then, along with the philosophical and schematic reboot, came upgraded offensive skill personnel through free agency and the draft.
Defensively, however, with the Bears trending in the right direction in their base 3-4, Vic Fangio was retained to oversee a talented, mostly young unit that continues to grow. But the defense also got a key addition who can help take it to another level.
Here are the most notable changes that blew threw Chicago in the offseason as it tries to become a force in the NFC North. Continue Reading, by Vinnie Iyer
Football fever is officially in season and the start of the 2018 NFL season is in sight. Oddsmakers and sportsbooks, well aware of the public's insatiable appetite for football action, already have posted live NFL odds for all Week 1 games and are taking wagers. Before you make your NFL Week 1 picks, you need to listen to R.J. White. SportsLine's top NFL analyst and resident stat geek, White cashed big in the world's most prestigious handicapping tournament last year, the Las Vegas Super Contest, tying for 18th out of 2,748 contestants with a 52-29-4 mark against the spread.
Remarkably, he also finished in the top 2 percent in 2015, when he tied for 39th out of 1,727 entries with a 51-32-2 record. White also crushes the NFL for SportsLine members: He went 94-68-8 on against-the-spread NFL picks last season, returning $1,856 to $100 players.
White has years of experience analyzing NFL statistics and trends, dating all the way back to Super Bowl XXV. He knows what it takes to win on football's biggest stage.
Now, White already has diligently dissected the Week 1 NFL odds and lines and generated five top-rated spread selections, which he is sharing only over at SportsLine.
We can tell you he likes the Atlanta Falcons to cover a 4.5-point spread when they visit the Super Bowl champion Philadelphia Eagles in a rematch of last season's divisional round game.
In January, Atlanta headed to Philly with apparent momentum and public support following its 26-13 road upset of the 
Rams
 as six-point underdogs. The Falcons were three-point road favorites against an Eagles club that was widely viewed as having a limited postseason ceiling minus injured quarterback 
Carson Wentz
.
Atlanta held a 10-9 halftime lead, but the Eagles' defense was the story of the second half. It pitched a shutout and sealed the 15-10 win with a goal-line stand that denied Matt Ryan and the Falcons a potential go-ahead touchdown. With Atlanta on the cusp last year and Wentz appearing in his first regular-season game back from injury, White is all-in on the Falcons +4.5 in the 2018 NFL season-opener.
White has had an accurate read on the pulse of both clubs, as has posted an astounding spread record of 20-10 in games involving the Falcons or Eagles over the past two seasons. By CBS Sports
The NFL's summer break presents the ideal opportunity for players to pursue individual passions, and this year they lent a hand during a crisis (Josh Norman), got involved in local politics (Devin and Jason McCourty and Matthew Slater) and tackled personal goals around the world (Brett Hundley), just to name a few. Also, items on how the NFL is aiding coaches in teaching the new helmet-lowering rule, the NFL's involvment in NYC Pride, why Russell Okung's discussion about guaranteed contracts is so important and much more.
Continue Reading
, By 
Jenny Vrentas
Plus, tight ends to target, a couple of face-melting sleepers, why this is the year for DeVante Parker oh my God I swear it's true, how to DOMINATE!!! your draft, why your fantasy football playoff system is dumb, and why you have to stop asking other people to set your lineup for you. Continue Reading, 
By 
GARY GRAMLING
There's a flurry of moves in free agency and the trade market every NFL offseason, but this year felt more active and significant than most. How often do two quarterbacks who threw for at least 4,000 yards and 26 touchdowns the previous season change teams? How about the three big-name receivers—all of whom will be 25 years old this season—one with a 14-touchdown season to his name, and another who has had three straight years with at least 1,000 yards and seven touchdowns? And how frequently does one of the era's best tight ends team up with one of the greatest quarterbacks while both are still near the height of their abilities? Here's how these moves are expected to impact the 2018 fantasy football landscape.
Continue Reading
, By 
MICHAEL BELLER
Matthew Stafford is a rich, rich man. Five years ago today, the quarterback signed his second lucrative contract with the Lions. It was a three-year pact worth $53MM.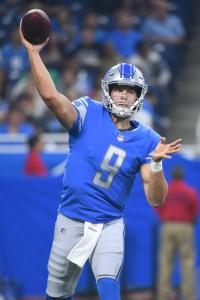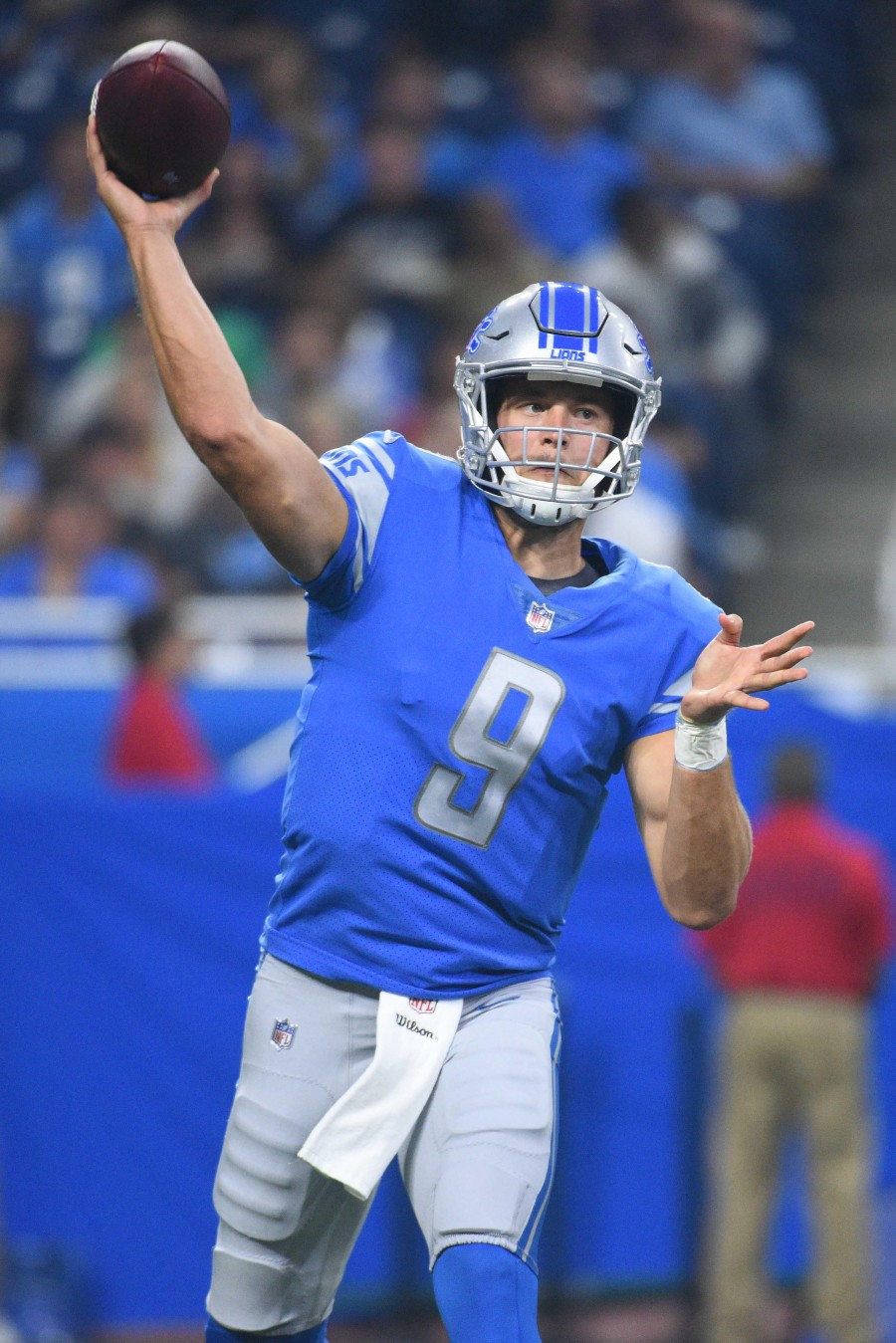 Nowadays, players look forward to these paydays, as the NFL's rookie wage scale limits their earnings. However, back in 2013, Stafford was already playing on a lucrative contract with Detroit. After being selected as the first-overall pick in the 2009 draft, the Georgia product inked a record-breaking six-year deal worth $78MM ($41.7MM in guaranteed money). Stafford didn't live up to his contract during first two seasons in the NFL. However, he had a breakout campaign in 2011, throwing for 5,038 passing yards and 41 touchdowns.
While he took a step back in 2012, the Lions still felt confident enough to sign Stafford to the three-year extension in 2013. At the time, the quarterback still had two seasons remaining on his contract, so the new deal effectively made it a five-year pact worth $76.5MM. The extension portion of the contract included $41.5MM in guaranteed money and a $27.5MM signing bonus. Signing Stafford early also allowed the Lions to reduce his impending $19.3MM cap hit.
"I want to be about the team," he said at the time (via ESPN.com). "I want to help the team out if I can in cap space, whatever it is. I want good players around me as a quarterback. It doesn't hurt to have weapons and, you know, if I can help out anyway I can, I'm happy to do it."
In the five years since signing his second extension, Stafford had shown a lot more consistency on the field. The 30-year-old hasn't missed a game during that span, and he's averaged around 4,388 yards, 27 touchdowns, and 13 interceptions per season. This improvement played a role in him earning his third contract from the Lions. Last offseason, the quarterback inked a five-year deal worth $135MM ($92MM guaranteed).
Assuming he doesn't opt out following the 2020 season, there's a good chance Stafford will continue being the Lions quarterback through the 2022 campaign. He could reach free agency when he's 35-years-old, meaning Detroit might end up inking their franchise player to his fourth pricey contract.
Photo courtesy of USA Today Sports Images.
Mary Kay Cabot of Cleveland.com
 believes the 
Browns
 are in prime position to land a cornerback during tomorrow's supplemental draft. While all of the NFL teams were present for cornerback 
Sam Beal
's Pro Day at Western Michigan, Cleveland general manager 
John
Dorsey
 was one of the few top executives to attend the workout. Furthermore, the team has recently put an emphasis on acquiring defensive backs. They added 
T.J. Carrie
, 
E.J. Gaines
 and 
Terrance Mitchell
 via free agency, they traded for 
Damarious Randall
, and they drafted rookie 
Denzel Ward
 with the fourth-overall pick. While the team does have plenty of depth, Cabot believes Dorsey won't hesitate to take Beal.
Meanwhile, one pundit believes the Browns could end up using a fourth-rounder on the cornerback. 
"Cleveland can bid a fourth because they're a team that's kind of up and coming,"
NFLdraftscout.com's Rob Rang told Cabot. 
"They've already invested a lot in defensive backs, but you can never have too many good corners. I just don't know that this is someone you can count on to produce immediately. With all of the veterans they brought in, and with them drafting Denzel Ward, I don't know that Cleveland has to take him."
 If this ends up being the case, the Browns would have to sacrifice a fourth-rounder during next year's draft.
The Los Angeles County District Attorney's Office has filed four charges against former NFL cornerback 
Brandon Browner
, including attempted murder, the La Verne Police Department announced earlier today (via 
Josh Alper of ProFootballTalk.com
). The 33-year-old is also facing felony charges of robbery, burglary and false imprisonment and two misdemeanor charges of child endangerment. Browner was arrested on Sunday after allegedly breaking into the home of a previous girlfriend. As Alper points out, a first-degree attempted murder charge in California carries a maximum sentence of life in prison. Browner had stints with the Seahawks, Patriots, Broncos, and Saints during his career.
Bears offensive lineman Kyle Long has missed 14 total games over the past two seasons, and the three-time Pro Bowler underwent neck, shoulder and elbow surgeries this past offseason. Naturally, the 29-year-old was limited during his team's OTAs last month. However, Long still found a way to help his fellow linemen.
"He really wants to be good,"said the team's new offensive line coach, Harry Hiestand (via Colleen Kane of the Chicago Tribune). "He's fun to be around. He comes in the meeting room every day with a smile on his face, looking forward to working. He's very interested in helping the other guys. After I'll say something, the meeting will break and they'll be walking out to get a break and he'll be talking out there with the young guys. That part's been really good about him."
The offensive guard is confident he'll be good to go during training camp, and he'll be hoping to improve a Bears line that allowed 39 sacks last season.
Let's take a look at some more notes from around the NFC…
Following Kam Chancellor's unofficial retirement, Bob Condotta of the Seattle Times says the Seahawks will surely eye the free agent safety market, a grouping that includes Eric Reid, Kenny Vaccaro or Tre Boston. However, as the writer notes, the Seattle front office had anticipated Chancellor's decision, and several of their offseason moves operated under the assumption that the veteran wouldn't be with the team in 2018. The team currently has three starting-caliber safeties in Earl Thomas, Bradley McDougald and Maurice Alexander. Of course, as Condotta notes, if Thomas is traded or decides to hold out through the start of the regular season, the team will definitely need to add some depth at the position.
Instead of taking one of the highly-touted quarterback prospects, the Giants ended up opting for running back Saquon Barkley with the second-overall pick in this past year's draft. Eli Manning recognized his team's decision to not take his eventual replacement, and he's aiming to prove their decision right. "It was kind of a vote of confidence in that they trusted in me that I can play at a high level, can win games, take us deep in playoffs and win championships and win championships still," Manning said during an appearance on SiriusXM's "The Opening Drive." "And you know what? I want to prove them right and I want to make them look smart and make them to have made the right decision in doing that. I want to go out there and do great things, do my job and lead this team and make guys around me better and do what I'm supposed to do to put us in position to win those games."
Manning also touched on his team's addition of left tackle Nate Solder, who the Giants added on a four-year, $62MM deal this past offseason. "He knows how the offensive line is supposed to work together as a group," Manning said. "He has them in there early, has them eating lunch together, has that (bond), (which) I always thought was most important with offensive line. It's not having the five best players at each position. It's having five guys that just work together. They communicate, they've got a toughness about them, they've got a pride in their job and being able to get that third-and-two, being able to run the ball, being able to pass protect and give us enough time and pick up the stunts and the blitzes. So I think he's kind of bringing that attitude to this group." By Ben Levine