There has been speculation around Montreal Canadiens captain Max Pacioretty for months, with a trade out of town being the most likely final scenario for the scoring winger. Recently though there had been some who wondered if the Canadiens would re-open talks for an extension, something that now appears completely off the table. Marc Antoine Godin of The Athletic (subscription required) has been told that the Canadiens will not negotiate a new contract with Pacioretty, and in fact intend to work out a trade "as soon as possible." GM Marc Bergevin has in fact communicated that to his captain, though Pacioretty does not have any trade protection in his current contract.
That contract expires at the end of next season, and has vastly underpaid Pacioretty over its duration. Carrying a $4.5MM cap hit this year, the 29-year old forward would be welcome on almost any team in the league. Still, the Canadiens know that their best chance at a big return is if Pacioretty works out an extension right away with the acquiring team. That reportedly almost happened at the June draft, but a contract couldn't be worked out with the Los Angeles Kings and instead Pacioretty changed agencies and signed with Allan Walsh of Octagon Hockey.
Walsh is the one who now will negotiate any extension, and one would have to believe that several teams who missed out on some of the bigger free agents will be inquiring on the five-time 30-goal scorer. San Jose, Dallas, Tampa Bay and Boston were all given the opportunity to sit down with John Tavares, and though Pacioretty is obviously a different talent there would likely be some crossover. It's not just those squads that could use some added scoring punch though, something that the Montreal captain can still provide even despite his down season in 2017-18.
Pacioretty scored just 17 goals in 64 contests last season, but can be expected to improve on that number going forward. While a long-term deal may not turn out to be an exceptional value, it's definitely a worthwhile risk for a player with his track record. The question now becomes what Montreal is looking for in return, and how an extension would change that ask. The Canadiens are still trying to compete right away as Carey Price enters his eight-year $84MM contract, but will have to seriously consider a package of young or future assets in exchange for their captain. By GAVIN LEE
Two seasons ago, Vancouver looked like they had acquired an important part of their future when they picked up winger Nikolay Goldobin from San Jose in advance of the 2017 trade deadline in exchange for winger Jannik Hansen (who is currently an unrestricted free agent).  Fast forward to today and it's certainly looking like he could already be on the outs with the Canucks.
Last season, the 22-year-old split the season between Vancouver and their AHL affiliate in Utica.  At the minor league level, he was quite productive, collecting 31 points (9-22-31) in 30 games.  However, that wasn't the case with the big club as he had just 14 points (8-6-14) in 38 games while playing just over 12 minutes per game.  He's a player that has outplayed the minors but has yet to really make his mark in the NHL.
With the retirement of the Sedin twins and their recent struggles, it looked as if Vancouver was going to be willing to play more of their younger players.  But then they went and acquired an entire bottom-six line in free agency with the additions of wingers Antoine Roussel and Tim Schaller plus center Jay Beagle.  Those players didn't get signed to sit on the bench so they're going to be in the lineup on a regular basis while rookie forwards Adam Gaudette and Elias Pettersson stand to be ahead of Goldobin on the depth chart and get the spots earmarked for the youngsters.  All of a sudden, he's on the outside looking in.
It stands to reason that he could be 15th or 16th among forwards on Vancouver's depth chart heading into training camp.  While it's certainly possible that there could be some injuries up front in the preseason, there probably won't be enough for Goldobin to move into an end-of-roster spot (let alone a regular spot in the lineup).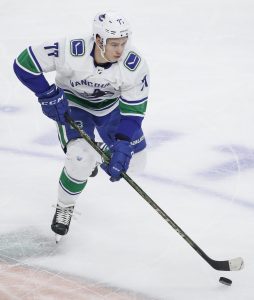 Further impacting things is his waiver situation.  Although he is still on his entry-level contract for one more year (with a $832K cap hit plus $212K in performance bonuses), Goldobin now must go through waivers to get back to the minors next season.  Considering he's only four years removed from being a first-round pick (27th overall in 2014), there's a very good chance a team would put in a claim for him so going this route is off the table as well.
They can't send him down and it's improbable that there will be a roster spot for him at the start of next season.  That leaves a trade as the best possibility both for him and the Canucks.
What should Vancouver be looking for in a return?  They have good forward depth and the same can be said for their back end.  They don't really necessarily need to add someone else on the cusp of making it to the NHL on a full-time basis.  That puts a draft pick or prospect (if signed, still waiver exempt) as the best option for them.  Of course, other teams know that the Canucks are in this situation with Goldobin so it wouldn't be surprising if offers aren't exactly top notch.
In his limited time as a professional, Goldobin has shown some flashes of top-six potential.  It wouldn't be shocking if he gets to continue to show those flashes in a different uniform for 2018-19. By BRIAN LA ROSE  Photo courtesy of USA Today Sports Images.
After dipping a toe in the space this past season, the NHL is looking to do bigger and better things within the realm of esports.
Speaking to ESPN's Arash Markazi, NHL commissioner Gary Bettman promised a much larger, more ambitious NHL esports plan is on the way.
A grand prize of $50,000 was handed out to 18-year-old Finn Erik "Eki" Tammenpaa at the inaugural NHL Gaming World Championship held in Las Vegas in June.
In total, $100,000 in prize money was handed out to the event's finalists, and particularly encouraging to the NHL, according to the ESPN report, the Twitch streaming numbers of the NHL's esports initiative matched and occasionally exceed that of the NBA and NFL.
"This was an incredible rollout," Bettman told Markazi. "But this is just the beginning of us doing bigger and grander things with esports."
The first "grander thing" is likely full six-on-six team competition similar to what's seen in the NBA's 2K League.
"In Year 1, we wanted to be prudent and approach this cautiously. We needed to test and learn, and we did that in a number of different scenarios from the content and promotion," NHL vice president of business development Chris Golier told ESPN.
"In Year 2, we're going to invite our clubs in. It's not going to be a full-blown league, but we're going to have teams participate in some way, shape or form. We're going to have locally activated tournaments that will be part of the overall construct of the league. The clubs are excited."
Since the initial announcement of the league's foray into professional esports, the EA Sports NHL community have clamoured for the integration of the popular EA Sports Hockey League mode to be made the main mode in competition as it most closely simulates the real game and because team competitions have proven to be among the most popular in games like League of Legends and Counter-Strike.
Now the community may finally be getting its wish, with more support than ever from the NHL itself.
"We want to use esports to build more interest and a greater connectivity to our game through the hockey video game," said Bettman.
Here are a few other things of note from around the esports world:
Overwatch League Playoffs begin Wednesday
The Overwatch League playoffs kick off with a pair of quarter-final matchups. At 8:00 p.m. ET the Phildelphia Fusion will take on the Boston Uprising. The London Spitfire will face the Los Angeles Gladiators at 10:00 p.m..
In total, six of the league's 12 teams will be participating in the post-season. The league-best New York Excelsior and second-place Los Angeles Valiant both receive automatic byes to the semifinals.
Of note to Canadian fans, the playoffs will feature four Canucks: Lucas "NotE" Meissner playing for the Uprising, Joe "Joemeister" Gramano for the Fusion, Brady "Agilities" Girardi for the Valiant and Lane "Surefour" Roberts for the Gladiators.
With the opening match pitting Meissner's Uprising against Gramano's Fusion, it's become a point of pride for each young man.
"I think Canada has a lot of talent in Overwatch, which doesn't seem to be the case and a lot of other esports," Gramano told Sportsnet. "So the fact that I'm able to participate in the first playoffs of the inaugural season is pretty amazing."
Said Meissner: "It makes me feel proud that I've done so much from what you could consider a smaller country [in terms of participation in esports]."
The playoffs will run from to July 28, with the Grand Finals taking place at the Barclay's Center in Brooklyn, N.Y.
Team Canada announced for Overwatch World Cup
In other Overwatch news, the Canadian roster for the Overwatch World Cup has been announced.
All four Canadians participating in the OWL playoffs have been selected for the squad, which begins group play on Sept. 7 against Brazil.
Canada's been placed into the "United States" group where it will compete against the U.S., Brazil, Austria, Switzerland and Norway. The team will aim to finish within the group's top two to reach the event's final at BlizzCon in November.
Team Canada reached the final of last year's World Cup where they fell to South Korea. By Steven Loung
Nikita Kucherov signed an eight-year, $76 million contract extension with the Tampa Bay Lightning on Tuesday.
The contract has an average annual value of $9.5 million and starts with the 2019-20 NHL season. The 25-year-old forward is beginning the final season of a three-year, $14.298 million contract he signed Oct. 11, 2016, after which he could have become a restricted free agent. He became eligible to sign an extension July 1.
"Definitely huge for me and for my family," Kucherov said. "Being locked up for the long term here and to be able to not think about the contract and stuff during the season … I'm happy to be here. I'm happy to be in Tampa. We have a good chance to win the Stanley Cup and that's the reason I like Tampa.
"I love living here. It's good weather. … I didn't think twice when I had a chance to sign."
Lightning general manager Steve Yzerman said having Kucherov's contract taken care of this far in advance was the best outcome.
"My thought is we get the opportunity to open negotiations after July 1 of the last year of their contracts, let's sit down with the players and their agents and see if we can get something done early," Yzerman said. "From a player's perspective, I think it eases their mind and they can plan their future a little bit and settle in. From a team's perspective, it helps us going forward knowing the (NHL salary) cap numbers of the players, knowing the commitment we have to make other decisions accordingly."
Yzerman said the Kucherov signing does not preclude him from further activity during the offseason. That could include a trade for Ottawa Senators defenseman Erik Karlsson. The Ottawa Sun reported July 5 that the Lightning were one of the teams pursuing Karlsson, a two-time Norris Trophy winner who can become an unrestricted free agent after this season. Sportsnet reported the Senators gave Karlsson permission to speak to other teams about a contract July 2.
"I don't think it's impossible," Yzerman said about the Lightning adding another significant contract, though he was not asked specifically about Karlsson. "But if you just look at our one-way commitments for the following season. We still have cap space left for this year to add if we wanted. But if we were to bring in a significant contract we would have to make the money work so to speak, and going forward it would be the same situation beyond this year."
Kucherov was third in the NHL last season with 100 points (39 goals, 61 assists) and was named a First-Team All-Star. He also had 17 points (seven goals, 10 assists) in 17 Stanley Cup Playoff games to help the Lightning reach the Eastern Conference Final.
His 100 points were a personal NHL best and his 39 goals were second to the 40 he scored in 2016-17. His 79 goals the past two seasons are third in the NHL behind Washington Capitals forward Alex Ovechkin (82) and Winnipeg Jets forward Patrik Laine (80). His 185 points the past two seasons are second to Edmonton Oilers forward Connor McDavid (208).
Kucherov said he has started skating and working out with a pro team from Switzerland in Clearwater, Florida.
"I just started last week, getting ready for a long season," he said. "Hopefully we'll make it to the Cup and win the Cup. I just want to be 100 percent sure that I feel good during the season and I'm able to play 100 games during the season. I want to make sure my body feels good and take care of my body."
Selected by the Lightning in the second round (No. 58) of the 2011 NHL Draft, he has 334 points (147 goals, 187 assists) in 365 NHL games, all with the Lightning. He has 59 points (29 goals, 30 assists) in 62 Stanley Cup Playoff games and has played in the NHL All-Star Game the past two seasons.
Yzerman said the Lightning would like to sign forward Brayden Point to a contract extension. Point, 22, was third on the Lightning last season with 66 points and second with 32 goals. He is entering the final season of his three-year entry-level contract and can become a restricted free agent after this season. He became eligible for an extension July 1.
"I think at some point between today and next July 1 we'll have a chance to talk to Brayden and his agent," Yzerman said. "So yeah, it's something we'd like to get to work on and we're going to start today." By NHL.com Staff
Michal Kempny was on the receiving end of an Alex Ovechkin handoff this time.
The Washington Capitals defenseman had his day with the Stanley Cup in his hometown Tuesday, taking it after Ovechkin spent the weekend celebrating in Moscow.
When the Capitals won the Stanley Cup on June 7, Ovechkin handed the Cup to forward Nicklas Backstrom. Now it was Kempny's turn.
The Cup arrived Monday in Prague and was driven three hours to Hodonin, a town of about 25,000 in the eastern part of the Czech Republic near the Slovakian border that has never seen the Stanley Cup before.
"I'm proud I am the first one who could bring the Cup to this part of Moravia," Kempny said Tuesday. "And I am glad my Slovak friends and former teammates came here to see this event, too."
More than 2,000 fans came to an ice rink named after Vaclav Nedomansky, a Czech hockey legend and Hodonin native who scored 278 points (122 goals, 156 assists) in 421 NHL games for the Detroit Red Wings, St. Louis Blues and New York Rangers from 1977-83.
"I enjoyed it here a lot," Kempny, 27, said. "Sometimes it got a little crazy here. I didn't expect so many people to come around here. I tried to accommodate and satisfy everyone but unfortunately there were too many and not everyone could get their pictures. But in general, I believe everything went well."
After the celebration, Kempny took the Cup on an hour's drive to Brno, where he played six seasons with HC Kometa. Four seasons ago he was playing in the Elite Czech league. Now he's a Stanley Cup champion.
"My dream was always to play abroad. I've never had any long-term goals, I wanted to go season by season and each year move one step further," said Kempny, whose first big step to the NHL came in 2015 when he played for Avangard Omsk in the Kontinental Hockey League. "When everything turned out to be on the right track after I had a good season in Russia, I had a chance to go to North America. And after two seasons there, all this happened. Unbelievable. I'm extremely grateful for that."
Kempny left the KHL and signed with the Chicago Blackhawks for the 2016-17 season. He was traded to the Capitals on Feb. 19, 2018 for a conditional third-round pick in the 2018 NHL Draft. He scored three points (two goals, one assist) in 22 games with Washington, and had five points (two goals, three assists) in 24 games in the Stanley Cup Playoffs. He signed a four-year, $10 million contract with the Capitals on June 29.
"In a way, that trade saved my career in the NHL," Kempny said. "Everything has clicked since the start (in Washington). I came to [a] team with great players, great background and great people. I enjoyed every moment and I'm glad we agreed to terms for the next four years in Washington."
After the stop in Brno, Kempny had a private celebration with family and friends. He was looking forward to getting a chance to put the Cup down.
"I can't feel my hands after the entire day full of lifting and holding the Cup," Kempny said.
Kempny said the plan was to drink wine out of the Stanley Cup at the private party.
"(Southern Moravia) is a wine country so I think it's appropriate," he said.
After the party, the Cup would return to Prague, where forward Jakub Vrana would have his day.
"It's great that I was able to bring the Cup here. Those are memories no one will ever take away from me," Kempny said. By Michael Langr