Good news for Virginia Tech cornerback Adonis Alexander. On the eve of the NFL's supplemental draft, teams have received records of a clean drug test taken this week, according to Mike Garafolo of NFL.com (on Twitter).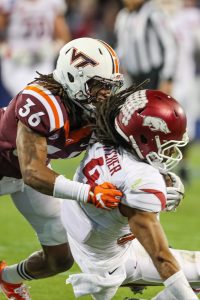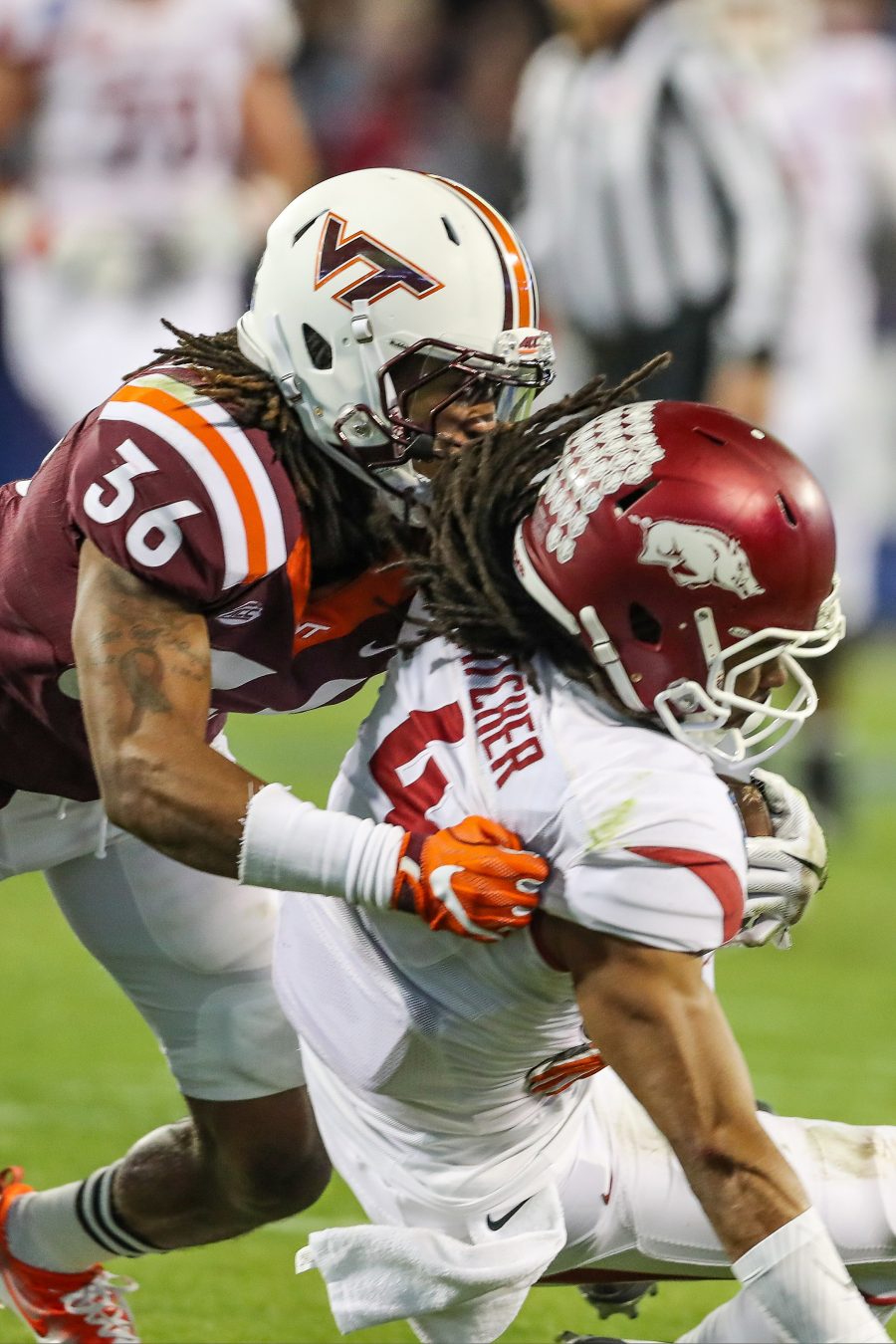 Alexander was arrested on a marijuana charge in 2016, but his camp has been working to prove that it was just an isolated incident. The defensive back has passed tests over the last eight months, which bodes well for his chances of being selected on Wednesday.
Alexander is one of three players believed to be contention to be drafted. Former Western Michigan cornerback Sam Beal is reportedly the best of the bunch and could go as high as the second round. After that, Alexander could be in the mix in rounds 5-7, along with Mississippi State defensive back Brandon Bryant.
The supplemental draft – also known as the league's "second chance" draft – gives players an opportunity to enter the league in July, provided that they are at least three years removed from high school. Order is determined by a weighted lottery based on the April draft order and teams are given an opportunity to enter a bid before each round. If a team selects a player, they'll sacrifice the corresponding pick in the 2019 NFL Draft.
Photo courtesy of USA Today Sports Images.
The Cowboys purged their veteran secondary this offseason by allowing Brandon Carr, Barry Church, and Morris Claiborne to walk in free agency. Now, the Cowboys have a young group of cornerbacks and safeties, which leaves some question marks on defense, Kate Hairopoulos of the Dallas News writes.
Of course, the Cowboys could still inject some veteran savvy into the group by trading for Seahawks safety Earl Thomas. The Cowboys haven't given up hope of acquiring the multiple-time Pro Bowler, and it sounds like Thomas would love to play in Dallas. Continue Reading by Zach Links Pro Football Rumors 
In a T-shirt, shorts and sneakers with a towel draped around his neck, Eli Manning was overdressed to throw a few passes Tuesday during a football camp at Kean University.
At least it looks that way compared to the videos of shirtless Giants teammates Odell Beckham, Sterling Shepard, Saquon Barkley, Evan Engram and Roger Lewis practicing together this week on the UCLA campus.
"I know they will have to make some adjustments," Manning deadpanned. "We do practice with our shirts on with the Giants. With the friction, they might have to make an adjustment the first few weeks. It might be something new for them and take a little time to get used to that."
Known to be a prankster in the locker room and for a dry sense of humor rarely revealed in public (see: Saturday Night Live) where he can be cautious with his words, Manning couldn't resist the opportunity to have a little fun when asked about the videos circulating on social media. Continue Reading, by Ryan Dunleavy NJ.com
Jameis Winston touched an Uber driver "in an inappropriate and sexual manner without her consent." That was written in an NFL press release Thursday, announcing the findings of a league investigation into a March 2016 incident in Scottsdale, Ariz. It's a plain and straightforward conclusion, with no equivocation.
If only the same could be said for his punishment. The Buccaneers quarterback was suspended for three games by the NFL—three, not six, the baseline punishment for first-time offenders stated in the league's personal conduct policy. Continue Reading, by JENNY VRENTAS
As we head toward the 2018 season, former NFL player and scout Bucky Brooks examines what could be in store for 11 notable rookies on the defensive side of the ball.
Denzel Ward, CB, Cleveland Browns
No. 4 overall pick, Round 1, Ohio State
Best-case scenario:
 The 
Browns
 are counting on Ward to fill the CB1 role on a defense that could sneak into the top 10 by the end of the season. The ex-Ohio State standout has all of the physical tools (speed, quickness, and athleticism) to blanket top pass catchers in a system that leaves cornerbacks on an island in coverage. If Ward can quickly master the playbook and nuances of the scheme, he could give old-school Dawg Pound attendees flashbacks of Hanford Dixon and Frank Minnifield. Continue Reading, by 
Bucky Brooks, 
NFL.com Analyst
Bills running back LeSean McCoy has called the allegations against him "completely false." His team and the league to which it belongs, however, will be doing their due diligence in order to get to the truth, whatever it may be.
"We have spoken to LeSean and have been in contact with the National Football League," the Bills said in a statement issued Tuesday. "We will continue to gather information."
"We are reviewing the matter," NFL spokesman Brian McCarthy separately told PFT.
The information should be easy to gather, given the clear — and strongly contradictory — battles lines that have been drawn. McCoy is accused of causing multiple graphic facial injuries to Delicia Cordon at some point between Monday night and Tuesday morning. McCoy claims he hasn't had "direct contact with any of the people involved in months."
It won't take much to prove or to disprove McCoy's contention on that point. If he has a clear, objectively supportable alibi, this investigation won't take very long. If his digital footprints show an overlap with Cordon in recent days, it gets more complicated. And more problematic for McCoy. Continue Reading, by Mike Florio
Training camp is quickly approaching, which means it's time to preview the most exciting part of the summer. With camps opening later this month, Jeremy Bergman, Herbie Teope, Nick Shook and Marc Sessler are examining the key issues for each team in this division-by-division series. Here's the NFC West camp primer. Continue Reading, by Nick Shook Around The NFL Writer
When police stopped Steve Keim for what would become a DUI arrest, he told them he was the team's director of security rather than the General Manager.
Via Josh Weinfuss of ESPN.com, the officer who pulled Keim over on the morning of July 4 described in his report that he could "smell a strong odor of an alcoholic beverage" and said Keim's eyes were "bloodshot and watery," and that he spoke with a "slight slur."
He also told police he couldn't do any of the physical components of the field sobriety test because of a "pre-existing knee injury."
The report said Keim gave the officer his actual name, but then claimed a different job, before telling the officer he "works with Sean McKenzie."
The officer noted in the report that "the only Officer Sean McKenzie I know was killed in an off-duty vehicle collision and I believed he was referencing him."
McKenzie died in a motorcycle accident in 2014.
The report also said Keim's vehicle was drifting out of its lane, and nearly hit a curb while making a wide turn. Keim reportedly told the officer he had "two beers" and some pizza earlier in the evening.
There are still no blood alcohol content test results, which could impact any potential punishment. Cardinals owner Michael Bidwill has said Keim's actions were "unacceptable and inexcusable," and that there would be consequences. By  Darin Gantt
Last year was a perfect example, too. After seeing an average of five new teams in the postseason over the past three years, a whopping eight new teams jumped up and made the playoffs last season. The Bills, Jaguars, Titans, Eagles, Vikings, Saints, Panthers and Rams were all on the outside looking in after the 2016 season, but all had fairly viable championship hopes just a year later. Three of those four teams made conference championship games and Philly took home the title.
Conversely, the Dolphins, Texans, Raiders, Cowboys, Giants, Packers, Lions and Seahawks all tumbled out of the postseason. Three of those 2016 playoff teams fired their coach a season later. Continue Reading by Will Brinson