The Seattle Mariners announced today that they have agreed to a new, multi-year contract extension with general manager Jerry Dipoto. The former MLB reliever had been in the final season of the deal that he originally inked to run the baseball operations for the Seattle organization.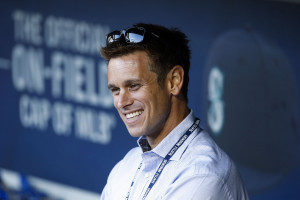 Terms of the new pact were not publicly released by the team. It's not clear, then, just how long into the future Dipoto will remain under contract. But the announcement did make clear that it's for multiple years, so presumably he has at least signed on through the 2020 campaign.
Dipoto, previously the GM of the Angels and interim GM of the Diamondbacks, took the helm in Seattle before the 2016 season. Jack Zduriencik held the post prior to Dipoto's arrival. As the club notes in its announcement, the Mariners have MLB's eighth-best record (220-192) since Dipoto came on board.
While the M's have yet to reach the postseason — a dry spell that dates back to 2001 — they finally seem primed to do so this year. Indeed, the club is surprisingly keeping pace with the defending World Series champion Astros in the AL West, though it'd remain quite a surprise if Houston doesn't find some separation by season's end. Though the Mariners still have some work to do to capture a Wild Card, they entered play today with a 7.5-game lead over the Athletics.
Dipoto says the ultimate goal remains a World Series. Though that has yet to be achieved, the club obviously determined that Dipoto remains the best option to deliver the hoped-for result.
President/CEO Kevin Mather offered this assessment:
"Jerry arrived here two-and-a-half years ago with a specific plan for our franchise. He has successfully executed that plan, resulting in a younger, more athletic and, most importantly, far more successful Major League team.

At the same time, he has upgraded nearly every aspect of our overall baseball operation, improving systems, staff and communication in our Major League operations, our Player Development system, our Pro and Amateur scouting departments and our revamped High Performance Area."
The youth and athleticism to which Mather refers are certainly themes that Dipoto has emphasized. In that pursuit, Dipoto has earned a reputation as the game's most active GM on the trade market. We've tried to keep up with his prolific swapping in our Transaction Tracker, which reflects a bevy of deals (some significant, some not)since he joined the organization.
While critics have argued that those deals, in the aggregate, have not greatly increased the talent base in Seattle, the M's feel they've boosted their overall quality while increasing flexibility and control. Certainly, Dipoto has not shied away from unique swaps in search of value. Among his most interesting swaps are the acquisition of Jean Segura and Mitch Haniger; the two–step swap that netted the club Drew Smyly; the takeover of the contract of Mike Leake; the position-changing addition of Dee Gordon; and, most recently, the early-season strike for Denard Span and Alex Colome.
The Diamondbacks announced today that they have reinstated righty Randall Delgado from the 60-day DL. To clear a roster spot, the team designated right-handed reliever Fernando Salas for assignment.
Delgado, 28, has been shelved all year by an oblique injury. But he is now ready to go after throwing 16 rehab frames — over which he allowed six earned runs on ten hits with 16 strikeouts and eight walks.
The Snakes will hope that Delgado can get back to being a useful swingman. In 2017, he provided the club with 62 2/3 innings of 3.59 ERA ball with 8.6 K/9 and 2.0 BB/9. He's earning $2.25MM this season before hitting the open market this fall.
The 33-year-old Salas signed a minors deal over the offseason that included a $1.5MM salary in the majors. He has thrown forty frames for the D-Backs this year, allowing twenty earned runs while recording 6.8 K/9 against 2.9 BB/9. He'll now hope to follow the pattern of the prior two seasons, when he bounced back from slow starts by turning in strong finishes after mid-season organization changes. (Salas went from the Angels to the Mets in 2016, then did the reverse in 2017.)
The Pirates failed to line up with competitive balance Round A selection Gunnar Hoglund, Kiley McDaniel of Fangraphs reported on Twitter. This afternoon (5pm CST) represented the deadline to complete deals with drafted players.
Hoglund, a right-handed pitcher from Florida, didn't crack the top fifty of any draft prospect rankings, topping out at #55 on the Fangraphs board. While he's not credited with an electric arsenal of pitches, Hogulund is valued for his pinpoint control and increasingly impressive radar gun readings.
The Pittsburgh organization clearly liked Hoglund quite a bit, as it took him with the 36th overall pick. But the Bucs were not able to convince him to join the organization, meaning they'll instead receive the 37th selection in next year's draft. Hoglund, meanwhile, is headed to the University of Mississippi. By Jeff Todd
Mike Matheny and the 32-year-old center fielder rarely talk, according to a report from The Athletic. The situation has lasted for months, according to the report, which cites unidentified team sources.
Fowler has struggled this season, registering a .171/.275/.276 slash line in 67 games. He has struck out 55 times in 217 at-bats.
Cardinals president of baseball operations John Mozeliak criticized Fowler in a recent interview.
"Here's a guy who wants to go out and play well," Mozeliak said (via NBC Sports). "I think he would tell you it's hard to do that when you're not playing on a consistent basis. But I've also had a lot of people come up to me and question his effort and his energy level."
Fowler said this week he wants "to win more than anybody."
"My effort has always been there," Fowler said in response to Mozeliak's comments (via MLB.com). "I think that's out of the question. These guys in here know. I'm getting text messages from everybody. That's (garbage). At the end of the day, I'm playing as hard as I can." By E. Jay Zarett
The Yankees are among the teams interested in Royals third baseman Mike Moustakas, reports Jon Morosi of MLB.com, but the interest here is as a first baseman.
As discussed by former Marlins executive David Samson on CBS Sports HQ, obviously Moustakas wouldn't be the Yankees' primary target heading toward the trade deadline. Foremost, they need starting pitching. Still, that doesn't mean they can't look at a possible upgrade elsewhere.
First off, it would be interesting to move Moose off third base, because some of his value is tied to defense. He's at plus-4 in defensive runs saved and rates out positively everywhere, while Yankees third baseman Miguel Andujar has negative-13 DRS and isn't getting much love in any advanced metric.
Still, Andujar is hitting .282 with an .823 OPS, and the Yankees surely don't want his bat out of the lineup.
Also, Yankees first basemen this season have hit just .200/.276/.381.
Greg Bird
started the season injured and has potential, but he's also at .200/.306/.419 in 2018 and has proven himself to be pretty injury prone to this point in his career. 
Taking first and third in tandem, Moustakas seems like a great fit. If Andujar falls into a second-half slump — after all, he's only 73 games into his big-league career — Moustakas can play there. If Bird gets injured again or keeps battling the Mendoza line, Moustakas works at first base. Heck, assuming it doesn't mess with his offense, Moustakas could bounce back and forth with whatever matchup suits the team best.
The Moustakas fit in Yankee Stadium is where this gets tasty. We know about the short porch in right field, and 94 of the lefty-swinging Moustakas' 135 career homers have gone to the pull field. Not only that, but this season only 29 homers have come from left-handed hitters in Kansas City's Kauffman Field compared to 43 from lefties in Yankee Stadium. It's reasonable to believe Moustakas adds a few homers even in a half-season of Yankee Stadium compared to Kauffman as his home.
As noted by Samson and in the intro here, the Yankees have needs that trump grabbing Moustakas, but that doesn't mean he won't make sense. He'd be a great fit for this contender. By Matt Snyder
Should the Nationals actually trade Bryce Harper? It was a question we half-jokingly posed on Twitter earlier this week, figuring such a thing could never actually happen. Then they proceeded to run their losing stretch to five in a row and eight of nine, before Trea Turner powered an incredible comeback on Thursday night.
Maybe that's the start of it, that Thursday's wild comeback was the jolt they needed. Maybe it was just a nice night, given that allowing 12 runs to one of baseball's weakest offenses is still a problem. Either way, even with the win, the Nats are just a .500 team, with a worse winning percentage than Tampa Bay, Colorado or Oakland. They're in third place in the National League East, six games out and looking upward at six teams in the NL Wild Card race.
The Mets' bullpen could get some unexpected help in 2019 from a former closer.
Major League Baseball conditionally reinstated Mets reliever Jenrry Mejia, the league announced Friday. The righty was permanently suspended in February 2016 for violating MLB's drug policy.
"I've had a long, difficult time away from the game to contemplate the mistakes I've made both with regard to my positive drug tests and also the false allegations I made about Major League Baseball's investigation into my testing history," Mejia said in a statement. "Baseball is my profession, my passion and my life, and for those mistakes I am truly sorry. … I have much work ahead, but look forward to earning back the trust and respect of the New York Mets, the fans and especially my teammates." By Joseph Staszewski
The deadline to sign draft picks passed on Friday afternoon. Not every team reached an agreement with their top selections, as three first-rounders failed to come to terms. Here they are, presented in bullet point form:
McLain is headed to UCLA, while Stewart and Ginn will join Mississippi State's roster.
Of the three, Stewart's non-signing is the most notable — and not just because he was the highest pick. Stewart suffered a wrist injury during the season, and the Braves were discouraged by a post-draft MRI. The Braves reportedly offered less than half of slot value.
Each team will receive a compensatory pick in next year's draft that is a slot below this year's slot. For example, the Braves will select ninth next June. The pressure will be ratcheted up, however, since there's no draft-pick compensation if they fail to sign that player.
Only one other player picked in the top 10 rounds went unsigned: Gunnar Hoglund, a pitcher who will head to Mississippi. By R.J. Anderson
While
Manny Machado
gets closer to free agency with each passing day, the Orioles reportedly aren't backing off from their lofty asking price for the shortstop.
Baltimore is believed to be requesting two young, controllable starters in exchange for Machado, who turned 26 years old on Friday.
However, current offers for Machado "aren't close" to what the Orioles want, according to ESPN's Jerry Crasnick. Per Crasnick, the O's expectations don't align with how the market currently values rental players. By  Thomas Harrigan
Maybe you noticed this — New York's Aaron Judge is having a crazy season. Look at his numbers — .281/.399/.575 with 24 home runs, 57 RBIs, 61 runs — and it's basically a continuation of the near-MVP season he had last year. Double the counting numbers and it's an almost exact duplicate of a year ago. His on-base and slugging percentages are down somewhat, but certainly not enough to cause alarm. He's having another MVP-type season. By Joe Posnanski