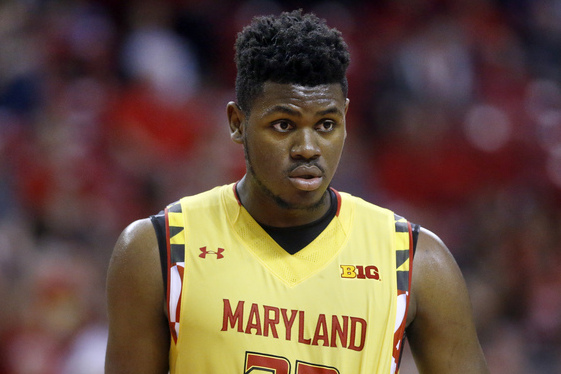 The University of Maryland acknowledged Friday that it has been subpoenaed as part of the FBI's investigation into corruption in college basketball, according to Pat Forde of Yahoo Sports.

Per Jeff Ermann of 247Sports, Maryland released information regarding two subpoenas it received. One is related to former Terrapins center Diamond Stone, and the other concerns Kansas forward Silvio De Sousa, who was recruited by Maryland.

In February, Forde and Pete Thamel released a report based on federal documents related to the investigation. Several high-profile schools, players and coaches were named in the report. By Mike Chiari

You know what they say: It's all about the quarterback. And "they" are right. But which division will boast the best collection of quarterbacks in 2018? The worst? Let's rank 'em!
NOTE: Quarterbacks listings within each division are presented alphabetically by team. And as you can see, I didn't necessarily pick the projected Week 1 starter in each situation, but rather the guy who will make the biggest mark on the season.
1) NFC NORTH
Chicago Bears: Mitchell Trubisky
Detroit Lions: Matthew Stafford
Green Bay Packers: Aaron Rodgers
Minnesota Vikings: Kirk Cousins
This is a significant jump up from last year's rankings, but I am very comfortable with it. Rodgers is the most talented quarterback in NFL history. I love Green Bay bringing in Jimmy Graham to help in the red zone. Stafford has been fantastic the last few seasons, a true maestro in the clutch. And Detroit improved the offensive line and run game this offseason — that will provide the 30-year-old quarterback with some needed protection and balance. I think Trubisky will be this year's Jared Goff, taking a major leap forward in Year 2 with a new head coach and more talent around him. Lastly, Cousins swings the pendulum in favor of this division. He's the answer to the franchise-quarterback question for the Vikings.
2) NFC WEST
Arizona Cardinals: Josh Rosen
Los Angeles Rams: Jared Goff
San Francisco 49ers: Jimmy Garoppolo
Seattle Seahawks: Russell Wilson
From the bottom to the top: This is what happens when Sean McVay enters the picture for Goff — the QB goes from rookie disaster to sophomore Pro Bowler. And Year 3 will be even better than Goff's terrific second season. Similarly, it's going to be a special ride for the 49ers faithful, with a full season of Jimmy G and Kyle Shanahan. Garoppolo can carry San Fran to the playoffs. Josh Rosen is my pick for Offensive Rookie of the Year. He's a sensational talent and quick study, with solid weapons and defense flanking him in the desert. And of course, Russ is carving out a Hall of Fame-caliber career out in the Pacific Northwest. This guy's magical, with or without an offensive line.
3) NFC SOUTH
Atlanta Falcons: Matt Ryan
Carolina Panthers: Cam Newton
New Orleans Saints: Drew Brees
Tampa Bay Buccaneers: Jameis Winston
I still love the quarterbacks in the NFC South, the division which topped this list last year. I'm not worried about Ryan and Newton taking minor steps backward last season. They are former MVPs. Ryan is elite and got paid for it. And last year was attributable to breaking in a new offensive coordinator. In Ryan's second season under Steve Sarkisian, I firmly expect he'll be top-tier MVP candidate directing a top-five offense. Cam Newton is Cam Newton, meaning he's a special talent. And will be an even better version of himself with Norv Turner running the offense. Brees received great balance from the run game last year. Inherently, he broke the NFL record for single-season completion rate, connecting on an absurd 72 percent of his throws. At age 39, Brees remains the model of efficiency. Winston's suspension is problematic — another off-field strike on his record. And on the field, he has yet to break through in a major way. I still believe in him as a player, but the three-game ban obviously starts off Year 4 on a horrible note.
4) AFC WEST
Denver Broncos: Case Keenum
Kansas City Chiefs: Patrick Mahomes
Los Angeles Chargers: Philip Rivers
Oakland Raiders: Derek Carr
Don't sleep on the AFC West quarterbacks. I think Mahomes is going to blossom into an instant star under Andy Reid. I can't wait to watch the spectacularly gifted signal-caller heave it all over the field to his fine collection of weapons in Kansas City. Rivers is still playing at a Hall of Fame level, having just posted his lowest interception total since 2009. Jon Gruden will swiftly help Carr get back to his MVP form — as will a clean bill of health for the 27-year-old QB. And while I am skeptical Keenum can ever repeat his magical 2017 campaign, he's still a major upgrade on Denver's QB play from last season.
5) NFC EAST
Dallas Cowboys: Dak Prescott
New York Giants: Eli Manning
Philadelphia Eagles: Carson Wentz
Washington Redskins: Alex Smith
This is the toughest division to place. I love Alex Smith — I've long defended Alex Smith — but he's a downgrade from Kirk Cousins. Manning got benched last year. Admittedly, that was handled in horrific fashion by the Giants' Powers That Be, he let's be honest: Eli wasn't playing like an NFL starting quarterback. Now, Nate Solder, Saquon Barkley and a healthy Odell Beckham Jr will mean the world. But how much is left in the tank at age 37? Prescott experienced a sophomore slump. I choose to always believe Ezekiel Elliott makes Dak, so 16 games with the running back would work wonders for the QB's play. And jettisoning Dez Bryant was addition by subtraction. Carson Wentz is a star. He was going to get my Associated Press MVP vote before the season-ending injury in Week 14. I'm going to assume he'll be healthy in 2018, with all signs pointing that way, and I can't wait to watch him again. He's special.
6) AFC EAST
Buffalo Bills: Josh Allen
Miami Dolphins: Ryan Tannehill
New England Patriots: Tom Brady
New York Jets: Sam Darnold
For the sake of this exercise, I'm going to lift up the division by projecting that Allen and Darnold will play sooner than later. In fact, I give both a chance to start in Week 1. Especially Allen. I don't want to hear about AJ McCarron. And spare me the Nathan Peterman nonsense. The Bills smartly traded up for Allen because he's the next Carson Wentz and oozes talent. I believe in Darnold, too. I hope he wins the Jets' job. Meanwhile, Tom Brady is the greatest of all time. And Tannehill is a guy.
7) AFC SOUTH
Houston Texans: Deshaun Watson
Indianapolis Colts: Andrew Luck
Jacksonville Jaguars: Blake Bortles
Tennessee Titans: Marcus Mariota
I really want to prop this division up, but there's just way too much uncertainty. Watson was absolutely dynamic last season … before tearing his ACL. Will he be 100 percent in 2018? I believe Mariota will even out his play this year — and cut down on the picks — with a new coaching staff. But we have to see it. And we have to see Andrew Luck actually throwing an NFL football again. That's kind of a huge deal/question mark. Blake Bortles, on the other hand, is something we have seen. And it's not good.
8) AFC NORTH
Baltimore Ravens: Joe Flacco
Cincinnati Bengals: Andy Dalton
Cleveland Browns: Tyrod Taylor
Pittsburgh Steelers: Ben Roethlisberger
Big Ben is a future Hall of Famer — and he's still playing great in the present. I am a big Tyrod Taylor fan, too — the 28-year-old never gets the credit he deserves as an efficient playmaker from the pocket. But Flacco is on the way out. And somehow, against all rational judgment, The Marv and Andy Show got picked up for another season. By Adam Schein, NFL.com Columnist
The 2018 season is just around the corner. Practices will begin within the next month, and the unofficial kickoff of the season at SEC Media Days is a little over a week away. Preseason magazines are on bookshelves across the country, but no preseason production is as in-depth and flooded with numbers and projections than Phil Steele's 2018 College Football Preview.
The Tigers are high on the list of several projections in Steele's annual magazine. Auburn is coming off a second appearance in the SEC Championship under head coach Gus Malzahn and a second straight trip to a New Year's Six Bowl. Malzahn's bunch knocked off eventual College Football Playoff national championship game teams Alabama and Georgia during the regular season, which led to a monster new contract for Malzahn heading into his sixth season as the Tigers' head coach: seven years, $49 million. By Brandon Marcello
With so many changes to the kickoff, it's possible that some were never noticed or, as the case may be, never disclosed. Which makes the task of picking through the new official 2018 rulebook for any/all specific changes to the 2017 edition even more important.
Here's one that I'd previously missed — or that the league previously hadn't mentioned: Kickoffs that hit the end zone without being touched by a member of the receiving team automatically become touchbacks.
For years, the automatic touchback rule has applied to punts that enter the end zone, with or without being touched. For kickoffs, the touchback becomes automatic only if it strikes the ground in the end zone without being touched by a member of the receiving team; the player can still catch the kickoff and choose to return it.
It's not a change that will come into play very often, but it's another example of the league's broader effort to encourage touchbacks on kickoffs. Indeed, it wouldn't be a surprise if the NFL eventually adopts the rest of the rule that applies to punts, making it a touchback whenever the kickoff enters the end zone, regardless of whether it's caught by a member of the receiving team. By Mike Florio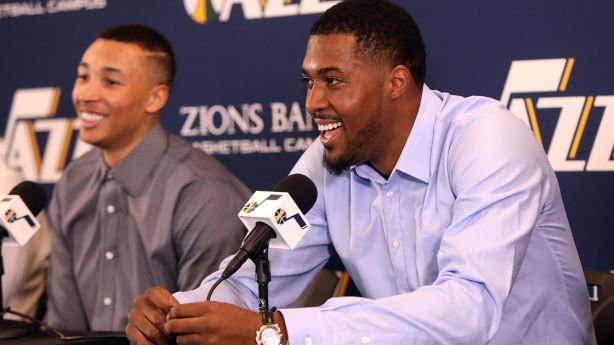 Kristin Murphy, Deseret News
The Utah Jazz could spend over $70 million over the course of the next three years to keep their free-agent trio around.
Andy Larsen writes, It's an easy decision to justify in a press conference. After all, the Jazz did have an unexpectedly successful season last year, making it to the Western Conference semifinals despite losing their big perimeter star in last year's free agency. And with the team coming together to finish the season with a 30-6 run, the young group could figure to grow, becoming an even better team next season.
And yes, some of those platitudes were used in Friday's press conference officially announcing the signings of Derrick Favors, Dante Exum, and Raul Neto to multiyear contracts.
But more revealing was the Word document sent to beat writers just afterward, directly from Jazz general manager Dennis Lindsey. These were the arguments and statistics used inside the Jazz's front office at the Zions Bank Basketball Center, the real currency among the decision makers.
Zach Lowe, ESPN Senior Writer writes there may be no historic parallel for the bizarre Kawhi Leonard situation, which veered away from the San Antonio Spurs when LeBron James, the game's greatest star, ventured solo to the game's starriest franchise.
Potential suitors for Leonard have no clue how healthy he is, when they may gain permission to talk with his representatives, or how seriously they should take the word of those representatives. Rival executives sniffing around Leonard have joked they would settle for an Instagram workout video, just to know Leonard is fully ambulatory.
The Spurs have a few ways to gain more leverage:
LeBron pushes the Lakers to make a splash now.
The Spurs understood LeBron's June 29 opt-in deadline with the Cleveland Cavaliers gave them an opening, since opting in would have complicated LeBron's path to the Los Angeles Lakers: You'd better get Kawhi in the door before then. As our crack team of Adrian Wojnarowski, Brian Windhorst, and Ramona Shelburne reported June 27, at least some within the Lakers organization considered that a serious-enough threat to re-engage the Spurs.
The Lakers called San Antonio's bluff. Maybe they knew LeBron was coming. Maybe the Spurs asked too much; cap guru Larry Coon reported Monday that their current price may be Brandon Ingram, Kyle Kuzma, Josh Hart, two first-round picks, and the right to swap first-rounders in two other drafts. That is almost everything other than Lonzo Ball. The Lakers should be hellbent on keeping Ingram — and willing to trade almost all that other stuff, including Ball, for the security of avoiding another Paul George scenario by landing Leonard now. The Spurs should be, and are, insisting on Ingram's inclusion.
But LeBron is a Laker, and he is not pressuring L.A. to acquire a second star now, per sources familiar with his thinking. His decision to come alone for three guaranteed seasons speaks for itself. He knows Ingram has at least borderline All-Star potential, and that the 2019 free-agency class is loaded beyond Leonard. He has faith in the combined powers of his supernova talent and the Lakers brand.
His patience will have limits. But reading between the lines, the Lakers probably have the next calendar year before LeBron applies urgent pressure.
The pool broadens: Leonard expresses a willingness to re-sign with someone other than the Lakers, or L.A.'s other team dives in.
The Philadelphia 76ers have not included Markelle Fultz in trade talks, sources say. If the 76ers miss out on Leonard now, they could enter next offseason with about $40 million in cap space — a nice consolation prize.
The Boston Celtics haven't included Jaylen Brown, sources say. As I wrote here, it might make more sense to offer Kyrie Irving or Gordon Hayward before Brown, but I don't see either happening. Boston is confident it can re-sign Irving despite chatter — credible chatter — that Irving and Jimmy Butler would like to play together, per league sources. They've earned such confidence.
Boston rarely cares about optics, but it must know how it would look to trade Hayward — star free-agent acquisition, longtime Brad Stevens favorite — coming off a traumatic leg injury.
No team will put its best chips in until it gets some reassurances about Leonard's health and chances of re-signing him. Every day between now and the trade deadline is a day that a Kawhi rental team does not get to spend introducing him to its culture — a day the Spurs lose leverage. The per-day cost is relatively low in the summer; players spend most of it away from their teams.
San Antonio's crisis moment — its potential "last call" moment — won't come until camp opens at the earliest. Only the Spurs can know their chances of healing the relationship between now and then, or during camp. Only they can know how far gone it is. They still have the five-year, $219 million super-max.
But there is some value to rental teams in trading for Leonard now — in starting the sales job immediately. That value would be highest for the LA Clippers, since they and Leonard are summertime neighbors.
They just don't have the assets to stress the Lakers. A package of Tobias Harris, Shai Gilgeous-Alexander, Jerome Robinson and a distant first-round pick isn't netting Leonard unless the Spurs do it out of spite. The picks that became Gilgeous-Alexander and Robinson were more valuable before the draft, when they represented any player the Spurs might want. And the Clippers, like everyone else, are wary of Leonard bolting to the Lakers.
Side note: I kind of want the Clippers to tank. The opening is there. Everyone in the Western Conference is trying to win. The Clippers owe Boston a lottery-protected pick (thanks, Jeff Green). They have solid veterans on good contracts they could easily trade for future assets. Danilo Gallinari will get injured.
This appears unlikely. Re-signing Avery Bradley and, per sources, devoting a portion of the midlevel exception (not a minimum contract) to Mike Scott represent win-now moves. Steve Ballmer, the Clippers' owner, has made no secret of his desire to remain competitive as a means of appealing to free-agent stars.
"You consider all your options," Ballmer told me in the fall. "But I don't want to lose. I like winning. Winning is good. Losing is bad. We think we have a unique opportunity to be a free-agent destination. If you want that, you have to be doing your best every year."
A mystery suitor for Leonard emerges, dangling a blue-chip asset.
For the Spurs, that likely means a young-ish veteran who can help them win now. In preliminary trade talks, the Spurs have shown less interest in packages that tilt too far toward rebuilding — packages loaded with young players and picks. That is the sort of package they should want: stock up on future assets who fit around Dejounte Murray, deal LaMarcus Aldridge for even more of them, go all-in on a deep rebuild.
Dynamics in San Antonio cut against that path. Trading Aldridge for high value won't be easy. Gregg Popovich probably doesn't want to spend his final seasons winning 25 games.