This is Boston's dance, and the rest of the conference is just spectating.
A league source close to the situation told the Sun-Times on Tuesday that Kyrie Irving and former Bulls All-Star Jimmy Butler are still trying to figure out a way to play together. Whether that means the Celtics try and acquire Butler this summer or the two simply wait a year, both opt out of their player options after the season, and join forces that way.
Either way, the two former Team USA Basketball teammates are looking for a destination to build an elite backcourt, whether that's in Celtics green or elsewhere in the East.
Not that this hasn't been lurking for quite some time, either.
Last June, the Sun-Times was the first to report that Irving was looking to get out of Cleveland, with the Bulls being on his wish list. He made that known to several of his former Team USA teammates, including Butler.
ESPN then piggy-backed on the story a month later, when the Cavs front office was finally let in on Irving's intentions.
A source said that Butler let general manager Gar Forman and VP of basketball John Paxson know that Irving wanted out, but the two knew they didn't have the assets to get him, even if they tried to get a third team involved. Instead, they did a 180 with Butler, blowing up the roster and sending him to the Timberwolves.
So where is the situation now? Still fluid. By Joe Cowley
---
​He may not be the sharpest tool in the shed, but he's certainly got heart. In an era defined by teaming up with your superstar buddies in pursuit of a ring, Charles Barkley would rather fly solo and live with the consequences.
Barkley said he would rather have zero rings than join up with other superstars to create a super team. This comes on the heels of Boogie Cousins joining the Warriors on a mid-level exemption deal. By Matt Stranzl
---
The NBA offseason has had imploded on itself recently, most notably featuring LeBron taking his talents to SoCal and joining the Lakers in LA, while DeMarcus Cousins is heading to the Bay Area to join the Warriors.
One player that made some noise earlier in the offseason, just to not as much of a degree, was Carmelo Anthony, who opted in to his $27.9 million player option. Of course he did.
While Thunder fans certainly were not happy about the move from Melo, due to the fact that he didn't produce anything of value last season, there may be some expensive light at the end of the tunnel. The 34-year-old veteran can be bought out of his deal, which interestingly enough may allow him to make a move and join James in the City of Angels. By Nate Puciato
---
Dwight Howard may be coming back to Los Angeles, baby.
According to USA Today's Sam Amick (via Hoops Hype's Alex Kennedy), the three-time Defensive Player of the Year would welcome the opportunity to team up with LeBron James, meaning he would embrace a return to the Los Angeles Lakers, where he starred during the 2012-13 season:
"In addition to the Pelicans and Warriors, Dwight Howard is interested in returning to the Lakers, according to Sam Amick. "He'd like to play with LeBron [James]," Amick said on The HoopsHype Podcast. "That's definitely on his radar." It's unclear if the interest is mutual."
Everybody remembers Howard's disastrous stint with the Lakers in 2012-13, his lone year in Los Angeles. The superstar center was acquired in a major trade with the Orlando Magic and due to his acquisition, the Lakers quickly became championship favorites with Kobe Bryant still in his prime. However, the two never got along together and frequently clashed. The Lakers' season resulted in a No. 7 seed and a first-round sweep at the hands of the San Antonio Spurs. By DJ SIDDIQI 
---
Per an official team release, the Philadelphia 76ers have officially signed first-round pick Zhaire Smith. The terms of the deal were not disclosed.
The Sixers acquired Smith's draft rights after a draft day trade that saw the Sixers' pick and Philly native, Mikal Bridges get shipped off to the Phoenix Suns. The Sixers also acquired the Suns' first-round pick in 2021. That pick is unprotected.
The 19-year-old out of Texas Tech shot up draft boards after an impressive freshman season at Texas Tech. The one-and-done player is an athletic guard who projects to play mostly at shooting guard, but could see some time as a small forward. By Danny Small
---
After the New York Knicks made Isaiah Hicks a restricted free agent this offseason, it appears he is ready to sign the 2-way deal and stay in the Knicks organization for at least one more year.
Hicks wasn't made any offers by any other teams, but will now report to the Westchester Knicks next season. With Hicks signing the contract, it leaves the team with 17 players under contract. They can carry 20 players up through training camp, but only 17 on the opening night roster including the two-way players, so if they were to make any more moves, it would probably require some cuts at training camp.
They do have some money left to spend this offseason so now the question is will they spend it, or just stay put with the roster they have. Hicks played 18 games with the NBA team last year averaging 13.3 minutes per game. The big man also put up 4.4 points and 2.3 rebounds and that was impressive enough to get him a second contract. Hicks started 36 games with the G-League team averaging 15.6 points and eight rebounds. By Shane Mickle
---
Celtics first-round draft pick Robert Williams took responsibility for the missed flight that caused him to miss Boston's first summer league practice Sunday and admitted it didn't help the "bad image" people have of him.
Williams, of Texas A&M, was projected as a lottery pick but slipped to Boston at No. 27 amid concerns about his work ethic. The day after the draft, Williams overslept for an introductory conference call. Then, two days after being formally introduced in Boston last week, he missed a flight back for the start of summer workouts.
"I went home, did a couple of things, then just a missed flight," Williams said Tuesday before Boston's summer squad practiced at the team's new Auerbach Center. "Missed communication by me. It's all on me. So we're going to push forward and move past that."
The Celtics emphasized work ethic to Williams when he first arrived in Boston last week, and the 20-year-old rookie referenced hard work seven times during his introductory news conference on Friday. By Chris Forsberg
---
Free-agent guard Tyreke Evans traveled to meet with the Indiana Pacers on Tuesday, league sources told ESPN's Adrian Wojnarowski. There is mutual interest to get a deal done but work still to do. Evans previously met with the Oklahoma City Thunder and Los Angeles Lakers, sources told ESPN's Chris Haynes.
---
Yahoo Sports reports that the LA Clippers re-signed shooting guard Avery Bradley to a two-year, $25 million deal. The Clippers acquired Bradley in the January 2018 Blake Griffin trade with the Detroit Pistons. Bradley played only six games before undergoing season-ending core surgery.
---
The Portland Trail Blazers and point guard Seth Curry agreed to a two-year contract, with the second year as a player option, according to ESPN's Adrian Wojnarowski. Curry missed all of the 2017-18 season with a leg injury.
---
The Minnesota Timberwolves have agreed to a one-year, $5 million deal with forward Anthony Tolliver, according to multiple reports. News of Tolliver's agreement with Minnesota came on the same day the franchise rescinded its qualifying offer to forward Nemanja Bjelica, sources told ESPN's Adrian Wojnarowski.
---
The Clippers will bring back free agent guard Avery Bradley, according to Shams Charania of Yahoo Sports, who reports (via Twitter) that Bradley will sign a two-year, $25MM contract to remain with the club.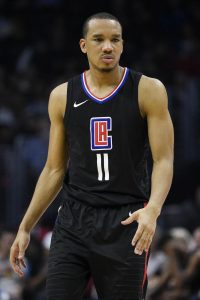 Bradley, 27, had an eventful contract year in 2017/18. He was traded from the Celtics to the Pistons during the 2017 offseason when Boston needed to clear cap room to sign Gordon Hayward, then was flipped to the Clippers midway through the season in Detroit's blockbuster acquisition of Blake Griffin.
Plagued throughout the year by a sports hernia that ultimately ended his season early, Bradley wasn't at his best in 46 total games for the Pistons and Clippers. For the season, he averaged 14.3 PPG, 2.5 RPG, and 2.0 APG with a shooting line of .414/.369/.768.
With the NBA's salary cap set at $101,869,000 for the 2018/19 league year, the rookie scale has been set as well. The rookie scale locks in the value of contracts for first-round picks.
In every NBA league year, rookie scale amounts are assigned to each first-round slot, from No. 1 through No. 30. Teams can sign their first-rounders to as little as 80% of that rookie scale amount, or up to 120% of that figure. While that rule theoretically affords teams some flexibility, first-round picks virtually always sign contracts worth 120% of their rookie scale amount, and unsigned first-rounders have a cap hold worth 120% of their rookie scale amount.
The Jazz and free agent big man Derrick Favors have reached an agreement on a new contract that will keep Favors in Utah, reports Tony Jones of The Salt Lake Tribune (Twitter links).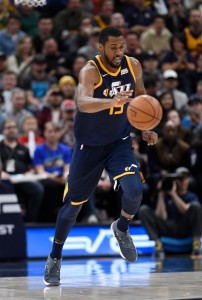 League sources tell Jones that the deal will be for two years, while agent Wallace Prather informs Shams Charania of Yahoo Sports (Twitter link) that it'll be worth $36MM. Michael Scotto of The Athletic adds (via Twitter) that Favors' earnings over two years could exceed $37MM via incentives.
However, the second year on the agreement will be non-guaranteed, according to Jones (Twitter link). That will allow Utah to retain flexibility for 2019, when several contracts could come of the club's books.
Favors, who will turn 27 later this month, enjoyed a strong bounce-back season for the Jazz in 2017/18 after an injury-plagued 2016/17 campaign. In 77 games (all starts) last season, Favors averaged 12.3 PPG, 7.2 RPG, and 1.1 BPG with a career-best .563 FG%. By Luke Adams
---