Cameron Wolfe, ESPN staff writer writes, the Tennessee Titans' top two running backs couldn't look more different to observers. Derrick Henry stands tall at 6-foot-3, weighing an imposing 245 pounds. Newcomer Dion Lewis stands 5-foot-7, but after a few minutes of watching the 190-pound back run through arm tackles, it's clear he's not all that little.
---
Cameron Wolfe, also writes, Logan Ryan looked toward the sideline, eyes wide, shaking his head and pointing to the end zone. The Tennessee Titans' veteran cornerback saw exactly what we saw. Marcus Mariota just juked a defender, stuck his foot in the grass and sped up the field separating from another nearby defender. He was clear for six points. The defense didn't have much of a chance, mostly because hitting Mariota means risking job security, but it might not have mattered anyway.
---
Oakland Raiders coach Jon Gruden has never been a fan of the current Collective Bargaining Agreement, and he attribute quarterback Christian Hackenberg's recent release to the CBA's limitations. "Everybody is an expert out there on Hackenberg and thinks he can't play,"Gruden said.  Josh Alper, ProFootballTalk.com.
---
First-round quarterback Josh Rosen is undoubtedly impressing in Arizona Cardinals' camp, but Darren Urban of AZCardinals.com believes Sam Bradford will still be the team's starter heading into the season.
Since Bradford signing with the Arizona Cardinals in March — and especially since Arizona drafted Josh Rosen in the first round of April's NFL draft — Bradford has been a mentor to the other quarterbacks on the roster. Josh Weinfuss, ESPN Staff Writer
---
The Indianapolis Colts are curiously attempting to switch linebacker John Simon to defensive end.  This is an especially questionable move considering the team's lack of depth at linebacker. So far, no one on the Colts sounds overly optimistic about the switch.
Watch an entire practice over at West 56th Street and you'll lose him at some point. Probably a few times. Nyheim Hines is all over the place, and that's the idea. In the backfield, in the slot, out wide, slipping through the line of scrimmage, snagging passes 20 yards down the field.
He plays almost positionless, this 5-9, 198-pound offensive Swiss Army knife dripping in speed and versatility and, most of all, potential. Listen to his offensive coordinator, Nick Sirianni, describe the Indianapolis Colts rookie. Written by Zak Keefer, Indianapolis Star
---
Former Senior Bowl executive director Phil Savage has been named the general manager of the Alliance of American Football league's Phoenix franchise (via SBJ's Liz Mullen on Twitter). The 53-year-old was also the Cleveland Browns general manager between 2005 and 2008.
This offseason has created quite a bit of excitement around the Cleveland Browns (yes, the same team that went 0-16 last year), but there reportedly isn't the same type of buzz surrounding 2016 first-round pick Corey Coleman.
According to Scott Petrak of BrownsZone.com, there are "doubts" about the third-year wideout's work ethic and football IQ.
---
While we previously heard reports that Odell Beckham Jr. would likely attend New York Giants training camp, the receiver has confirmed the news himself. The 25-year-old told Ralph Vacchiano that he'll indeed be at Giants camp and won't be holding out (Twitter link).
---
There will be another talented defensive back available in this year's supplemental draft. NFL Network's Tom Pelissero reports that Mississippi State safety Brandon Bryant's applications for the draft has been approved. By Logan Reardon of NFL.com.
---
Green Bay Packers general manager Brian Gutekunst has been a busy man since being promoted to the gig in January. After having previously served as the team's director of college scouting and director of player personnel, the executive is now hands-on with every aspect of the organization.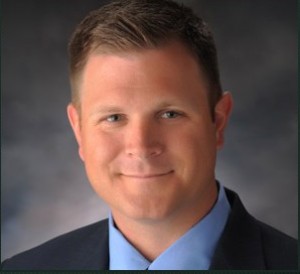 The 44-year-old recently appeared on a pair of Packers-centric podcasts, "Nagler's Never Right" and PackersNews.com, to discuss some of his team's offseason additions and his role as general manager (via Aaron Nagler of JSOnline.com and Jason B. Hirschhorn of NFL.com
---
Tom Brady's career will soon be coming to an end, but the future Hall of Famer still wasn't willing to give a definitive timeline in an interview with Oprah Winfrey. The New England Patriots quarterback acknowledged that retirement would be coming "sooner, rather than later," but he also noted that he'll still play if he has the passion and drive.
"As long as I'm still loving it," Brady said (from Mike Florio of ProFootballTalk.com). "As long as I'm loving the training and the preparation and willing to make the commitment. But it's also, I think what I alluded to a lot in the docu-series, there's other things happening in my life, too. I do have kids that I love, and I don't want to be a dad that's not there, driving my kids to their games . . . my kids have brought a great perspective in my life. Kids just want the attention. You better be there. And be available to them."
---
The New York Jets have a number of relatively popular running backs on their roster, including Isaiah Crowell, Bilal Powell, and Thomas Rawls. However, running backs coach Stump Mitchell decided to gush about 2017 sixth-round pick Elijah McGuire, who is currently buried on the depth chart. "He has the skill set to be a LaDainian Tomlinson, if he was given that opportunity," Mitchell told Zach Braziller of the New York Post.
Once the Jets quarterback Sam Darnold signs his rookie contract, the Jets will have around $16MM in cap space. ESPN's Rich Cimini doesn't believe the front office will end up using any of that money for extensions, but he notes that it could provide general manager Mike Maccagnan will the ability to pull off a pricey preseason trade. Cimini also writes that the Jets could simply roll their open cap room into next season, which will add to their projected league-leading $88MM in space. By Zach Links
---
Dallas Cowboys defensive lineman David Irving is being suspended four games for violating the NFL's policy on substances of abuse, sources tell Ian Rapoport of NFL.com (on Twitter).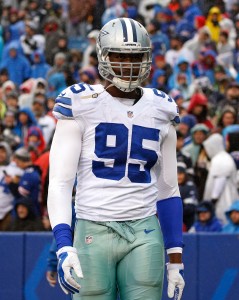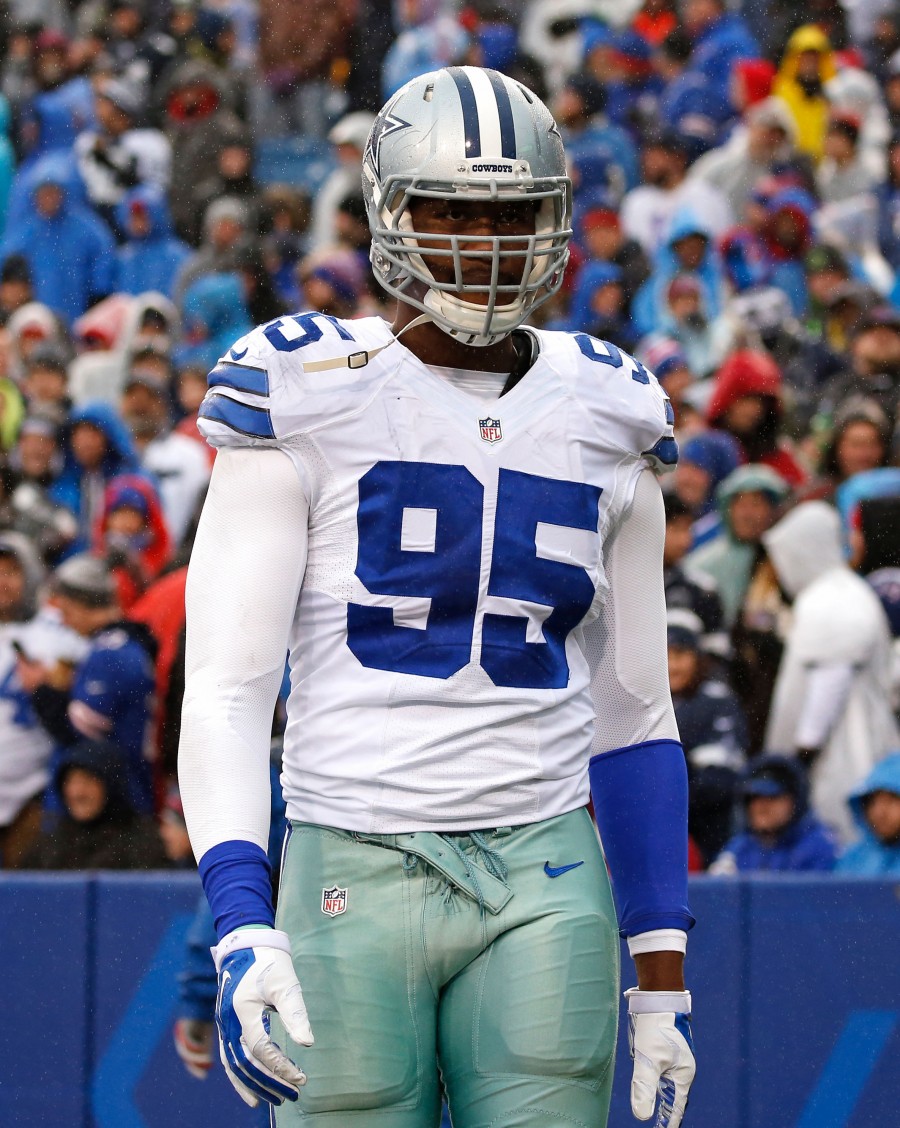 Unfortunately, this isn't Irving's first time running afoul of league rules. Last June, he hit with a four game suspension for a PED violation.
Irving will miss the team's first four games of the year against the Carolina Panthers, New York Giants, Seattle Seahawks, and Detroit Lions. He'll be eligible to return for the club's Week 5 contest against the Texans. By Zach Links
---
During his tenure as Pittsburgh Steelers offensive coordinator, Todd Haley worked with quarterbacks like Ben Roethlisberger, Byron Leftwich and Michael Vick. However, the current Cleveland Browns offensive coordinator say he may be working with the best grouping of signal-callers throughout his career. "This is probably one of the best – if not the best – quarterbacks rooms, in general, that I've had," Haley told Patrick Maks of ClevelandBrowns.com. The Browns are currently rostering a trio of quarterbacks in Tyrod Taylor, Baker Mayfield, and Drew Stanton.
---
Terrelle Pryor underwent surgery earlier this month. Despite the ankle trouble limiting him this off season, one that's involved a boot on Pryor's right foot at mini camp's outset, Pryor believes he'll be available on Day 1 of camp.
---
Doug Pederson said this week (via Kalyn Kahler of SI.com) he's considering splitting first-team reps evenly between Carson Wentz and Nick Foles during training camp. Although the Eagles' franchise centerpiece has not been cleared for 11-on-11 work, he continues to progress and is expected to be ready by September. But an even split — similar to how Pederson handled matters in 2016, when Sam Bradford was still on the team — puts Foles in better position to lead the offense if Wentz endures a setback.
---
The New York Giants may have a new contender for the center job. Jon Halapio is making a strong push to be the starting snapper, with Jordan Raanan of ESPN.com reporting the fifth-year player has emerged in this role after an "extremely strong" spring. Brett Jones entered the off season as the player most observers assumed would succeed Weston Richburg as Big Blue's full-time center, and the Giants tendered him at a second-round level. Halapio, once a sixth-round Patriots pick, re-signed as an ERFA. He started six games last season as a guard, his first action as a pro despite being a 2014 draftee, and has now impressed the Giants' new coaching staff. While that second-round tender should give Jones a good chance come camp, this is an interesting situation on a retooling offensive line.
---
While A.J. McCarron is the assumed stopgap while Josh Allen learns, ESPN.com's Mike Rodak calls Peterman a serious contender for the starting job. This would be a strange turn of events after Peterman's one rookie-year start went so poorly, but it appears McCarron might not have an automatic route to the job.
---
Karen Guregian from the Boston Herald write, maybe Julian Edelman wins the appeal of his four-game PED suspension and clears his name. That's the best-case scenario for the receiver and the New England Patriots. The odds, however, aren't particularly in his favor. Win or lose, his reputation has already taken a hit.
But then again, when you're a member of the Patriots, the "cheater" label seems to come with the territory. At least, that's how Rodney Harrison viewed the situation when we spoke with him Thursday.
"Ultimately, people are going to think what they want to think. If you're a part of the Patriots, and something like this happens, people from the outside, they think you're a cheater anyway," said the former safety and current NBC analyst. "Ultimately, I'd tell him, 'It doesn't matter what other people think. You know what type of person you are. You just have to bounce back from this. You can't allow it to affect you, you have to use your time wisely.'
---